Martin Midstream Partners, L.P. (NASDAQ:MMLP) has surged in 2013, rising by almost 29% year-to-date before falling to around $38 a share in the last week. The Kilgore, Texas-based gas storage and terminal services company's return is not far from triple the S&P 500's 11% return in the same period. Its return is also more than 1-1/2 times that of its benchmark, the Alerian MLP Index, which has risen by 17.7% since the end of 2012.
Curiously, while MMLP has solid fundamentals, one reason that the stock may have surged this year is because of the Obama administration's decision on the tax status of master limited partnerships alone as part of its fiscal cliff tax reform package.
Before reviewing Martin Midstream Partners, a short review of master limited partnerships - particularly those of Martin Midstream's variety, is in order.
A Brief Look At Master Limited Partnerships
Master limited partnerships, or MLPs, are publicly-traded partnerships. For investors, the important consideration is that these securities provide the tax benefits of limited partnerships while having the exit mechanism of a listed asset.
MLPs, as represented by the Alerian MLP Index, had a strong run in the preceding five years, rising by a compound annual rate of 5.3% - compared with -3.1% for the S&P 500. During this period, risk statistics also favored MLPs, with the beta of Alerian MLP Index at only 0.31, even as its volatility was moderately lower at 25.2% compared with the S&P's 26.1%. MLPs were essentially a high-yielding, uncorrelated investment outlet during this period.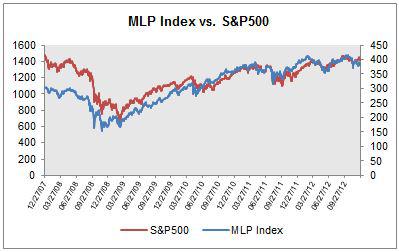 Source: Yahoo! Finance
It should be noted that the performance of MLPs lagged behind the S&P 500 in 2012: the Alerian MLP Index was essentially flat in 2012, falling by 1.24% in 2012 compared to a rise of 13.6% for the S&P 500.
In particular, the persistently low interest rate environment finally enticed investors to move into overlooked risk assets, especially equities, with the S&P 500's advance in 2012 led by growth sectors such as technology, healthcare and financials. At the same time, the nature of MLPs - natural resource, commodity and commercial real estate plays - worked against them in an environment of tepid global output and consumer uncertainty. Ironically, as the world economy recovered in 2009 and 2010, these very same areas were considered MLPs' areas of advantage.
Perhaps more importantly, MLPs had attracted investors in recent years with their high dividend yields - but the upward surge in their valuations over the past five years, in conjunction with the relatively poor performance of the S&P 500, conspired to narrow the gap between the dividend yield on MLPs and the earnings yield on the S&P 500 from over 3.5% to just under 1%. In short, from some investors' perspectives, MLPs went from 'overlooked' to 'over-valued' even as the fundamentals of some MLP companies came under pressure for macroeconomic reasons.
As noted, MLPs have returned to favor in 2013, handily beating the return of the S&P 500 in the year thus far. The combination of MLPs' high dividend yields and the retention of their tax status have made them relatively attractive in a market that is starting to be more discerning with valuations having risen considerably.
Where To, Martin Midstream?
We like MMLP for the following reasons:
1. Good Relative Value. The name of the game for MLPs is dividends, specifically dividend yield and dividend growth and MMLP is solid on both counts.
To wit, MMLP currently carries an expected dividend yield of 7.9% -- much more than its industry's average of 5.7% -- and over 3.5 times that of the S&P 500's 2.1%. MMLP's dividend growth has also been very strong, rising 9.5% on a compound annual basis since it listed in 2003, which is more than 60% higher than the dividend growth for other MLPs.
Meanwhile, to the extent that earnings are a precursor to potential dividends, MMLP appears to be headed in the right direction - analysts expect the company to grow its revenues by 25% in the first quarter compared to the same period a year earlier. This, in turn, should lead to EPS of 50 cents per share - 31.5% higher than in the previous quarter. While actual dividend payouts are more important than EPS insofar as MLPs are concerned, the company's earnings number for Q1-2013 is important because MMLP actually underperformed expectations in the previous period by 5%.
For the full year, MMLP's earnings are expected to grow by close to 20% -- much higher than its five-year trailing growth rate of 1.4% -- and certainly better than the 5.5% earnings contraction seen in its industry.
Most importantly, MMLP's operating cash flow grew by over 74% in its last reported quarter compared to the same period a year earlier - assuming it continues to show significant growth in this area, investors can reasonably assume that MMLP will be able to continue raising its dividends.
2. Solid Financials. MMLP's ability to pay its dividends is likewise dictated by the strength of its balance sheet - that is, the company wouldn't be able to increase dividend payments if it were struggling to pay the bills, so to speak.
In the case of MMLP, its financials are solid: cash is good with both its current and quick ratios at double the industry average. Even on a non-relative basis, these ratios are good for a company at 1.8 and 1.2 times, respectively.
Its overall debt-to-equity position is also below industry average at 1.34 compared to 1.76 - and, as with its cash levels, is good on a stand-alone basis: It is far lower than the rule-of-thumb 2.0 debt-to-equity ratio prescribed by financial institutions to borrowers.
Outlook And Conclusion
Looking beyond MMLP, the gas industry has had a solid year, thus far, with overall natural gas consumption still rising 1% despite closer-to-average temperatures - in fact, the EIA estimates that the number of heating degree days will rise by 17% this year.
For a midstream player like MMLP, nothing could be better: since it merely provides services, the company is hedged against the volatility of the spot markets but benefits from rising volumes. If anything, the problem for this type of company is a lack of capacity and the struggle to catch up, which requires the deployment of large sums of capital.
Unsurprisingly, MMLP's capital spending has grown by over 15% a year over the past five years - more than four times that of the S&P 500 and 10% higher than the industry average. This implies that MMLP will be in a better position to take advantage of further growth in the market.
Considering the positive industry outlook, the company's solid balance sheet, earnings outlook and still cheap valuation, we believe that MMLP deserves a place in investors' portfolios even considering its heady rise this year.
Disclosure: I have no positions in any stocks mentioned, but may initiate a long position in MMLP over the next 72 hours.
Business relationship disclosure: Black Coral Research is a team of writers who provide unique perspective to help inspire investors. This article was written Jonathan Lara, one of our Senior Analysts. We did not receive compensation for this article (other than from Seeking Alpha), and we have no business relationship with any company whose stock is mentioned in this article.
Additional disclosure: Black Coral Research is not a registered investment advisor or broker/dealer. Readers are advised that the material contained herein should be used solely for informational purposes. Investing involves risk, including the loss of principal. Readers are solely responsible for their own investment decisions.