I have always been enamored with Molycorp (MCP) and impressed with its management team's honesty, and willingness to share information with shareholders in a timely manner. However, the recent disclosure of its substantial goodwill impairment charge leaves a lot to be desired. Following are the timeline of events surrounding Molycorp's January capital raise and disclosure of its goodwill impairment charge.
January 10 - Molycorp Announces Revenue and Cash Flow Shortfall
On January 10th Molycorp announced its 2013 revenues and cash flows were expected to fall short of previous forecasts. Order delays and weakening prices for rare-earth minerals led to the lower estimates. The company was on track to produce 19,050 metric tons annually at its Mountain Pass mine by June 2013. However, Molycorp was scrapping Phase 2 of its $1.25 billion modernization and expansion of Mountain Pass until rare-earth conditions improved. At mid-day the stock was down $2.42 (22.4%) to $8.37.
January 18 - I Questioned Imminent "Dilutive Event"
On January 18th I questioned whether a dilutive event was imminent given Molycorp's negative nine-month cash flows, its dwindling cash on hand, and limited debt capacity. Five days later the company announced a proposed offering of $200 million of common stock and $100 million convertible senior notes due 2018. The company planned to use the proceeds to fund capital needs and 2013 cash requirements, including capital expenditures at its Mountain Pass Facility. Morgan Stanley (NYSE:MS) was selected to underwrite the share offering. The stock closed at $7.88, down from $9.00 just a week earlier.
January 24 - Molycorp's $1B Intangibles and Book Value Questioned
On January 24th I questioned whether the company's $1 billion of intangibles and goodwill were impaired. Through nine months ended September 30, 2012 Molycorp generated a net loss attributable to shareholders of $63.4 million. The company was in dire straits and without the capital raise, bankruptcy was an imminent risk. Meanwhile, its Magnetic Materials & Alloys division where the lion's share of the intangibles were housed, recorded a pretax loss (prior to intercompany eliminations and corporate overhead) of $2.4 million through nine months ended September 30, 2012. If Molycorp's total business was impaired and the division where the intangibles were created was also losing money, the logical conclusion was that its $1 billion of intangibles were overvalued. Given the potential goodwill impairment risk and pending dilutive event, I advised investors to avoid the stock.
On the morning of January 25th, on the article Molycorp: Price Target $3.10 - $6.10/share Due To Asset Impairment Risk , I gave a price range on the stock given the potential for a write-down of intangibles: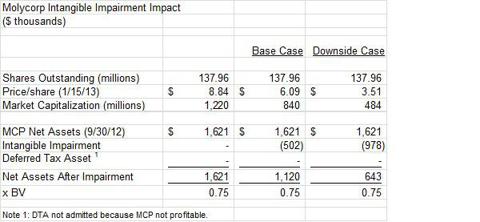 Prior to the announcement of capital raise, Molycorp's stock was around $8.84/share. Its market capitalization was $1.2 billion or a 25% discount to its $1.6 billion book value. Given the deterioration in Molycorp's revenue and earnings, this is where the market thinks the stock should trade.
Under a "base case" scenario, the company writes off the entire $502 million in goodwill associated with Molycorp Canada. I assumed the deferred taxes (tax shield) created by the goodwill write-down was not admitted since the company needs to earn future profits in order to utilize the deferred taxes.
At 75% of its pro forma book value of $1.2 billion, Molycorp's market capitalization would be $840 million, or $6.09/share.
In the "downside case" all of Molycorp's goodwill and intangibles of $978 million are written off. At 75% of its pro forma book value of $643 million, its market capitalization would be approximately $484 million or $3.51/share.
That same morning Molycorp raised $414.4 million of new capital, of which $249 million was from equity holders at $6 per share. Ironically, the $6 per share equity raise was in my price target of $3.50 - $6.50 per share, which assumed a "substantial" goodwill impairment.
February 28 - Molycorp Delays 10-K Filing Due to "Substantial" Goodwill Impairment
On February 28th Molycorp announced it was delaying its 10-K filing and postponing its fourth quarter earnings call. The delay was necessary to quantify its substantial goodwill impairment charge. After a two week delay, the company announced fourth quarter earnings; it achieved net revenue of $134.3 million, a gross loss of $20.5 million and net loss attributable to shareholders of $362.4. Net income was negatively affected by a goodwill write-off of $258.3 million. The stock closed at $5.99 - near the price of the secondary offering. On January 10, while management was forthright on its 2013 revenue and cash flow shortfall, it was mum on its pending goodwill impairment that I warned investors about weeks later. On April 15th, the stock closed at $5.06, 16% below the price of the secondary offering.
Conclusion
The January capital raise for Molycorp occurred when there was a known risk of a goodwill write-off, negatively affecting the company's book value and potentially affecting the stock price. Institutions and insiders were able to buy the secondary offering at a discount to the market price, and a steep discount to book value. The fact that the company announced its goodwill write-off merely six weeks after the capital raise, may cause a blow to its reputation. I currently rate Molycorp a "sell."
Disclosure: I am short MCP. I wrote this article myself, and it expresses my own opinions. I am not receiving compensation for it (other than from Seeking Alpha). I have no business relationship with any company whose stock is mentioned in this article.