The Boston terror attack is horrific. Our hearts go out to the victims. Let us hope that the perpetrators are caught soon.
The trading data in gold and silver after the news of the attack broke tells us that gold and silver have lower to go. At the time of the Boston terror attack gold was very oversold, yet it fell after the news. Aggressive selling was seen all the way down to $1331. Gold ETF SPDR Gold Shares (NYSEARCA:GLD) and silver ETF iShares Silver Trust (NYSEARCA:SLV) saw massive money outflows. Similar aggressive selling was seen in silver and gold Market Vectors Gold Miners ETF (NYSEARCA:GDX) as well as miner majors Barrick Gold (NYSE:ABX) and Newmont Mining (NYSE:NEM). There is no doubt that CME raising margins on Comex 100-troy ounce gold contract by 19% played a role. Our algorithms, designed to detect selling by smart money, showed fairly aggressive selling after news of the Boston attack.
The traditional role of gold is to act as a hedge against bad news. After all, there is a possibility that the Boston attack was the work of jihadist terrorists. Gold should have jumped up over $100 from its extremely oversold condition, but instead gold fell by $35. Having carefully looked at the gold trading data going back to 1979, the conclusion is that more likely than not, when gold does not go up on bad news, there is more downside ahead. This observation is particularly important because an analysis of the past data shows that the recent decline in gold is already a long tail event. The chart utilizes data going back to 1979 and shows that the probability of gold price falling by more than 25% in a three month period is only 0.3%.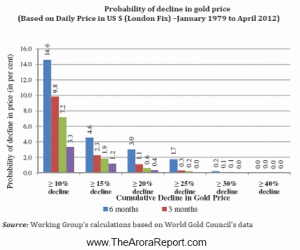 Click here for a bigger chart.
For those into statistics, here is the methodology behind the above chart. The analysis identified episodes of price declines over periods of six months, three months, two months and one month basis and derived a frequency distribution from 30 years' worth of data. From the frequency distribution, the probability of occurrence of major and minor declines is measured. Based on a CRISIL's methodology, the Working Group also calculated the probability of gold price decline in four baskets (six-months, three-months, two-months and one month basis) using World Gold Council's long-run daily price of gold in US Dollar from January 1979 to April 2012. It is evident from the analysis of the past data that there is no probability of a drop in gold price of more than 40% and even the possibility of 30% or more fall is very rare in all the four baskets. However, based on past episodes a likelihood of decline in gold price of 10% or above could be in the range of 14.6% to 3.3% over the time horizons considered. Similarly, the possibility of decline in gold price of more than 20% or above could be in the range of 0.4% to 3.0%
The foregoing analysis is courtesy of the Reserve Bank of India (RBI).
The reaction of gold and silver prices to Cyprus coming close to confiscation of private property by imposing a large tax on bank deposits (not on interest but on principal) foreshadowed a decline in precious metals on the Cyprus news. Gold should have been making new highs but it could muster only a weak bounce.
Even though the probability of a nuclear conflict with North Korea remains low, it cannot be totally ignored. North Korea has a new young inexperienced leader in Kim Jong-un who is pushing to the edge to prove to his population that he is strong. Is it conceivable that this inexperienced leader will not pull back from the edge and start a war?
Under these circumstances, gold should have spiked, but did not.
In contrast to the foregoing when gold did not react much to the upside on bad news, gold reacted violently on the downside to the news that Cyprus would sell excess gold reserves to finance its part of the bailout.
It is important to note that Cyprus gold selling will come at a time when other central banks are buying gold. Only yesterday, the governor of the central bank of Sri Lanka said that they would take advantage of selling from Cyprus and lower gold prices to add to their reserves.
The difference between the prior events and the Boston terror attack is that gold was about $200 higher when the prior events occurred.
I had recommended to my subscribers to short silver right before the latest plunge. Since this was a short-term position and targets were being hit, I recommended taking profits yesterday.
The updated chart shows our analysis of the long-term gold picture.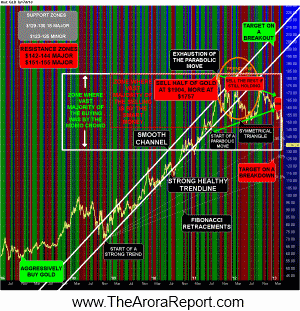 Please click here for the enlarged updated long-term annotated gold chart. Background colors on the chart are derived from the sum total of our technical screen - green is bullish, maroon is bearish, and blue is neutral.
The medium-term chart shows that the major support at $132 in GLD was temporarily broken. Gold approached 50% Fibonacci retracement and bounced from there.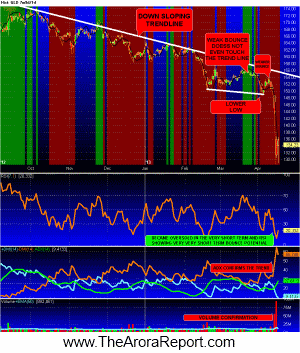 Click here for the enlarged medium-term annotated chart.
For the explanation of the charts please see The Real Reason For The Plunge In Gold And Silver That Every Astute Investor Should Understand.
Ratings at The Arora Report for gold and silver have changed as follows:
Mildly Bullish in the very, very short-term.
Neutral in the very short-term.
Negative in the short-term.
Negative in the medium-term.
Negative in the long-term.
Positive in the very long-term.
For definition of time frames, please click here.
Disclosure: I have no positions in any stocks mentioned, but may initiate a short position in AG over the next 72 hours. I wrote this article myself, and it expresses my own opinions. I am not receiving compensation for it (other than from Seeking Alpha). I have no business relationship with any company whose stock is mentioned in this article.
Additional disclosure: I have just taken profits on my short silver position. I also recently took profits on my short positions in Silver Wheaton (SLW) and Hecla Mining (NYSE:HL). I am still short First Majestic Silver(NYSE:AG)