One of the best trades in 2012 was long homebuilders (NYSEARCA:XHB). The basket increased 57% last year -- 41% more than the S&P 500 ETF (NYSEARCA:SPY) -- as families began buying again.
The strength continued into 2013, with the homebuilder ETF gaining 8.35% in January, 3.2% more than the S&P 500.
However, returns have grown increasingly choppy since February and April's sell-off has erased strong returns in March, bringing year-to-date performance 3.4% below the SPY.
The volatility has investors scratching heads wondering if the best days are behind the group.

Headline data out of the NAHB didn't help this week.
Construction stocks including Pulte Homes (NYSE:PHM), Lennar (NYSE:LEN) and KB Home (NYSE:KBH) all sagged Monday on worries over sequential declines in the NAHB Housing Index.
However, digging deeper into the NAHB report shows builder confidence was weakened by supply constraints tied to recession-era capacity cuts rather than an absence of demand.
"Many builders are expressing frustration over being unable to respond to the rising demand for new homes due to difficulties in obtaining construction credit, overly restrictive mortgage lending rules and construction costs that are increasing at a faster pace than appraised values," said Rick Judson, National Association of Home Builders (NAHB) Chairman,
Those supply constraints are the result of robust new home activity, which has builders the most optimistic on sales over the next six months than at any point since 2007. The NAHB Housing Index component gauging future expectations increased 3 points from March to 53.
Housing starts, permits and completions remain bullish.
March housing starts rose 7% from February, their fastest rate in 5 years, to a seasonally adjusted annual rate of 1.036 million homes. Starts were 46.7% higher than a year ago.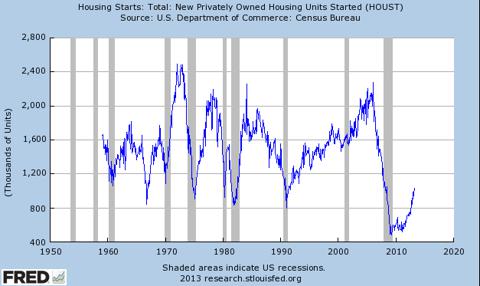 The less volatile permits reading came in 17.3% higher than last year.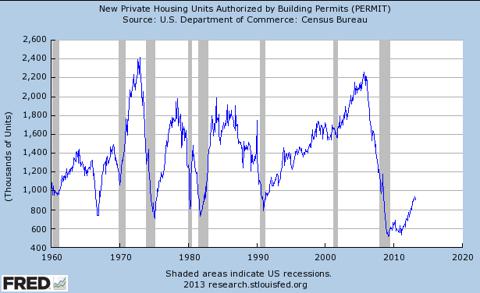 And, completions -- which will flow into future earnings at homebuilders such as D R Horton (NYSE:DHI) -- continue to suggest revenue growth and support pricing and margin strength. In March, completions were 36.3% higher year-over-year.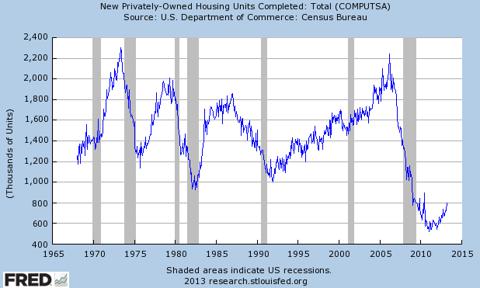 The strength in activity is also backed up in the most recent industrial production and rail carload data.
In March, industrial production of construction supplies improved by 3.9% from a year ago and the number of forest product carloads, which includes lumber, increased 8.3 year-over year last week, bringing year-to-date growth to 3.4%.
So, while April's sagging returns for the group need to be watched, the foundation for builders and suppliers future sales and earnings remains solid. If this data translates into revenue and sales growth, investors may find they're rewarded for weathering out the recent correction.
Disclosure: I am long DHI, KBH, LEN, PHM. I wrote this article myself, and it expresses my own opinions. I am not receiving compensation for it (other than from Seeking Alpha). I have no business relationship with any company whose stock is mentioned in this article.