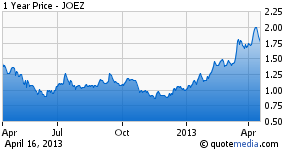 Joe's Jeans Inc. (NASDAQ:JOEZ) is a retail company, specializing in men's, women's and children's apparel and accessory lines. Recently, the company reported its 1Q 2013 results for the quarter ending February 28, 2013. The report included a 13% increase in net sales and a $6,388,000 loss compared to a $794,000 gain a year ago. Since the report, the company's stock price has been on a downward slope. However, despite the huge loss, Joe's is stronger than ever with greater prospects for future earnings growth.
The loss stems from a $8,732,000 contingent consideration buy-out expense. Without that expense the company posts a $2,344,000 net income, rather than its considerable loss. But, they did report the expense. So how does it make them stronger?
The buy-out expense goes back to a recent deal between the company and its founder, Joe Dahan. On February 19, the company announced the completion of a buy-out deal that would pay Mr. Dahan $9,168,000 over an extended period of time. Excluding the initial charge, the company estimated that it will contribute an extra $0.03/share in 2013. JOEZ also forecasts that greater EPS accretion should be expected FY2014 through FY2017.
Prior to the deal, Mr. Dahan received a portion of the company's gross profits above $11,251,000 until 2017 as follows:
11.33% between $11,251,000 and $22,500,000;
3% between $22,501,000 and $31,500,000;
2% between $31,501,000 and $40,500,000; and
1% above $40,501,000.
No longer paying out these percentages allows the company to fully benefit from its revenue increases by effectively increasing its margins.
JOEZ has been growing revenues both through wholesale and retail means. For the full year ended November 30, 2012, wholesale and retail sales increased 24% and 26% respectively. In 2012, both segments were profitable, generating a combined $27,251,000 in operating income that offset a $16,534,000 corporate operating loss.
All in all, JOEZ did report a huge loss for the most recent quarter. However, the reason for the loss (the buy-out agreement) only strengthens the company moving forward. If revenue expansion continues the way that it has been recently, Joe's will see greater rewards in the form of increased profits because it is no longer paying such large sums of its gross profits to Founder Joe Dahan.
Disclosure: I have no positions in any stocks mentioned, and no plans to initiate any positions within the next 72 hours. I wrote this article myself, and it expresses my own opinions. I am not receiving compensation for it (other than from Seeking Alpha). I have no business relationship with any company whose stock is mentioned in this article. Companies discussed in this article may involve previous Bowser Companies of the Month. The discussions are the opinions of Thomas Rice and are not related to The Bowser Report's past, present or future recommendations.