It is difficult to find a RadioShack (NYSE:RSH) bull these days. Virtually every article highlights how the brick-and-mortar age is giving way to online retailers and how RadioShack is a dinosaur. I can't argue with that. The mobile phone kiosks in Target stores didn't work out. Point taken and money was lost - but at least it cut its losses. Are sales dropping? Yup. Have a look at this depressing chart showing sales (TTM) and share price since 2006. And even if it could improve sales with mobile devices, the margins are lower and profits will be less.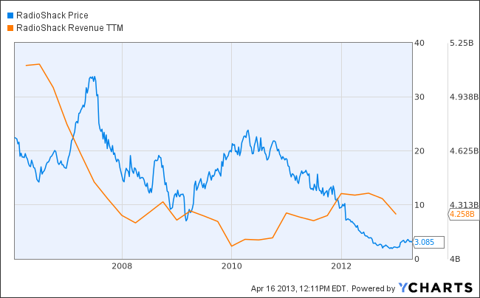 When you can go on eBay (NASDAQ:EBAY) and order some small electronic adapter for under a buck... and that includes shipping… it makes it difficult to offer the same plug for $15 at your local electronics store. Granted, if you need it ASAP you'll buy locally but otherwise, the margins will continue to compress.
Even the name is out-dated and makes us think of transistors and large aerials on our walkie-talkies. What good could be said about RadioShack, which does not even have an up-to-date name to brand?
Is New Management the Key?
Bring on a new CEO, Joesph C. Magnacca, give him half a million shares and see the company can turn around overnight? Maybe not but a 100-day turnaround plan is to be submitted this spring. This mystery plan is heightening our anticipation of something new. But what could actually turn things around?
Customer Knowledge and Service. There is one thing it is difficult to get with online auction sites and that is knowledgeable customer service. My father has ordered multiple gadgets that sound amazing for a low cost direct from Hong Kong. So far about 25% work as he thought. The one adapter does not convert VGA to composite like it promised, the extra-long router antennae turn the wireless into some kind of confliction nightmare and the last device had two strange holes for a power connector that only works in Asia. So yes, the devices were low cost but after waiting three - four weeks to get your package only to find it doesn't work as promised, there is still room for a knowledgeable retailer with excellent customer service. For those who still go to stores, we want excellent customer service. I understand that this isn't easy when the RadioShack pocketbook is tight but staff need to be highly trained and deliver. Figure out a way to heighten the skill of the staff on a budget.
Online Retailing. If you can't beat 'em, join 'em. Instead of focusing all energy on the retail locations that management views as its competitive advantage, focus more attention on how to dominate the online space. What took RadioShack until August 23, 2011, to join eBay? I get the distinct feeling that the company wants to keep trying what worked in 1950 and trying to improve the brick and mortar stores when I think a serious pivot is needed. Online is where it needs to focus going forward and I hope it deals extensively with this in its new 100-day turnaround plan.
Brick and Mortar. What? I thought I said it should stay away from more physical retail space. In the USA, sure. But what about growth opportunities in Mexico and Southeast Asia? Emerging markets is another aggressive growth potential that I hope is mapped more clearly in the new plan. Read the balanced argument on this issue here.
What I Would Like To See
Takeover Target. At these depressed prices, someone might want to get his or her hands on over 5,600 locations if you subtract the Target outlets from the SEC report. With a market cap at $308 million you never know. It has a high debt-to-equity ratio but has $535 million in cash and equivalents.
Chart of 10-year market cap and enterprise value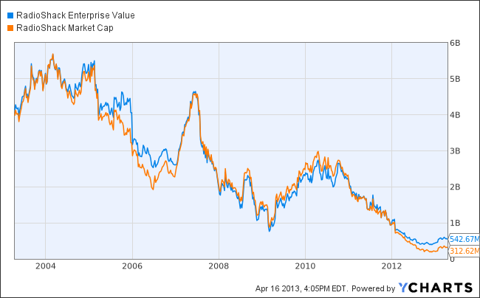 Buyback Announcement and Short Squeeze. What would I really like to see? All these new plans and a new CEO - its all unproven speculation at this point. But what I would love is for management and executives to emerge from their brain-storming session with confidence. They should announce that share prices are low - too low and then announce that they are re-initiating a buyback program and spending $180 million - except they do not destroy shares - they are just investing back in their own company and they commit to holding shares until prices stay above $10 for at least a year. This won't boost EPS but it will show that they believe the future is worth a lot more than $3 per share.
In addition to spending shareholder equity, I'd like to see management and insiders start buying in great volume. If they believe in the company and the future direction, they should believe that this investment will come back to them three times as big. With over one-third of the float short - that'll create one awesome short squeeze.
Final Thoughts
RadioShack is down but don't count the company out. It had a horrible run of negative earnings surprises but last quarter pulled out a pretty nice surprise of making 4 cents per share when the expectation was to lose 5 cents.
RadioShack needs to re-focus on what made it big - personalized and knowledgeable service. It needs to continue exploring emerging market potential and get aggressive with online selling. The odd thing is, it is doing all these things to some extent but it feels like it is simply going through the motions instead of trying to be a trend setter.
I want to see RadioShack show that it first and foremost believes in its future and it doesn't need to institute dividends to do so.
There is some value here although that can evaporate quickly if it doesn't stem the losses quickly and figure out how to leverage what it has and bring on new revenue drivers.
Long-term? I don't know and I'd need to see more to hold this for the next few years. It isn't without hope - I just haven't seen the signal I need for a big long-term bet.
Short-term? Anything remotely positive in the sea of despair can quickly see share prices escalate to twice this price with such a large percentage of the float shorted. Someone kicking the tires for a buyout? That would send shares soaring. Even an institutional opportunist with a large current position could see the potential of quickly buying up a large amount and then selling it back into the short-covering frenzy that is soon to follow. It may have already begun and we'll find out more as earnings are released 9am ET on Tuesday, April 23.
As a short-term speculative play - I am long all the way.
Disclosure: I am long RSH. I wrote this article myself, and it expresses my own opinions. I am not receiving compensation for it (other than from Seeking Alpha). I have no business relationship with any company whose stock is mentioned in this article.
Additional disclosure: I am in RadioShack long but will exit if a major short-squeeze takes place