Gold has seen a decline of over 18% as measured by the gold ETF (NYSEARCA:GLD), much of that coming from the last couple of days. This has coincided with the threats of a slowdown in China, The Bank of Japan's commitment to achieve 2% inflation in as many years, and signs of stress emerging from the eurozone. What is the reason this key asset to buy in times of turmoil and inflation is dropping and what will it take to see a revival? The answer lies in Japan.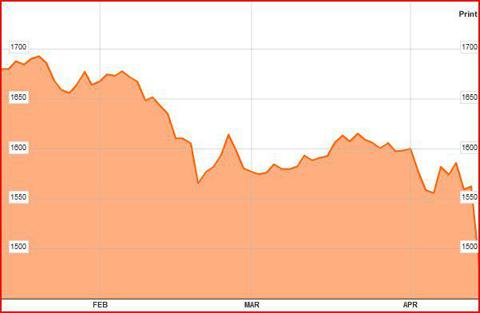 The push by the BOJ to move money into riskier assets will have profound impacts on the economy of Japan as well as the world. Many of them will be negative for the country over time, and even push the country into default. By increasing inflation the BOJ will force bonds to lose their attractiveness to investors as they will be certain to lose value. The government will have to find buyers elsewhere and without the domestic market to purchase these assets they will have to tap the global market ever more, but the global market will require better rates than currently provided. This will make the interest payments of rolling that debt a burden on the economy. Tthere will be one of two scenarios that take place, the government will increase revenues or the currency will be massively devalued because of excessive printing to meet obligations. Both of these scenarios will see the economy slow one through higher taxation and the other through inflation. While inflationary pressures are a good thing, to a degree, for Japan the country imports a lot of raw materials which will become more expensive as the currency declines, importing more inflation.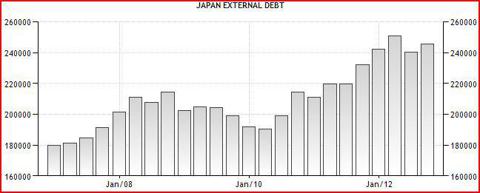 The drive for yield throughout the globe will see gold acting more like a commodity (the one with the least utility) than a hedge against inflation or safe haven asset in the near term. Currency debasement in Japan will start to stem inflationary pressures and see many of the aging population to start looking for an asset that is safer than their trusted government bonds.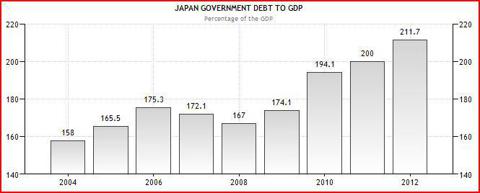 Timing is key as far as trading is concerned, there is still more downside to be sought in gold. But should the inflationary pressures start to take hold on the Japanese economy and the amount of debt going to external (non Yen) investors increases, longing gold in yen terms could be the best way to play this outcome. In ETF terms you can short a Yen ETF (NYSEARCA:FXY) and invest the proceeds into the (GLD) or (NYSEARCA:IAU).
Disclosure: I have no positions in any stocks mentioned, and no plans to initiate any positions within the next 72 hours. I wrote this article myself, and it expresses my own opinions. I am not receiving compensation for it (other than from Seeking Alpha). I have no business relationship with any company whose stock is mentioned in this article.