Natural Gas prices (NYSEARCA:UNG) have risen substantially in the past year, from a low of below $2 to over $4 now. Gas prices are expected to reach around $5 in the year 2013. This fact can positively affect the valuation of the companies that are operating within the oil and gas sector. The rising gas prices can result in a higher than expected valuation of these companies.
The oil and gas companies' universe is huge. In order to pick one company from a large pool of companies, I will focus on the dividend yields of various companies and analyze the giant that pays the highest yield. I have presented the dividend yields of Encana (NYSE:ECA), Canadian Natural Resources Limited (NYSE:CNQ), Talisman Energy Inc. (NYSE:TLM), Chesapeake Energy Corporation (NYSE:CHK) and Apache Corp. (NYSE:APA) in the figure below: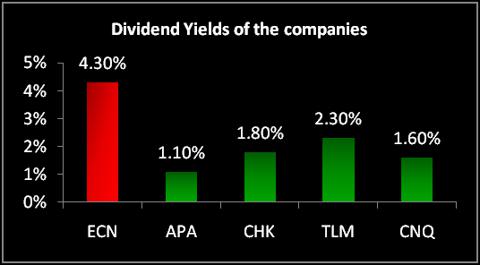 From the set of companies chosen, Encana has the highest dividend yield of 4.3%, followed by Talisman Energy with a dividend yield of 2.3%. In order to decide if Encana will continue paying a higher dividend yield, we must understand the business model and the current asset potential of the company.
Encana Overview
Encana Corporation and its subsidiaries engage in the exploration, development, production and marketing of natural gas, oil and natural gas liquids. As of April 2013, the company's total production comprises of 54% liquid rich gas, 25% oil and 21% dry gas.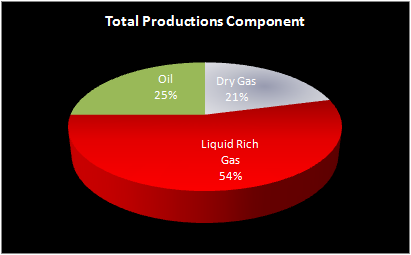 Encana's portfolio can be broadly categorized into Canadian and US assets. As of 2012, the Canadian division accounts for 44% of the total production and 40% of the total reserves; the US division makes up the remaining 56% of the production and 60% of the reserves. The current capital allocation across the two countries is displayed below:
Total Capital Allocation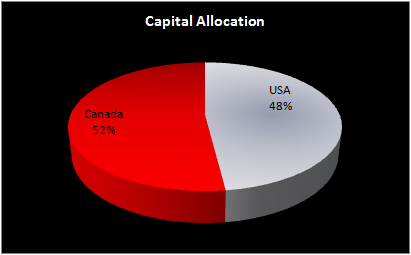 USA Division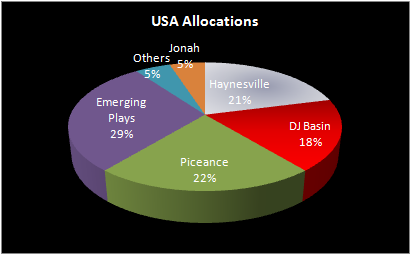 Canada Division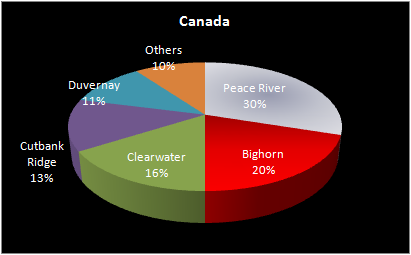 Encana's latest joint venture
To date, Encana has drilled nine wells, has five wells on production and is operating two drilling rigs in the Duvernay. Further, Encana has entered into a joint venture with a subsidiary of PetroChina and has sold a 49.9% working interest in its Duvernay asset, for a total consideration of $2.18 billion; consisting of $1.18 billion paid at closing and $1 billion payable in a carry over the next four years. The agreement implies a value of $9,817/acre or a total of $4.37 billion ($5.93/share) for Encana's total Duvernay position.
Management noted that the partners plan to invest roughly $4 billion, over the next four years, in drilling, completions and infrastructure, and Encana will continue to operate the project. The joint venture land is estimated to contain roughly 9 billion boe of petroleum initially-in-place.
Positives of the company
Massive Resource Base: Encana has over 23.0 Tcfe of 2P reserves and a further 36.7 Tcfe of best estimate economic contingent resources. With this base, the company has over 30,000 locations to be drilled over the coming years.
Ongoing Growth: With its resource base, Encana can grow its production on an ongoing basis, with the rate of growth dependent upon natural gas prices. At prices of about $4.00/mmBTU the CAGR would be about 5% and at $6.00/mmBTU, the CAGR would be over 10%.
Developing New Markets: The company has a 30% interest in a 1.4 bcf/d LNG project at Kitimat, where regulatory approvals have already been received. This facility would allow the export of natural gas to Asia, where pricing is closer to an energy-equivalent basis for oil.
More Liquids Focus: With the vast gap between oil and gas pricing, the company is directing more capital to liquids-rich plays.
Panuke Coming On-Stream: After many years, since the initial discovery by a predecessor company, Encana is expected to bring this 100% WI project on stream in the next six months. Encana has previously estimated that the Deep Panuke could produce 300 million cubic feet of gas daily, with initial production capacity of about 200 million cubic feet per day
Fundamentals
In 2012, Encana recorded a cash balance of $3.2 billion on its balance sheet, far exceeding the $2.5 billion Encana had targeted in 2012. This was mainly due to the company's success with signing major agreements with subsidiaries of PetroChina Company Limited (PetroChina), Mitsubishi Corporation (Mitsubishi) and Toyota Tsusho Corporation. The company reported an annual cash flow of $3.5 billion, or $4.80 per share, and $997 million in operating earnings, or $1.35 per share.
Guidance and Capital Investment Plan for 2013
In 2013, the company expects its LNG production to be around 50,000 to 60,000 barrels per day whereas the natural gas production figure is expected to remain constant.
With PetroChina investing approximately $750 million as carry capital, Encana's total gross capital investment between is expected to be $3.7 billion to $3.9 billion in 2013. (Carry capital is the cash that the company's joint venture partners have agreed to pay in excess of their ownership interests as a part of their commitments under the agreements). Over the next 5 years, the carry capital figure is expected to be approximately $3.8 billion.
Conclusion
Encana's growth prospects are strong. This fact is deeply realized by the management of the company, and the analysts following the company, which is contributing to large insider holdings of the company. Encana has a large and geographically diversified asset base that can profit tremendously from the natural gas price appreciation. In the current economic environment, the company has huge capital return potential. Combining this fact with the high dividend yield of the company, we get a great investment solution. Encana is a company that deserves a long term buy rating.
At the end, I am sharing few forecasts of the management for the fiscal year 2013.
Forecasts of the management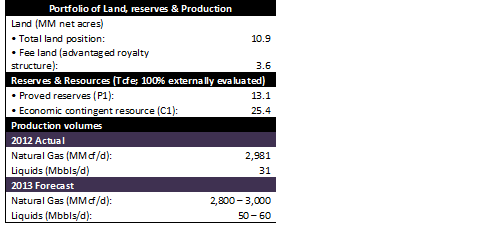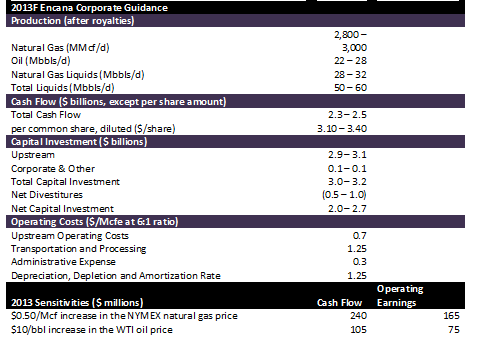 Disclosure: I have no positions in any stocks mentioned, and no plans to initiate any positions within the next 72 hours. I wrote this article myself, and it expresses my own opinions. I am not receiving compensation for it (other than from Seeking Alpha). I have no business relationship with any company whose stock is mentioned in this article.