Last week ended with Microsoft's (NASDAQ:MSFT) biggest decline since August 2011, alongside a global decline for shipment since September 11th. With a temporary peak on the 10th of the month, was the decline simply due to influential analysts' frontline predictions or based on current market phenomenon?
This time last year the stock was priced at $32, seeing a stable decline with disappointing sales of its new Tablet on October 26th and Windows 8 sales.
Last week's downgrades were focused solely on PC market share rather than looking at MSFT as the sum of all its parts. With new partnerships and developments on its successful Xbox, you can see that AMD climbed more than 13%, to close at $2.59 after it was reported that MSFT will use AMD processors in the next version of the Xbox video game console. With AMD current success, it makes us believe that MSFT potential is greater than PCs alone. The partnership indicates further innovation and product development, both of which should align with stock stability rather than decline.
Beyond product innovation, it is important to note the development of the company's 'Office 365' that may be transitioning to "software-as-a-service," could practically capitalize on existing customers' use of the product. The use of existing products towards the re-marketing of the company leads us to believe the company is taking advantage of its 90% PC market share wisely, utilizing existing and new customers to generate further cash flow and product dependency.
Research shows that 70% of Americans are already using the technology that will replace PCs. That said, Windows 8 streamlining of user's PC and mobile phones competes with alternative technology such as Apple (OTC:APPL). By utilizing the existing customer base, particularly workforce PC users, Windows 8 allows users to take the job home, seamlessly (for better or for worse). Moreover, MSFT has re-marketed itself with its 'Scroogle' adds, adding some action to counter Google (NASDAQ:GOOG) dominance, a potential explanation to the stock's peak on April 10th. It is evident that new products, use of mobile innovation, and strong marketing have the potential to keep MSFT strong and stable both in the short run and long run.
Taking the above into consideration, is the sudden Sell recommendation the catalyst to MSFT's fall last week? Is the recommendation really based on the market? Is MSFT equivalent to only PCs or should analysts consider its total market-share?
On April 9th, Raymond James' Michael Turits gave an Outperform rating on Microsoft shares, and a $34 price target, stating "It's important to see potential for Microsoft to gain share outside of PCs as the number and quality of such devices begins to improve." Michael, with a +0.3% average return over the S&P on his Buy/Sell ratings, provided solid analysis prior to the peak seen on April 10th, closing on $30.28. Focusing on the variety of products, Michael provided a different outlook at what MSFT's market share is.
Only 2 days later (April 11) in a note to investors, harbinger Goldman Sachs Heather Bellini recommended that investors Sell the stock. She downgraded the shares from a neutral rating which she had held since 2011. Was it Goldman Sachs' note that brought Microsoft down to its current drastic fall? If it was one analyst that brought down Microsoft's tower, is her prediction enough to rely on? How would the market behave tomorrow?
"The company faces critical secular challenges given the deteriorating PC demand backdrop," Bellini wrote. Putting the last nail in the coffin, Bellini continued, "we do not think that even significant price reductions would be enough to stimulate demand." Bellini includes critical information based solely on MSFT's PC market share. There is no mention of the variety of products that make up the company's valuation. Bellini's measured track record shows that only 44% of her Buy/Sell ratings actually outperformed the S&P500 returning on average -1.8% below the S&P500. It leaves the investor to wonder, should Bellini really be the game changer?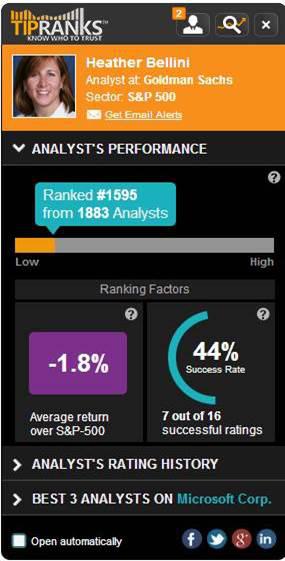 With a similar success rating, Citigroup's analyst Walter Pritchard reiterated a Buy on April 10th. Pritchard cut his estimate to reflect lower PC expectations as mentioned by the aforementioned Bellini, but highlighted the "growing composition of emerging markets, volume licensing and Windows-based "tablet" form factors".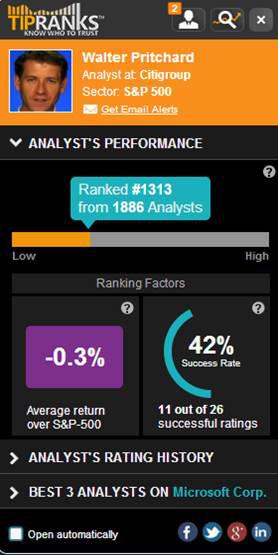 Analysts with similar success rates have given drastically different recommendations based on two juxtaposing grounds, either PC market-share or MSFT's wealth of products. Bellini's rating appears to have changed the tides, but investors should not solely take her recommendation. Beyond the analysis itself, Bellini has a significantly lower average return over S&P, and further has given a Sell after years of providing Hold, which alone should raise a few eyebrows. Her rationale fails to provide investors with a full market analysis, driving investors to listen to another temporary hit rather than stock stability which could lead investors to eventual profit.
The stock's decline essentially came to play due to one analyst from a well known company. Investors must take into account the company's stability throughout this year, with greater innovation and market share to come including Xbox unique partnerships, re-marketing of Office, and rebranding the company against its main competitors. How can one analyst shake the credibility of a stable stock so quickly? An investment bank's reputation is not enough, an analyst's track record must be taken into account when deciding who to listen to, particularly when discussing a solid stock such as MSFT.
At times like this when market makers have so much influence on a stock's behavior and so little performance accountability, the only investment strategy that makes sense is leaning back and letting the analysts bring the stock to an attractive price just to buy it and hope they maintain their track record.
Disclosure: I have no positions in any stocks mentioned, and no plans to initiate any positions within the next 72 hours.
Business relationship disclosure: Product manager at TipRanks.
Additional disclosure: Statistics presented in this article are measured using TipRank's financial accountability engine.