I have fielded dozens of questions the last couple weeks about the near record cold March in early April. Questions have ranged from the subsequent rally in natural gas prices and whether or not our sun has anything to do with these late winter shenanigans (frosts in the Plains, volatile U.S. temperature extremes from hot to cold) and even if the weather has any influence on a person's buying habits in gold!!
Is the issue of Global Warming dead because it has been cold? Absolutely NOT. Without getting into too much of a political discussion about Global Warming, I will say that the unusual snow cover present in the Northern Plains and Canada has been due to incredible mid-winter warming over Greenland and the Arctic circle. Our sun also has a huge impact on global weather patterns. This will have an impact on some commodities this spring and summer.
While I certainly cannot relate the collapse in the gold and silver market to the weather, I have a pretty strong feeling that the more medium term direction in gold will be lower. This was addressed in two posts by me, the earlier one being in January, 2012-- the stronger dollar; worries over the Chinese economy growth slowing a bit, too many bullish advisory services out there; and technical market action. I would look to remain short or establish a position on rallies in the gold market, selling (GLD) anywhere above 135-140 or by entering a conservative long Jan 2014, GLD put option position.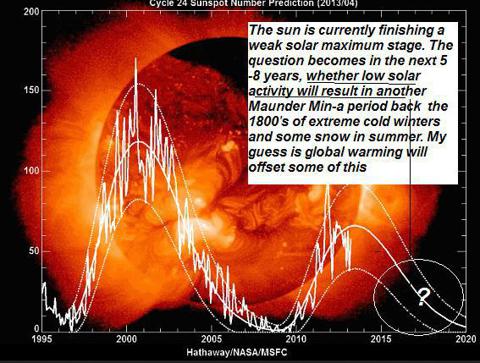 SOURCE: NASA
Researchers at the Max Planck Society have shown that the sun can be responsible for, at most, only a small part of global warming over the last 30 years.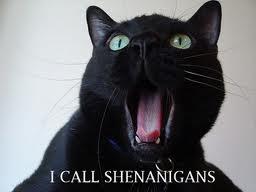 Source: Blogspot.com
Shenanigans? Not every weather and climate event can be blamed strictly on the sun, nor global warming. The heart beat of our planet and subsequent weather occurrences are a complex web of geophysical phenomena.
What AG Commodity Traders Will be Focusing On
Grain, energy and soft commodity traders are going to be very focused on U.S/ Canada planting weather the next 2-6 weeks, as well as in China and Europe. They will also be monitoring any potential cold waves for Brazil coffee, which has escaped even a rumor of a freeze for most of the last 12 years. While the huge off cycle Brazilian coffee crop is keeping coffee prices and the ETF (NYSEARCA:JO) under pressure, some studies I have looked at suggest a greater than normal chance for at least some Brazilian frost scares this summer. I would like to see coffee prices drop another 5-10% on the robust Brazil crop and look to recommend possibly entering long positions ahead of the Brazilian winter.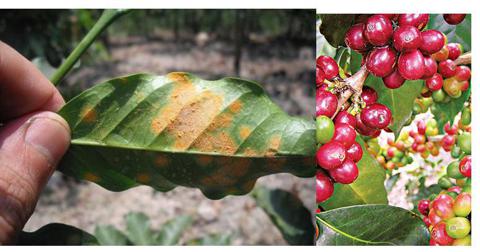 Source: USDA
Fungus in parts of Central America continues to hurt coffee production due to warm, moist weather. Up to 25% of their exportable coffee production may be lost. While world weather (Brazil) has been bearish coffee for 2 years, this fungus combined with some summer (Brazil winter cold weather scares could possibly result in a late spring or summer rally in coffee this year.
In addition, we have very mixed crop yield potential for the U.S. wheat regions with drought and frosts in the SW third of the hard-red wheat belt, planting delays in the north, but generally good weather for the soft-red crop. Warmer weather is needed in the N. Plains and from Illinois to Ohio, while Kansas to Texas need rains soon.
The above normal snow cover in Canada and the N. Plains, and frosts in the SW Plains of Kansas to Texas will likely keep the wheat market (WEAT) from falling very far for now. However, I expect great crops out of Europe and Russia and Chinese soil moisture reserves for planting and wheat development is pretty good. Hence, the global weather situation is not one that is necessarily bullish, later on.
For Cocoa futures, a seasonal higher post harvest rally has ensued in the past few weeks. Traders are becoming increasingly concerned about dryness in Ghana, but most studies I have concluded do not suggest major weather issues this summer in west Africa. After being bearish on cocoa all last Fall and winter and the ETF (NYSEARCA:NIB), I don't have a high confidence buy or sell recommendation on cocoa at this time.
Some Teleconnections that May Influence Our Spring and Summer Weather
In forecasting long range weather patterns for commodities, it is important to look at extreme weather regimes thousands of miles away. These are called teleconnections and two very important, yet different teleconnections, have to with Northern Hemispheric snow cover, as well as what is happening over the Stratosphere around Antarctica. Too many folks put faith in using El Nino/La Nina trends "along" to forecast weather and commodity prices. This discussion below illustrates just two of many other climatic variables.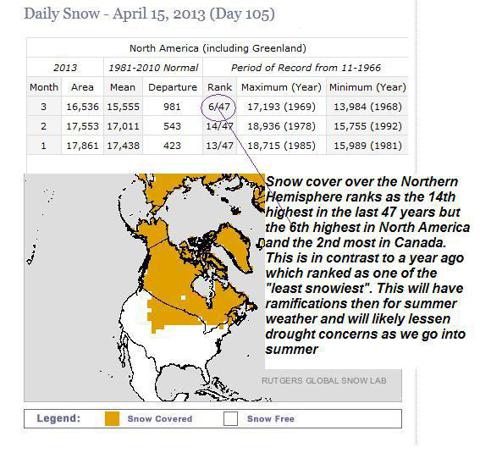 In addition, corn planting may continue to lag the next 1-2 weeks over the NW corn belt, and hence the ETF (NYSEARCA:CORN), has little downside for right now. However, as the charts below show, the trends for summer tend to be for cooler weather and more normal rainfall. We look at dozens of different teleconnections and there is a lot more research to be done. However, typically when we see weather patterns that feature cold March's in the U.S. and stratospheric cooling and a +AAO index over the South Pole, the U.S. energy and grain areas tend to see cooler summer weather.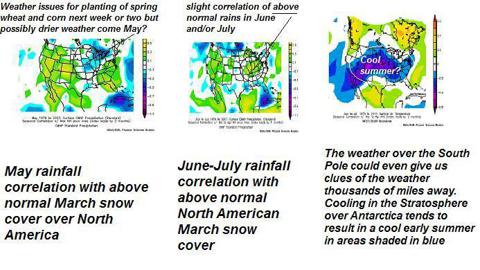 SOURCE: NCEP
I plotted above some brief studies I have done with respect to recent cooling over Antarctica and the above normal snowfall over North America. The trends tend to be for a cool summer in the U.S. (map to the right); a slight tendency of drier corn belt planting weather in May (left); and above normal summer rainfall (center map) during the June-July time frame for the U.S. corn and soybean belts.
BOTTOM LINE? While some planting delays for crops may occur, the weather may eventually be a bearish factor again for soybeans (NYSEARCA:SOYB), corn and at some point natural gas (NYSEARCA:UNG). For now, increased short term demand for grains and worries about planting delays and cool weather, will likely keep these markets steady to higher for now.
Florida's drought and greening disease issues have resulted in a 30% rally in orange juice prices over the last 2-3 months. Traders who are long OJ can raise protective stops to the 132.00 level and stay long, or have been advised to take profits lately.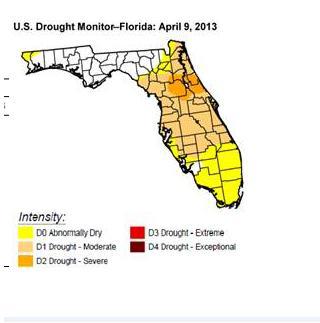 Drought continues in Florida
SOURCE: FLORIDA CITRUS REPORT; USDA
Disclosure: I have no positions in any stocks mentioned, and no plans to initiate any positions within the next 72 hours. I wrote this article myself, and it expresses my own opinions. I am not receiving compensation for it (other than from Seeking Alpha). I have no business relationship with any company whose stock is mentioned in this article.