In our previous Zynga (NASDAQ:ZNGA) article "Zynga After The U.K. Gambling Sites' Release" we forecasted a mild correction after the initial market overreaction to the launch of Zynga PlusPoker and Zynga PlusCasino in the U.K. (April 4th). We ended our article by stating that the real catalyst is the release of the Facebook (NASDAQ:FB) version of Zynga PlusPoker and PlusCasino, which has not materialized yet. However, the correction is taking place. Shares have decreased from approximately $3.57 (April 5th) to $3.27 (10:22 AM EDT).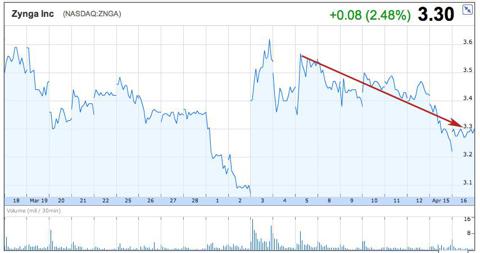 In this article we identify 4 recent signals that make us believe Zynga could perform well in the next month, regardless of the release date of the gambling sites' Facebook version.
In the most optimistic scenario, these signals could combine effects with the release, changing the declining stock price trend and taking the price level as high as $4 per share. In the most pessimistic scenario, these signals will vanish but the release of the Facebook version could still produce a short lived surge.
1) Zynga Slots is the fastest growing Facebook game by monthly average users, for the second week in a row.

If we consider Zynga Slots a "mini version" of the new (to be soon released) real money social gambling platform, then we can forecast that the new product will also experience fast growth in monthly active users.
Now, unlike the new U.K. gambling sites, Zynga Slots does not use "real money". This makes the comparison difficult. However, the new U.K. gambling sites also give players the option of playing without using real money, and we think this feature will prevail in the Facebook version. Therefore, we expect a similar trend in MAU growth; although monetization could remain a challenge.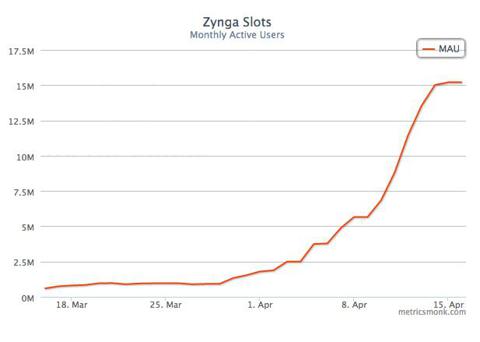 2) Game Release: A brand new card battler game, War of the Fallen, was launched on April 12th.
The freemium game was designed with a global audience in mind and copies many features of the successful game Ayakashi: Ghost Guild. It introduces a social mechanic called "Guild Force". "Guild Force" enhances team playing by boosting player's individual and team skills if they unite with other players and friends.
While the release of games is a well known "hit or miss" business, we believe that the social mechanics in the game, the know-how acquired after developing & marketing "Ayakashi" and the global narrative & design will generate a consistent MAU. Furthermore, the game uses a narrative that "would appeal to people who might not otherwise look to the card-battler as a vehicle for a well-written romp in the fantasy world".
3) New Board Member: John Doerr
Zynga named high-profile venture capitalist and Kleiner Perkins Caufiled & Byers partner John Doerr to its board of directors on April 5th. We hope that he brings expertise and connections to the firm, which are extremely needed now that Zynga is trying to make a transition from a strong focus on social gaming to broader mobile applications.
4) App Release: Draw Something 2, the sequel to OMGPOP, was finally launched in the App Store (first in Sweden and now Canada) last week.
We think that the application will be released globally in the next 2-3 weeks. Draw Something 2 features new tools, patterns, stamps and a new social feed and gallery.
For those who forgot, OMGPOP was sold to Zynga for $210 million in 2012, about twice the size of the "potential" revenues of Draw Something, the star product of OMGPOP, at that time (it was making about $250,000 a day back then).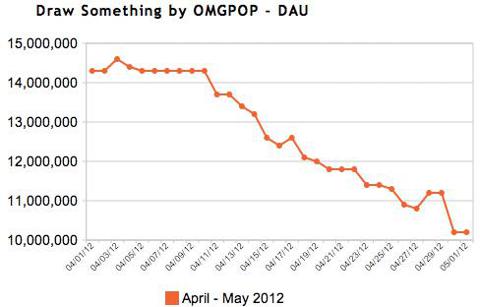 However, this acquisition turned out to be a fiasco. MAU never increased after reaching 14 million users. It soon became evident that Zynga had paid too much for the game. They bought the game after the initial excitement around its features (like posting images on Facebbok and Twitter) had worn off. John Schappert, at that moment Zynga's COO, defended the acquisition by saying: "We think of it as a game that's an evergreen franchise (...) It's a game that will live on for years".
If Draw Something 2 manages to revive the original charm of its previous version by adding more social features, this could be the perfect opportunity to recover some premium.
Conclusion: Releasing applications is a "hit or miss" business. Therefore, these signals are to be taken with prudence. We do not believe these games will alter the intrinsic value of Zynga, but they could alter the momentum, by introducing an upward trend in the stock price.
Bull says:
| | |
| --- | --- |
| Event | Probability |
| Other U.S. states follow Nevada in legalizing real money gambling over the Internet, creating more revenue opportunities for Zynga. | Medium |
| Zynga releases data in the next weeks that shows its 2 new U.K. gambling sites are generating a consistent DAU base. | Low |
| Zynga releases the Facebook version of its gambling sites in the next weeks | Medium |
A Note on Fundamentals: Zynga has a Price / Earnings ratio of -11.5; whereas the Industry average stands at 26.8. This is due to the fact that revenue has barely increased in the past years (in 2011; $1,140 million; in 2012, $1,281 million) but key financials indicating profitability like operating margin (-14.3% in 2012) remain negative. As a consequence, Zynga had negative operating income both in 2011 ($-406 million) and 2012 (-$183 million). From a pure value and fundamentals perspective, Zynga should be avoided.
Uncertainty: High.
Updated trading strategy: Buy this or next week. Hold until the Facebook version of the gambling sites is released (2-4 weeks). Sell 5-6 hours after the release.
Disclosure: I have no positions in any stocks mentioned, and no plans to initiate any positions within the next 72 hours. I wrote this article myself, and it expresses my own opinions. I am not receiving compensation for it (other than from Seeking Alpha). I have no business relationship with any company whose stock is mentioned in this article.