International Business Machines (NYSE:IBM), commonly known as Big Blue, is expected to release its results on 18th April. Analysts expect EPS of $3.06 on $24.7 billion revenue, versus EPS of $2.65 on $24.6 billion in revenue in the same quarter last year. Analyst consensus per Thomson Reuters is expecting 0% revenue growth in 2013 and just 3% to 4% through 2015. The lack of revenue growth is upsetting, but this deficiency is largely offset by the company's strong share repurchase program and dividend payout policy.
Dividends
The company has a low dividend yield of 1.6%, but it is strongly supported by its sustainable business model and chances of capital appreciation. Following are the key metrics that support the company's strong dividend payouts.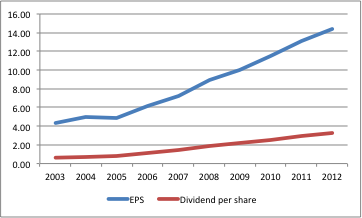 Dividend and EPS growth: In 9 out of the last 10 years, the company has been able to grow its EPS by an average of 17% and in 2012, despite a 2% decline in revenue, it still increased its EPS by 10%. Similarly, it has increased its dividend in each of the last 10 years, and even during the recessionary period of 2008-2010, it increased dividends on an average of 18%.
Dividend payout: In the last ten years, it has been able to maintain a dividend payout ratio of 21%, with 23% in 2012. This low payout is good as the company has sufficient headroom to increase dividends.
Free cash flow payout: I would give more importance to this metric over the dividend payout ratio. This is because earnings can be subjected to various accounting tactics but cash flows are difficult to morph. This ratio helps in showing how much of its free cash flow, i.e. operating cash flows minus capital expenditure, the company pays out in the form of dividend. In the past five years the company has been able to maintain this ratio at 20%, with 25% in 2012. As mentioned above, this again is a good ratio giving the company ample opportunity to increase its dividend.

Prodigious cash flow: Furthermore, IBM has strong cash flow generation characteristics. As seen from the chart above, only 25% of its free cash flow is used for capital expenditure, leaving the remainder for small acquisitions, dividends and share repurchases. So despite low growth in revenues, the company is and will still be able to provide strong returns to shareholders in the form of dividends or share repurchases. To put things in perspective, IBM distributes approximately $1 billion in dividends per quarter and $2 billion to $3 billion in share repurchases per quarter.
Share repurchases
Share repurchases are a way of returning cash to shareholders, while at the same time reduce the number of shares, thereby pushing up the company's EPS. The higher EPS then leads to a higher share price. Now, one may argue that share repurchases are a waste of cash, which should be put to better use like reducing debt or improving margins. This brings us to an important aspect that share repurchases can help increase shareholders returns, only if done right.
Very few companies get this balance right , but IBM is one of them. Through its repurchases it has been able to double its EPS, from $1.9 in 2008 to $3.3 in the recent fiscal year.
To further corroborate my view that share repurchases have helped to increase shareholder returns, let us do a simple calculation of what the EPS would have been if there were no repurchases. As seen in the adjacent chart, EPS without share repurchases would have been $13.68, i.e. share repurchases have been able to add 5% to the EPS. Hence, even with a decline of 2% in revenue the company has been able to add 5% to its EPS simply from share repurchases. This in itself will provide sufficient cushion in case the company has no or low growth in its revenues.

As seen above, the company has been able to reward its shareholders through increases in EPS, which has led to an increase in share price, and let's not forget its sustainable dividend payouts.
IBM Versus competitors
IBM's two key peers include Hewlett-Packard (NYSE:HPQ) and Microsoft (NASDAQ:MSFT).
For the first time, Hewlett-Packard announced results which were better than expected. EPS of $0.82 beat consensus view of $0.71 while revenue of $28.4 billion was better than the $27.8 billion analyst expectations. Its CEO, Meg Whitman, sounded a positive note for the coming year with a number of new programs and innovations, and expects benefits from its restructuring to accelerate through 2013.
Microsoft reported a slight decline in its second-quarter EPS, but revenue increased on the back of strong sales from its Windows operating system, and last fall's release of Windows 8. Further, within its business segment, its Server and Tools division reported revenue growth of 9%.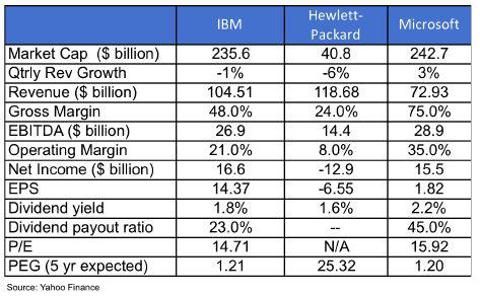 Among the three, Microsoft gains points based on its high dividend yield. It's a close call between Hewlett-Packard and IBM due to their similar dividend yields. But Hewlett-Packard is undergoing some major restructuring and is facing declining sales in its primary segments. As a result, its cash flows may be vulnerable, raising concerns about the sustainability of its dividend payout in the near future.
Conclusion
In a letter to its investors, Warren Buffett justifies his big position in IBM based on the company's phenomenal operational performance in the last few years, as well as its outstanding share repurchase policy. Further, he has also commended the company for its brilliant financial management, which has helped the company make value-adding acquisitions, mostly in cash, aggressively repurchase its stocks and pay dividends, thereby increasing gains for its shareholders. So don't be afraid if the company reports 0% growth in its upcoming results, because despite low growth, the company's dividend policy and share repurchase program will provide a good safety net.
Disclosure: I have no positions in any stocks mentioned, and no plans to initiate any positions within the next 72 hours. I wrote this article myself, and it expresses my own opinions. I am not receiving compensation for it (other than from Seeking Alpha). I have no business relationship with any company whose stock is mentioned in this article.