How can one not be bullish these days, or even doubt this market? We cannot come up with an argument for why one should not be bullish and feel we have put forth a very compelling case over the past 15-18 months or so stating exactly why one should be bullish. The precious metals are an entirely different story, however the bounce yesterday in equities only magnifies the strength there is and the desire of the money on the sidelines to rush in on any pullback to buy "value". Simply check out our 'Chart of the Day' for further evidence of this 'Top, Down' or 'Trickle Down' bull market as we feel many will begin to call it once they realize exactly what is going on. The fact that this has not been discovered only strengthens our resolve that this is a long-term bull in the making.
Chart of the Day:
We have discussed, probably to a point of boredom to our faithful and daily readers, the impressive runs in the blue chip consumer goods names. This chart highlights those names which we saw hitting new 52-week highs yesterday (some of which are also all-time highs). It is impressive and demonstrates the strength of this bull market, especially following the price action on Monday.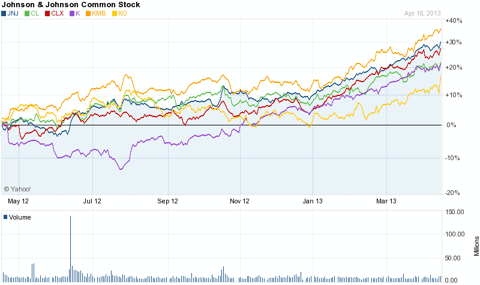 Chart courtesy of Yahoo Finance.
We have economic news due out today, and it is as follows:
MBA Mortgage Index (7:00 a.m. ET): N/A
Crude Inventories (10:30 a.m. ET): N/A
Fed's Beige Book (2:00 p.m. ET): N/A
Asian markets finished higher today:
All Ordinaries -- up 1.00%
Shanghai Composite -- down 0.05%
Nikkei 225 -- up 1.22%
NZSE 50 -- up 1.14%
Seoul Composite -- up 0.08%
In Europe markets are sharply lower this morning:
CAC 40 -- down 1.62%
DAX -- down 1.46%
FTSE 100 -- down 0.53%
OSE -- down 0.51%
Financials
As many of the market commentators are fond to point out it was the financials which led this rally. As we have said many times it was the transports which started the party, with the blue chips providing the slow and steady gains to chase the bears away (think the 'big uglies' on the offensive line in football, American style of course) and then one can safely say that the financials led the way higher. They are like the skill position players who get all the glory without the sacrifice, but with that aside we did want to point out that the sector did have a nice bounce back yesterday along with the rest of the market. The housing numbers did not hurt, although there was some muttering about multi versus single family homes but we feel that it is but one data point the bears have to pull from as the rest indicate, at least to us, that the foundation is being formed for expanded economic activity (new households being formed and the possibility for the birth rate to tick up). We were a bit turned off by the price action in Regions Financial (NYSE:RF) however and wanted to remind readers that the $8/share level have proven many times to be strong resistance, which it once again did yesterday as the shares hit a high of the day at $7.99/share before finishing at $7.97. It took us a while to break through that level before and it would not surprise us if it takes a few more tests before it is breached again. We are still of the opinion though that once breached there is decent upside in the shares, but probably no more than 10% in the short-term.
Could $8/share prove to be as hard to take out this time as it was before? We think not, however it will not be easy either. Look for the breakthrough and then expect no more than 10% upside in the short-term.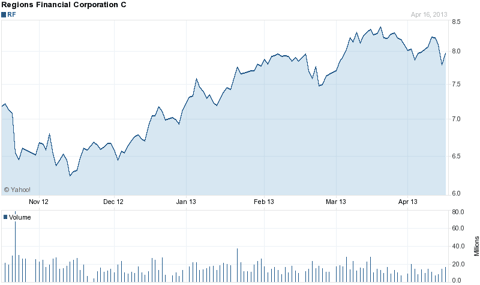 Chart courtesy of Yahoo Finance.
Retail
Rite-Aid (NYSE:RAD) continues to be a story as the computers and day-traders have taken to the stock as a momentum play and really driven up its profile. Yesterday it once again traded over 100 million shares, with 113.4 million actually trading. News yesterday was that the company's largest holder, Jean Coutu, sold nearly 73 million shares and now holds a stake of approximately 11.7% which has some thinking that the company could be in play at some point in the future, especially if numbers continue to improve. It is hard seeing either Walgreen's (WAG) or CVS (NYSE:CVS) being allowed to swallow the company, or even jointly take it out so there is some logic in this thought, however we believe that the company becomes an acquirer of regional or local players which could be done in a manner to provide a boost to earnings either immediately or in the very near-term. It is the move we would make if we were running the company and the one way to add to your current business in a manner which would also allow for cost cutting while not necessarily benefiting the competition. This story is becoming more intriguing by the day.
After all these years are we finally seeing the birth of a third, strong national drugstore chain? It certainly seems that the narrative has turned that way and one cannot argue that the data does not agree with that, but the question is, how does the company beef up in order to take its much larger peers on?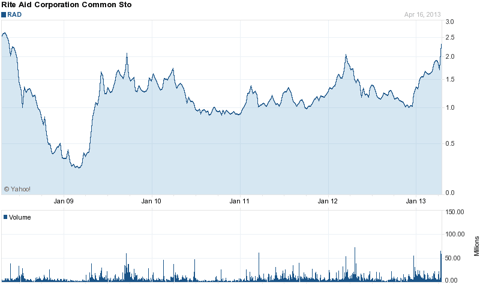 Chart courtesy of Yahoo Finance.
Readers need to also pay attention to Coach (COH) which has earnings out in the next few days which should give us a pretty good idea as to how their business is holding up. Shares have rebounded to $51.71/share after the sell-off from the previous quarter, which investors were hardly impressed with but we think they could be poised to head higher as much of the downside has already been priced in and the economic environment has only improved here in North America. Lastly, taking a look at the chart on this one, we have to say it is looking bullish and setting the table for a run higher so long as the company can either meet or beat the lowered expectations.
Consumer Goods
We have been bullish of Starbucks (NASDAQ:SBUX) for over a year now, and after a large initial run-up we missed the opportunity to sell around $60/share and instead raised our price target on the company about 10% higher thinking that their growth plans would be enough to add fuel to the fire. It was a bad call then as the shares retraced, however now we are once again approaching the $60/share level and looking quite strong. The company is growing their new brands and continues to reinvent the consumer experience at the namesake stores. They are indeed saturating the coffee market, trying to be your corner coffee shop, grocery store drink and the brew you make yourself at home and/or in the office. From what we have heard they are doing a good job of this plan too as we have heard of many people switching to the brand they know as a luxury now that the economy is picking back up. That has to be bullish moving forward.
Technology
One of our "million dollar ideas" when we were younger was a national wireless network which was more wire than less. We could not understand why companies such as AT&T (NYSE:T), Verizon (NYSE:VZ), Sprint (NYSE:S), T-Mobile, BellSouth, SBC, PacBell, US West/Qwest, etc, etc all were bidding up wireless spectrum when they could have done with much less spectrum and simply opted to use the spectrum as a connecting point to their vast wireline networks (AT&T and the Baby Bells especially). Well that technology exists in a smaller form today via Towerstream (NASDAQ:TWER) which has built a national wireless network which sits in many of the country's largest cities. They use strategically located antennas hooked into fiber to transmit data and provide services to the large carriers which essentially allows the big boys to offload a bunch of their traffic to this secondary network in order to keep enough bandwidth for their main system to continue to function properly. This system is in Boston, NYC, LA, Chicago, Dallas, and many more large metropolitan areas and during any terrorist attack could be used to help keep cellular networks from being overloaded or crashing. We have been intrigued by this name for a while, and if the tragic events in Boston do not demonstrate a reason why a network such as this is needed to back up commercial networks, it sure provides a great opportunity for government to lock in a secondary network in case of emergency.
It has been a rough year for those who bought TWER when we first highlighted it, but we are now back to those initial levels. We think that the tragic events in Boston may lead some to question why governments, or even Homeland Security, has not used a network such as this to patch together a backup emergency network in times of crisis. It is a valid question.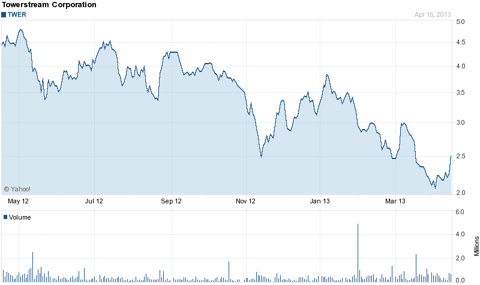 Chart courtesy of Yahoo Finance.
Disclosure: I have no positions in any stocks mentioned, and no plans to initiate any positions within the next 72 hours. I wrote this article myself, and it expresses my own opinions. I am not receiving compensation for it (other than from Seeking Alpha). I have no business relationship with any company whose stock is mentioned in this article.