In my recent articles, I have discussed my bearish outlook for risky asset classes for the remainder of 2013. I continue to believe the same amidst the risk evident in global economic growth. At the same time, any correction in commodities and equities will present a good long-term investment opportunity. This article discusses the near-term outlook for crude and the reasons to consider exposure to exploration stocks when crude and equities decline.
One of the primary reasons for expecting a correction in crude is the way the global economy is growing. China's GDP grew by 7.7% in the first quarter of 2013 with a decline in factory output and investments. Crude immediately declined after the GDP growth news. Growth in India has also slumped amidst poor government policies and inflation dipping to a 3-year low is an indication of the lethargic growth India is witnessing. For advanced economies, the IMF projection indicates recession in the euro area in 2013. For the United States, the March 2013 retail sales disappointment might just indicate a relative weakening in economic activity. Therefore, from a growth perspective, the outlook is dim for 2013 and the same should reflect in crude prices going forward.
Also, investors should note that an increasing risk to global economic activity will trigger "risk off" trade and investors will seek protection in Treasuries and cash. This trend might be on with the 10-year Treasury yields declining from a peak of 2.05% in March 2013 to 1.70% currently. This is important to consider because the flow of money into Treasuries and in the form of cash will result in a stronger dollar and a relative tightening of global liquidity. A stronger dollar, in turn, will result in a decline in all commodities and risky assets.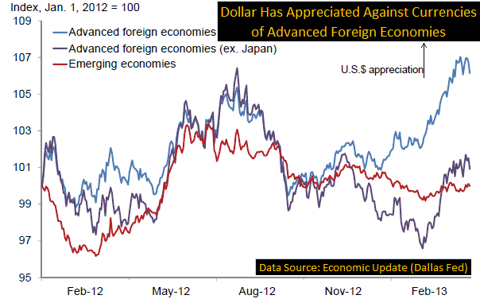 The extent of decline might be difficult to discuss. However, crude can easily see a correction of 10% over the next three-six months. At the same time, equities are likely to decline during the same period for reasons discussed in one of my earlier articles. This will give investors a good buying opportunity. Quality exploration companies can be considered for long-term exposure.
My bullish outlook for the long term comes from the belief that emerging economies will continue to exhibit robust growth after the current deceleration. As the chart below shows, emerging economies have been driving the oil demand growth with the growth contribution from advanced economies being minimal.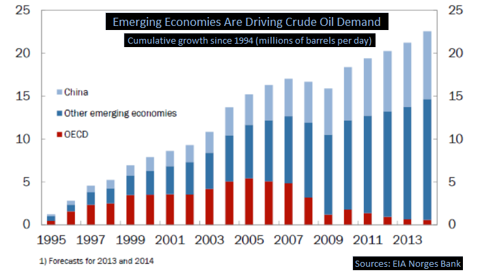 In terms of consumption upside, the chart below gives a clear idea of the impending potential of crude consumption growth in the biggest emerging markets (China and India).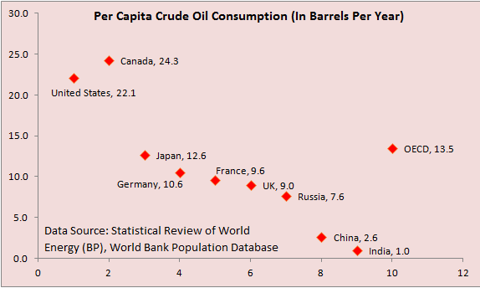 I do believe that China might not grow at 10% over the next few years. However, the long-term growth story is still intact and living standards will continue to rise in China and India over the next few decades resulting in incremental oil demand.
These two fundamental factors do make me believe that crude will trend higher in the long term and exploration companies will witness healthy growth and profits.
Investors can consider exposure to the following stocks over the next three-six months:
BP Plc (NYSE:BP) - is an attractive long-term buy due to several reasons: excellent and diversified asset base, presence across the value chain, presence in alternative investment themes and a good dividend yield of 5.2%. Further, the TTM P/E is at an attractive level of 11.34. Overall, BP is well positioned to take advantage of the long-term appreciation in crude oil prices.
Total SA (NYSE:TOT) - The French oil giant is another excellent near-term and long-term investment option. A strong dollar and cost associated with the North Sea natural gas spill has depressed the stock in the near term and provides a good buy opportunity. Like BP, TOT has integrated operations and is a globally diversified player. TOT also offers a very attractive dividend yield of 5.6% and is trading at a low TTM PE of 7.8.
Eni SpA (NYSE:E) - Eni is another European major, which has an excellent long-term outlook and is trading at attractive valuations. E's strategic plan (2012-2015) includes sale of assets to strengthen the balance sheet and also focus on big projects. The production ramp up in existing fields, trending up crude prices in foreseeable future, a stronger balance sheet and partnership with Gazprom for joint developments of projects are some factors, which make E an attractive buy. E also offers a dividend yield of 4.8% and is currently trading at an attractive P/E of 8.26.
Disclosure: I have no positions in any stocks mentioned, and no plans to initiate any positions within the next 72 hours. I wrote this article myself, and it expresses my own opinions. I am not receiving compensation for it (other than from Seeking Alpha). I have no business relationship with any company whose stock is mentioned in this article.