Several recent articles on Seeking Alpha have presented a rather bleak picture for the near future of OCZ. You may read some of those opinions here, here, and here. In some cases, they have presented data without giving proper context or speculated on factors that have nothing to do with the company's current finances. In fact, I believe they have been quite wrong on the demise of OCZ. I'm not going to go through point by point and refute those claims here as the authors are entitled to their own opinion. Rather, I'm going to present a more even-handed evaluation for OCZ and lay out the pros and cons in investing in OCZ.
The Ugly Past
In September 2012, ex-CEO Ryan Peterson departed from his position as the head of OCZ. The reasons for his departure are a source of speculation and rumor, but soon after his departure, new CEO Ralph Schmidt dropped a bombshell: OCZ had misstated revenue during FY12 by counting the effect of certain rebate programs directly against the gross revenues (Piper Jaffray Conference, 6:10). Following GAAP, the actual revenue streams were substantially lower than reported (in the range of $65-85 million) with negative gross margins on some product lines, thus triggering the need to restate Q2-Q3 of FY12. After this large accounting error was discovered by the recently-retired CFO Arthur Knapp, it became clear that Ryan Peterson's leave was likely the result of a dismissal by the board. The process of restatement through an independent auditor has been lengthy, a six-month process to date, and has led many investors to take their money elsewhere until the dust settles.
The decision by Schmidt to do the right thing and clean up the books has had some unfortunate side effects. First, the lower revenue numbers violated their loan covenant agreement with Wells Fargo, triggering an accelerated repayment of $20 million in debt. OCZ accomplished this by writing off a glut of inventory (totaling over $100 million, now down to $50 million), cutting ~200 employees (28%) of the global workforce, and using any excess cash to pay off the debt. While other SA authors questioned whether OCZ would survive during this transition, OCZ has proven resilient. By February 2013, OCZ had repaid their obligations to Wells Fargo, but were left with just under $10 million in operating cash. That had OCZ scrounging for a new loan, which eventually came from Hercules Technology (NASDAQ:HTGC) to the tune of $30 million. The terms of the new credit facility can be found here, but in essence, it provides $10 million up front, $5 million more for being current with their filings going forward, $10 million in a revolving credit facility, and $5 million more in revolving credit for meeting minimum revenue levels and obtaining an additional $20 million through on a loan or equity offering by May 31, 2013.
The second unfortunate side effect to restatement of Q2-Q3 of FY12 has been the delay of current 10-Qs from Q4 FY12 and Q1 FY13 with crucial information as to how the turnaround of OCZ is playing out. This excessive delay has forced OCZ into non-compliance with Nasdaq reporting rules. The unavailability of information has led to rather wild speculation on the current state of the company's finances and questions as to whether OCZ will be delisted from the Nasdaq. OCZ has already obtained several extensions from the Nasdaq in reporting their delinquent 10-Qs. The current deadline of April 8th, 6 months after the first missed report, has now passed and led to a large sell-off in the stock. The company may still obtain another extension for another 6 months, but the process now involves a hearing with a Nasdaq listing board, which could rule to delist OCZ for noncompliance. However, one has to ask WHY would Nasdaq do so? Is it in their best interest to delist OCZ given the efforts to restate its finances and new leadership? I believe it is not, and that the Nasdaq will either delay a ruling on OCZ until a hearing is held and/or provide another extension for OCZ in short order.
The Plan Going Forward
When I invest in a company that has yet to turn a profit, I want the CEO to have a strong plan for how to get the company to profitable levels with room for growth. Ralph Schmidt has such a plan. Recognizing the fact that NAND memory has become essentially commoditized from a few large companies like Samsung (OTC:SSNLF) and Micron (NASDAQ:MU), Schmidt understood that a company without NAND fabrication cannot compete at the value end of the market. This fundamental fact was ignored by Ryan Peterson, and it led to terrible business practices that sold products below cost to maintain market share.
Instead, Schmidt decided immediately to go after the higher margin enterprise market to turn OCZ around. Armed with the new in-house controller technology, Schmidt has put forward a plan that delineates OCZ from its competitors by offering SSD products addressing multiple levels of enterprise with PCIe (Z-Drive & Vector), SAS (Talos 2), and SATA (Deneva 2) backbones. Each of these lines have cutting-edge IOPS as well as the XL Accelerator driver software that can be configured by the end user to specific optimized tasks. This "complete solution" approach will allow OCZ to get a foothold in the hotly-contested enterprise market while still offering high end, consumer-orientated SSD products like the highly-regarded Vector and Vertex lines.
The initial strategy to go after the enterprise market and leave the value market behind seems to be paying off. According to Schmidt, the new quarterly revenue baseline of ~$80 million can be assumed going forward, and the company should be profitable by FY14 at a breakeven of ~$100 million in quarterly revenue with 20-30% annual growth (Roth Conference, slide 19). Although one would need to see the numbers to back up this claim, the fact that OCZ generated enough cash to pay off their loan with Wells Fargo since the release of the BF3-based Vector and conversion to the enterprise-centric strategy and still have a little money left over suggests that the higher margin strategy with lighter operations, reduced product offerings, and lower inventory levels is already beginning to pay off. Further, the ability to convince a new lender with Hercules Technologies investment acumen supports the notion that OCZ has a lot of upside and is making the turn towards profitability.
In terms of coming into compliance with Nasdaq, it seems as if OCZ is delaying reporting until all quarters can be delivered simultaneously. At a minimum, the past delinquent quarters of FY12 will be reported together (Roth Conference, slide 20). This strategy will put the past negative margin quarters (Q2-Q3) into a positive context of the future operations (Q4). Having recently completed the independent audit, coming to a close on the restatement process, and the need to raise additional cash through loan or equity offering, it's likely that OCZ will report their delinquent 10-Qs in early-mid May such that they can concentrate on being in compliance for further quarters going forward. However, this is a bit of speculation on my part just given the timing and confluence of events.
Pros and Cons
To get a clearer picture as to the investment risks and possible reward, let's break this down into pros versus cons.
Pros:
OCZ has adjusted their business strategy towards the enterprise market and are offering a unique solution to multiple levels of enterprise needs. They have abandoned the value segment where they cannot compete. This is a lighter-weight operations strategy that should expand on the overall margins from the high teens to the mid-20s (Piper Jaffray Conference, 8:40) and deliver on the promise of profitability.
OCZ has excellent technology in the Vector and Vertex product lines. Combined with their Barefoot 3 controller, they offer a product combination that is unique and competitive with larger manufacturers like Samsung at the high end of the consumer market.
OCZ has new management that understands the current direction of the SSD market and is positioning itself accordingly. Ralph Schmidt is addressing the problems of the past head on and acquiring the necessary funds and partnerships to keep the company going forward. Further, the company has started to hire again...a possible sign of expansion.
Cons:
OCZ currently has a low cash balance, likely <$30million for operations, and will need to raise $10 million more by May 31 in order to achieve the full amount offered by Hercules. At $2 a share (well above the current level, but below the $2.18 buy made by Hercules), this would represent about a ~7% dilution of the stock.
OCZ could be delisted from the Nasdaq. It isn't clear that this is in the Nasdaq's best interest and, in this author's opinion, has a low (but non-zero) probability of occurring given the progress towards restatement.
The previous 10-Qs from OCZ are under investigation by the SEC (at OCZ's request) and several lawsuits have been filed. The former could lead to either penalties on the company or indictments of the former CEO. The latter could be an additional expense to the company but will likely take years to litigate.
With these facts laid bare, one has to ask if OCZ is an investment for you. Conservative investors will see the cons and likely run for the hills. Short sellers will see the risks associated with the turnaround of OCZ and salivate. It's understandable given the current hurdles in reporting and the low cash levels, leading to sharp price swings to the downside even on speculative information.
However, an investor willing to take on these risks over a 1 year time horizon may find substantial reward. At the current stock price of $1.18, OCZ is trading with a market cap of ~$80 million, which is roughly equal to their projected quarterly revenue. The stock is technically in oversold territory, although technicals mean less when substantial company events are occurring weekly. With a profitable game plan being executed over the next year, there is substantial room for upside from the current levels. Even a small nibble might pay off handsomely.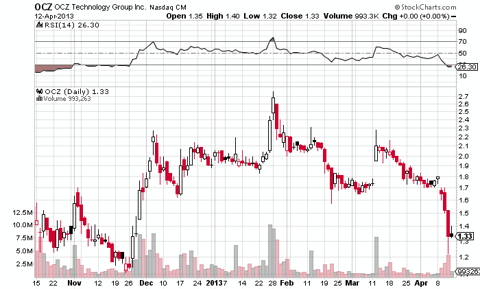 I put myself in the latter group. When fear exceeds rational decision-making and market rumors swirl that have nothing to do with the bottom line that is when there is money to be made on the long side. After researching and following the company during this turnaround, I believe a small speculative buy is warranted given the current risks and possible reward. Straddle option strategies may also be employed for significant gains, although the current PPS is near all time lows and suggests a limited downside.
Conclusion
OCZ is a company in transition, and that means a wild ride for investors. If you are not willing to take on or ride out losses of >40%, then you should steer clear of this stock. However, a nimble investor - long or short - may find substantial opportunity in OCZ in the current range. The April-May timeframe should be quite eventful with the Nasdaq listing board result and 10-Q reports likely to come out. Have no doubt, there is money to be made (or lost) in playing this name.
Disclosure: I am long OCZ. I wrote this article myself, and it expresses my own opinions. I am not receiving compensation for it. I have no business relationship with any company whose stock is mentioned in this article.
Additional disclosure: I may add to my position in the next 72 hours.