By: Brendan Gilmartin, VP Research And Content
Google (NASDAQ:GOOG) is scheduled to report 1Q earnings after the close of trading on Thursday, April 18. Results are usually available in the minutes after the closing bell with a conference call slated to get underway at 4:30 p.m. EST. The S&P E-Mini, NASDAQ 100 E-Mini futures contracts and PowerShares QQQ (NASDAQ:QQQ) (Google is 3rd biggest holding in the QQQ) tend to see active trading off the results.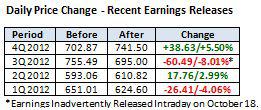 Outliers And Strategy
Google is expected to earn $10.69 per share (on a Non-GAAP basis) on revenue (ex-TAC) of $14.04 bln. The high estimates on the Street are $12.20 per share and $15.12 bln, respectively (Source: Yahoo Finance). Given the magnitude of the run-up in Google shares, look for earnings at the high end of this range in order to sustain the advance.
The options market is currently pricing in a 5.77% move in Google shares following Thursday's earnings release.
Recent News
Technical Review
Google shares are off a mere 6.00% from the 52-week high of $844.00 established in early March, following a report from Jefferies, whereby the firm raised the price target to $1,000 per share. Since then, the longer-term rally has faded, with the momentum oscillators coming off the overbought readings established six weeks earlier. Near-term, $800 (50-Day SMA) is a key level. Should results come in well above the elevated Street views, Google could easily recapture the aforementioned 52-week high. Conversely, support is at $760, with downside risk to $740 should earnings surprise to the downside. (Chart courtesy of StockCharts.com)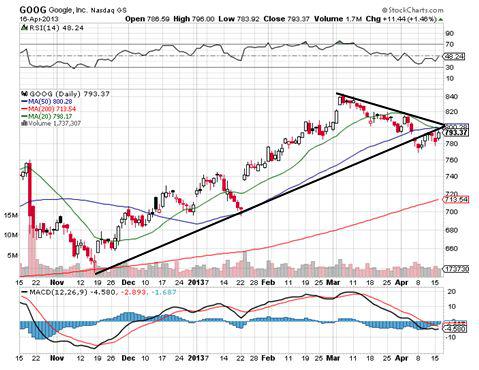 Summary
Google shares recently broke out to an all-time high, benefiting from its aggressive expansion in mobile, its dominant position in search, increasing ad revenues thanks to an improving economy, growth in the YouTube segment, and valuation. Google is currently trading at 24.4x earnings, just a slight premium to the 5-year average (23.9x). Given this positive backdrop, Google needs to deliver stellar results for the first quarter in order to recapture the 52-week high of $844 established early last month. The current estimate for Non-GAAP EPS is $10.69 per share with a high number on the Street at $12.20. In order to push the shares higher, earnings need to come in at the high end of analyst forecasts (>$12.00/share).
DISCLAIMER: By using this report, you acknowledge that Selerity, Inc. is in no way liable for losses or gains arising out of commentary, analysis, and or data in this report. Your investment decisions and recommendations are made entirely at your discretion. Selerity does not own securities in companies that they write about, is not an investment adviser, and the content contained herein is not an endorsement to buy or sell any securities. No content published as part of this report constitutes a recommendation that any particular investment, security, portfolio of securities, transaction or investment strategy is suitable for any specific person.
Disclosure: I have no positions in any stocks mentioned, and no plans to initiate any positions within the next 72 hours. I wrote this article myself, and it expresses my own opinions. I am not receiving compensation for it (other than from Seeking Alpha). I have no business relationship with any company whose stock is mentioned in this article.