The collapse of Apple (NASDAQ: NASDAQ:AAPL) stock price over the past six months has caused the once seemingly-golden stock to fall from grace with investors. A look at the way Apple stock has performed relative to the respectable gains of the S&P 500 seems to confirm the "disappointing" tag placed on it by stock analysts, with the stock price falling 40% from its peak level despite profits of close to $42 billion in 2012 on earnings of close to $165 billion. As of April 15, Apple stock closed at nearly $420, the lowest it has seen since prices started falling from the $700 level last September. Because of this, Apple stock is experiencing one of its worst sell-offs in the past ten years.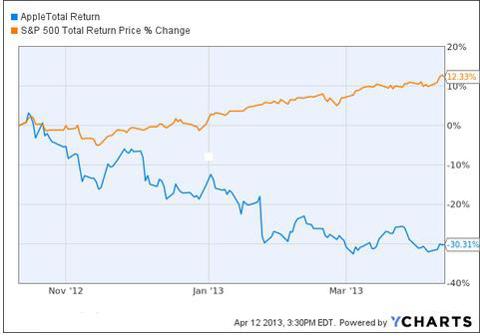 So why should investors keep Apple stocks as part of their long-term investment portfolios? Basically, the price fluctuations that Apple is currently experiencing are only short-term glitches and looking at the company's performance over a longer term shows that it still has the potential to be a strong performer. Apple's performance over the past five years relative to that of the S&P 500 index reveals that while the index had a respectable performance, with a close to 34% gain, Apple easily outperformed it with a nearly 200% increase.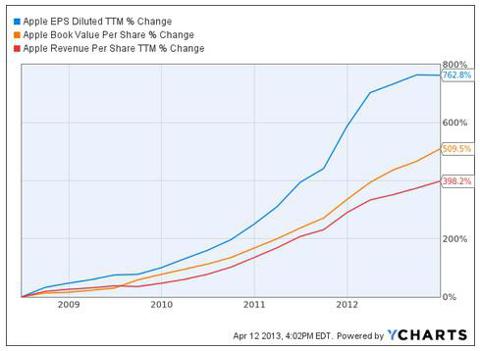 In addition, many analysts believe that Apple's fundamentals remain strong, since the company is still one of the most successful in the US. As of the first quarter of 2013, Apple reported a record $54.5 billion in revenue, a 17% increase over the same quarter last year, $13 billion in profits and $13.8 per share earnings. Its balance sheet at the end of the current quarter shows that it has some $137 million in cash on its balance sheet.
Apple's strong performance was attributed to the continuing strength of its hardware business, particularly following the introduction of the iPad mini, which cleaned up during the peak holiday buying season. Figures from the company revealed that it sold some 22.9 million iPad units, 47.8 million iPhones and 12.7 million iPods during the first quarter. Thus, investors who held on to their Apple stock can look forward to a 2.5% dividend, for a payout ratio of just twelve percent.
Hence, it seems that the sell-off of Apple stock is ridiculously overblown, particularly in the light of its continuing strong performance figures, and the panic selling was prompted by investors' unhappiness over the company's earnings per share leveling off after years of breakneck growth, something which the company could not maintain. At present, Apple stock represents a great investment opportunity, with its shares trading at 9.7 times trailing earnings and at just 8.7 times forward estimates.
But what about Apple's long-term prospects? Will it still be able to maintain its performance in the long-term? And will it be able to stand up to competition from Samsung (OTCPK:SSNLF) and Google (NASDAQ: GOOG)? In February, Samsung's Android-powered Smartphones were easily able to outpace Apple in the global market, which has been experiencing difficulty in strengthening its presence in key emerging markets such as China. However, it is worth pointing out that Apple was still able to account for 70% of total smartphone profits in 2012. And Apple still has plenty of chances to improve its performance in the region, particularly since its mobile devices are yet to be available on China Mobile (CHL), the country's largest mobile network.
Of course, Apple is not only set to refresh its popular iPhone line in the near future, but will also introduce new, sure-to-be hot products sometime down the line. Some of these rumored products include the Apple Watch, a wristwatch-like device that may have some of the features of the iPad and the iPhone, the Apple iTV as well as flexible-glass display technology, which is set to transform all of the company's products. For example, imagine an iMac with a 30-inch flexible screen to greatly enhance visibility. Flexible glass also makes possible devices that can be used like standard iPhones, and then fold out to the size of tablets. Or you could have tablets that can close like laptops by folding in the middle. The possibilities are seemingly endless, and because of its innovations, Apple is set to remain on the cutting edge of the technological curve. And as the world increasingly shifts toward accessing the Internet through mobile devices, Apple is one of the companies best placed to create new service and product categories to take advantage of this shift. In the final analysis, despite the sell-offs, Apple's prospects over the long term continue to shine brightly enough that it remains a strong investment opportunity.
Disclosure: I have no positions in any stocks mentioned, and no plans to initiate any positions within the next 72 hours. I wrote this article myself, and it expresses my own opinions. I am not receiving compensation for it (other than from Seeking Alpha). I have no business relationship with any company whose stock is mentioned in this article.