Introduction
Mobile marketing and advertising is one of the fastest growing industries to date. We have to look no further than smartphone and tablet sales trends to imagine the interest stemming from media companies, advertising agencies, and the many brands out there.


For investors, there are roughly a dozen or so public companies that operate in this space, and have significant exposure to take advantage of this major market shift. These companies include:
Mobile Marketing and Advertising Pure-Plays
Other Significant Companies
AOL, Inc. (NYSE:AOL)
Apple, Inc. (NASDAQ:AAPL)
Facebook, Inc. (NASDAQ:FB)
Google, Inc. (NASDAQ:GOOG)
Marin Software, Inc. (NYSE:MRIN)
Pandora Media, Inc. (NYSE:P)
ValueClick, Inc. (VCLK)
Yahoo!, Inc. (YHOO)
As many of us are aware, not all investment options are created equal. For 2013, Velti, Millennial Media and Augme Technologies have significantly underperformed market indices with current losses of 57%, 50% and 43% respectively. Facebook is flat, Marin Software trades near its initial public offering, or IPO, low, and Apple is down 36%. Google, Pandora Media, ValueClick, Yahoo, and AOL are all trading near 52-week highs.
In order to gain some perspective on the near-term potential for this market and the primary companies operating within it, data provided by eMarketer and Gartner will be assessed along with analysis of company market share, revenues and fundamental metrics.
Global and U.S. Trends
Both eMarketer and Gartner expect mobile advertising to continue to grow at a robust rate. According to Gartner, worldwide mobile advertising revenue is forecast to reach $11.4 billion in 2013, a 19% increase from 2012. Additionally, worldwide revenue is estimated to reach $24.5 billion in 2016, a roughly 36% compound annual growth rate, or CAGR. The Asia/Pacific and Japan region is projected to continue to lead mobile advertising spending followed by North America as a close second.
Mobile Advertising Revenue by Region, Worldwide, 2012-2016 (Millions of Dollars)
| | | | | |
| --- | --- | --- | --- | --- |
| | 2012 | 2013 | 2014 | 2016 |
| North America | 3,181.5 | 3,825.7 | 4,694.9 | 8,866.2 |
| Western Europe | 1,600.5 | 1,941.4 | 2,367.8 | 4,445.4 |
| Asia/Pacific and Japan | 4,333.0 | 4,864.9 | 5,506.7 | 9,480.2 |
| Rest of the World | 644.1 | 788.0 | 960.6 | 1,768.3 |
| Total | 9,759.1 | 11,420.0 | 13,530.0 | 24,560.1 |
Source: Gartner (November 2012)
eMarketer projects digital ad spending to significantly increase as a percentage of TV ad spending in the U.S. growing from $32 billion in 2011 to $60 billion in 2017, an 11% CAGR. TV ad spending is estimated to grow 3.6% per year comparatively during the same period. Additionally, digital video ad spending in the U.S. is expected to grow from $2 billion in 2011 to $9 billion in 2017, a 28.5% CAGR. Go-Gulf provides similar global and U.S. trends and includes additional market information.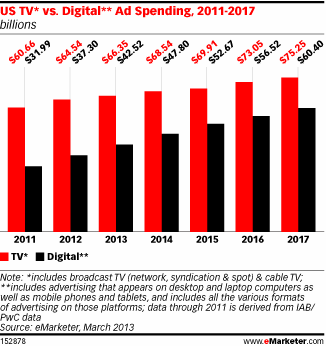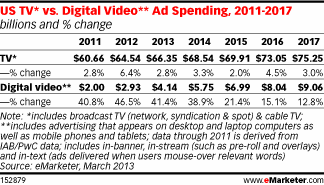 Mobile ad spending in the U.S. is projected to increase from $1.5 billion in 2011 to $27 billion in 2017, a 62% CAGR. As a percentage of digital ad spending, mobile ad spending is projected to increase from 4.6% in 2011 to 45% in 2017. Clearly mobile is a significant contributor to the growth in digital ad spending and digital video ad spending, and will continue to be the leading growth ad platform moving forward.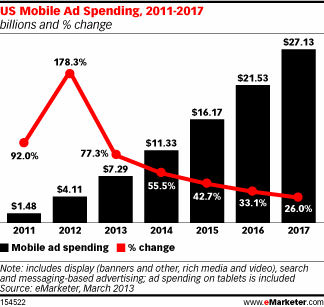 One last interesting component of growth in mobile ad spending within the U.S. is the corresponding growth in real-time bidding, or RTB digital display ad spending. RTB is a key component of ad exchange networks. The 2011 $986 million total is expected to grow to $8.5 billion in 2017, a 43% CAGR reaching just under 30% of total digital display ad spending. Based on the increasing share in mobile ad spend, we can assume a similar correlation of increased mobile within RTB digital display ad spending.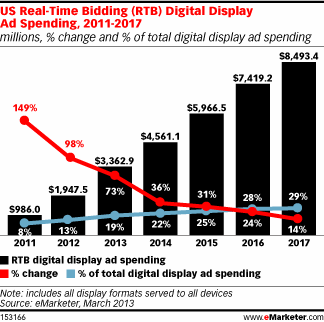 It should be noted that Gartner and eMarketer have varying results for U.S. mobile ad growth.
While these global and U.S. trends provide compelling evidence and suggest near-term strength within the industry, a deeper look at investment options within the marketplace is merited. The following graphic provides U.S. net mobile ad revenues by company including past, current, and forecasted revenues between 2011 and 2015.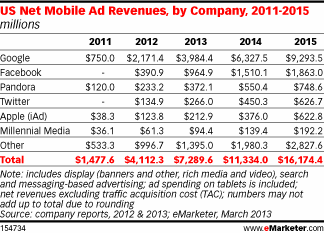 This information provides an excellent foundation to monitor mobile advertising trends on a company basis. One limitation is the lack of a correlation with mobile marketing campaigns. It is not clear whether a company like Velti for instance would be included in the "other" category, as Velti derives the majority of net revenues from marketing campaigns. The list also does not encompass the full spectrum of publicly traded companies provided in the introduction, nor does it give any insights into the "other" category of the marketplace.
Market Share and Revenue
The rational for the companies included in the assessment is that they all provide mobile marketing and advertising services to advertising agencies and media companies, brands and advertisers, either directly or through ad exchange networks including developers, publishers and advertisers.
The following table provides mobile ad revenues, CAGRs, and a ranked order of market share for 2013. It should be noted that Millennial Media, Velti and Augme Technologies include net revenues, which exclude third-party costs and Velti's revenues include mobile marketing. Additionally, assumptions have been made for Velti, ValueClick and Augme Technologies to best estimate U.S. revenues. Twitter is the only private company included. All company information is as of April 16, 2013.
| | | | | |
| --- | --- | --- | --- | --- |
| Company | Market Cap (billions) | 2012 Revenue (millions) | 2013 Estimate (millions) | 2011 - 2015 CAGR |
| Google | $261.5 | $2,171 | $3,984 | 62.4% |
| Facebook | $64.1 | $391 | $965 | 68.3% |
| Pandora Media | $2.3 | $233 | $372 | 47.5% |
| Twitter | N/A | $135 | $266 | 66.9% |
| Apple | $400.4 | $124 | $213 | 71.3% |
| ValueClick | $2.2 | $103 | $133 | N/A |
| Millennial Media | $.496 | $61 | $94 | 46.3% |
| Velti | $.127 | $35 | $51 | N/A |
| Augme Technologies | $.043 | $8 | $16 | N/A |
| Marin Software | $.462 | N/A | N/A | N/A |
| Yahoo! | $26.2 | N/A | N/A | N/A |
| AOL | $3.0 | N/A | N/A | N/A |
Summary
After considering eMarketer's information and a review of the list of company revenues it is very clear that major internet publisher companies have taken a significant lead in the mobile ad market. Not only do Google, Facebook, Twitter and Apple command the highest revenues, they also are growing the fastest and are estimated to grow revenues above 60% per year through 2015. Pandora Media is the laggard within this group.
There are no growth estimates for Velti, ValueClick and Augme Technologies, as eMarketer only provides a revenue estimate to 2015 for Millennial Media, with growth of 46% per year. ValueClick strikes me as a company that has not been promoted much within the "mobile revolution," and provides intriguing potential based on recent acquisitions, including Greystripe and Dotomi. More transparency is needed to gauge U.S. mobile-related revenues for Marin Software, Yahoo! and AOL.
A clear explanation for Google's dominance is illustrated by the graphic below detailing Google's internet search ad revenues.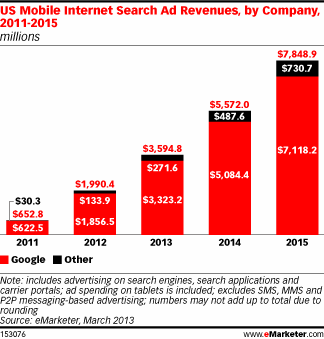 While search ad revenues as a percentage of ad revenues will continue to decline through 2015, they will still account for roughly 77% of Google's total mobile ad revenue. This is in contrast to Google's peers, which will be experiencing growth through display and messaging-based advertising. Google's integration of AdMob into its AdWords system last year appears to be a significant catalyst.
Going back to the "other" eMarketer category, we know that Velti, Augme Technologies, ValueClick, Marin Software, Yahoo! and AOL fall within this bin. What is equally interesting to note is the sheer amount of private companies in this space. Some of the leading private companies include Jumptap, InMobi, Amobee and there are probably hundreds more. Please refer to the following instablog for an overview of public company and private company products and services for mobile marketing and advertising. This instablog also provides a more in-depth review for Google, Facebook, Twitter, Pandora Media, etc.
Growth in the "other" category is estimated at 41.5% per year, and a key observation is that Millennial Media is tracking this growth trend. It should be considered that the major internet publisher companies such as Google, Facebook, Twitter and Apple, with the exception currently being Pandora Media, are growing at a significantly faster rate than ad exchange network-focused, and possibly marketing campaign-focused companies whether private or public.
Based on these trends, I would conservatively categorize pure-play company growth moving forward to be in the 40% range as a whole, obviously varying on a company basis. Investors should consider this for Millennial Media, Velti and Augme Technologies. The amount of growing competition and interaction through partnerships amongst ad exchange networks is something to think about too with respect to impacts on company revenues.
Additionally, investors should heed the development of other web-based Internet publisher companies transitioning to the mobile ecosystem. This includes companies such as TripAdvisor, Inc. (NASDAQ:TRIP), Groupon, Inc., (NASDAQ:GRPN), Yelp, Inc. (NYSE:YELP), etc. Other major business models that could potentially begin to transition into the market include Amazon.om, Inc. (NASDAQ:AMZN) or other retail and/or consumer packaged goods, or CPG businesses, as well as other major media companies including The Walt Disney Company (NYSE:DIS). Recent publications for Amazon and ESPN speak to this possible occurrence. These companies may be able to capture more rapid growth than pure-play businesses.
Fundamental Analysis
The following table provides key financial metrics comparing the previous public companies. All information within the table is as of April 16, 2013
| | | | | | | | | | | |
| --- | --- | --- | --- | --- | --- | --- | --- | --- | --- | --- |
| Ticker | Stock Price | Market Cap | TTM P/E | Price/ Cash | A/R to CL | Debt/ Equity | EV/ Sales | P/B | Price/ FCF | Sales/ FCF |
| GOOG | 793.37 | 261.5 B | 24.55 | 5.48 | 0.79 | 7.7% | 4.30 | 3.68 | 94.90 | 18.49 |
| FB | 26.92 | 64.1 B | 1822.15 | 6.06 | .70 | 20.0% | 10.03 | 4.96 | 154.67 | 13.50 |
| P | 13.46 | 2.3 B | N/A | 25.46 | 1.19 | 0.0% | 5.09 | 22.88 | N/A | N/A |
| AAPL | 426.24 | 400.3 B | 9.66 | 10.14 | 0.29 | 0.0% | 2.21 | 3.17 | 9.77 | 3.99 |
| VELT | 1.93 | 127 M | N/A | 3.37 | 1.58 | 9.6% | 0.43 | 0.42 | N/A | N/A |
| VCLK | 28.58 | 2.2 B | 22.10 | 15.83 | 1.04 | 24.1% | 3.34 | 3.66 | 15.62 | 4.77 |
| MM | 6.26 | 496 M | N/A | 2.78 | 1.34 | 0.0% | 1.37 | 2.33 | N/A | N/A |
| AUGT | 0.37 | 43 M | N/A | 2.59 | 0.12 | 0.0% | 0.77 | 0.43 | N/A | N/A |
| MRIN | 14.95 | 462 M | N/A | 10.26 | 1.00 | 0.0% | 5.09 | 9.66 | N/A | N/A |
| YHOO | 23.79 | 26.2 B | 7.24 | 6.84 | 1.02 | 0.8% | 4.92 | 1.96 | 33.53 | 5.84 |
| AOL | 38.87 | 3.0 B | 3.47 | 7.79 | 0.78 | 5.0% | 1.49 | 1.70 | 14.83 | 8.94 |
All items within the table incorporate diluted share calculations and the table term definitions include:
Trailing twelve-month price-to-earnings ratio - TTM P/E
Stock price to cash and short-term marketable securities ratio - Price/Cash
Accounts receivable to current liabilities ratio - A/R to CL
Debt to equity - Debt/Equity
Enterprise value to trailing twelve-month sales ratio - EV/Sales
Stock price-to-book value per share ratio - P/B
Stock price to free cash flow per share ratio - Price/FCF
Trailing twelve-month sales to free cash flow ratio - Sales/FCF
The above table, combined with the U.S. market data is very telling with respect to pure-play companies. Competitive fronts from major internet companies and other smaller private pure-plays appear to possibly be impacting growth. The stock market has significantly discounted Velti, Millennial Media and Augme Technologies. Each company has its menu of issues ranging from lack of earnings, negative cash flows, over-dependence on equity offerings, downward revenue revisions, etc.
At first glance, Apple appears to be the best value play. Investors should consider the fact that mobile ad revenues do not carry much weight compared to total revenues, so exposure to this industry via Apple is the most limited. Facebook and Google provide much better exposure as a portion of total revenues, with Facebook having a higher proportion. Pandora Media offers the most mobile advertising exposure as a portion of total revenues of this group, however, is arguably trading at a steep premium based on cash, P/B, and forward earnings. ValueClick seems to be fairly valued.
Despite public pure-play companies being near some of their lowest levels, the mobile marketing and advertising market is still in its early stages. There is much to be said for pure-play solutions including RTB, enhanced creative design capabilities for display ads and campaigns, HTML5, audience targeting, location-based advertising, and maybe most importantly data and analytics. There is a strong movement towards providing all of these solutions on a multichannel basis across desktops, laptops, tablets and smartphones.
Major internet companies like Facebook will be able to use similar solutions related to Facebook mobile platforms and applications, however, pure-play companies have the ability to be nimble offering more variety and flexibility for advertisers, brands, and media companies to reach consumers. If there is one thing paramount for future success, it is that the value of engagement for advertisers and marketers is within mobile devices, not necessarily one particular application or platform. However, based on growth trends, there is much to be said for companies with significant user scale and engagement, even if it is through a single platform or application.
Conclusion
To conclude the assessment of the mobile marketing and advertising industry, it appears investors have a preferential range of companies to consider. It would seem appropriate for more conservative investors to consider larger established internet companies such as Google, Facebook and Apple. ValueClick as a "middle-ground" investment is interesting to consider as its media revenue segment may become a major growth generator. Companies such as Yahoo! and AOL may see some mobile benefits with their current strategies, however, they will probably need to grow by acquisition.
The most unclear area within the mobile realm seems to be related to pure-play companies. Currently Velti, Millennial Media and Augme Technologies are all struggling to provide a profitable business, and fundamentally trade at significantly depressed levels. Investors should consider these companies as high-risk investments, especially with many unknowns related to developments within the private marketplace.
As we all know high-risk does occasionally pay off. There has been a lot of consolidation occurring within the mobile market and with global and U.S. market trends remaining robust, there is no indication that consolidation will not continue. Amobee is the most recent example of a valuation based on an acquisition price, selling to SingTel for $321 million last year. Both Augme Technologies and Velti are well within this valuation. Major internet companies looking to improve their ad exchange platforms, or marketing capabilities and analysis may begin to gobble up smaller pure-players. Mobile operators, media companies, and advertising agencies could be buyers as well.
This is not to assume that pure-play companies need to be acquired and that there is not a long-term market for them to grow into. It is yet to be determined how this component of the mobile market will prosper.
Also with Marin Software's recent initial public offering, or IPO, there has been an increasing interest in more mobile private companies going public. Jumptap has been active on the SEC and is a potential candidate to go public sometime in the near future. I would recommend investors consider giving IPOdesktop a follow to get the heads up on future IPOs. Here is an example from the IPO preview for Marin Software.
Patient investors may benefit from taking more time to assess the dynamics and progression of the mobile market. Larger companies whether media-based or retail oriented may find it valuable to directly have similar mobile strategies developed internally. Pinterest is another type of business model to think about with respect to consumer interest and engagement.
Mobile advertising and marketing has the potential to transform the relationships between products and consumers like never before, similar to how digital video advertising is already changing the way viewers watch and interact with advertisements. This is an exciting industry to invest in, however, it is important as always to make sure investment expectations are aligned with an understanding of the industry and perceived risks.
Disclosure: I am long VELT, TRIP. I wrote this article myself, and it expresses my own opinions. I am not receiving compensation for it (other than from Seeking Alpha). I have no business relationship with any company whose stock is mentioned in this article.