TGC Industries (NASDAQ:TGE) mostly engages in the geophysical service business of conducting three-dimensional surveys for clients in the oil and gas business. TGC has its headquarters in Plano, Texas. The seismic data acquisition services are provided throughout the continental United States and Canada.
The company is now operating 15 seismic crews consisting of nine crews in the U.S. and six crews in Canada. Eagle Canada's (wholly owned subsidiary) seismic acquisition services are also used by the potash mining industry in Canada, and Eagle Canada has particular expertise through its heliportable capabilities. TGC's clients rely on seismic data to identify areas where subsurface conditions are favorable for the accumulation of existing hydrocarbons, to optimize the development and production of hydrocarbon reservoirs, to better delineate existing oil and natural gas fields, and to augment reservoir management techniques.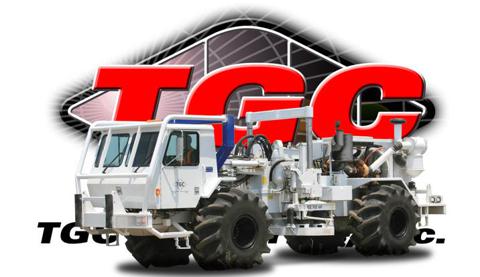 Source: tgcseismic.com
Acoustic energy is introduced into the ground by using vibration equipment or dynamite detonation, depending on the terrain surface and subsurface requirements. The reflected energy, or echoes, is received through geophones, converted into a digital signal at a multi-channel recording unit, and then transmitted to a central recording vehicle. Big volumes of seismic data are acquired this way, which when processed and interpreted, produce more precise images of the earth's subsurface. Customers then use the seismic data to generate 3-D geologic models that help reduce finding costs and improve recovery rates from existing wells.
TGC currently owns equipment for 16 land-based seismic data acquisition crews and 73 vibration vehicles. Each crew consists of approximately 40 to 80 technicians with associated vehicles, geophones, seismic recording system, energy sources, cables and other equipment.
The company growth can easily be seen in the number of crews it has:
2009: 6 crews
2010: 11 crews
2011: 12 crews
2012: 14 crews
2013 (year to date): 15 crews
The company keeps itself updated with the latest seismic technology equipment. Capital expenditures in 2012 were $57.1 million, up from $30.7 million in 2011. Now that the company has bought all the new equipment it needed (while maintaining a healthy balance sheet), capital expenditures should drastically come down this year. This means that free cash flow numbers should go up from here significantly, or as stated in the latest annual report:
These major investments should continue to bring us the benefits of these new technologies and allow us to be in a cash building mode in 2013.
As of December 31, 2012, the backlog was approximately $81 million. This brings the company a nice safety cushion:
Due to our backlog, we would not expect the loss of any single customer to have a material adverse effect on our operations.
In other words, the company is thriving. Even if it loses a customer (which doesn't seem likely), do not expect income results to be affected.
Stock Price and Technical Considerations
The stock is volatile (beta = 2.0) and has undergone wild swings in the past, but the major trend has been to the upside since it was under $3 in 2010. It went on rally mode from mid November to mid March (four months) to make a 70% run. It is moving mostly in tune with its industry and the market (NYSEARCA:SPY). The current price has a 10% discount from the previous high in March as shown below. Between October and December 2012, an inverse head and shoulders formed and the stock was mostly bullish from that point. There seems to be good support at $8.00.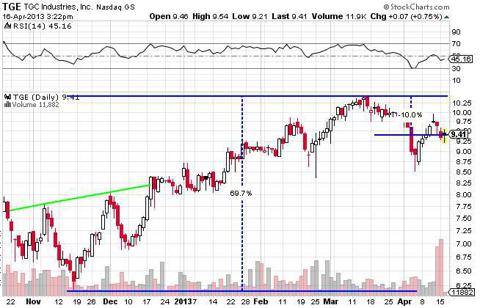 Industry Performance
The main factors influencing demand for seismic data acquisition services in this industry (oil and gas equipment and services) are the levels of drilling activity by oil and natural gas companies and the sizes of such companies' exploration and development budgets, which, in turn, depend largely on current and anticipated future crude oil (NYSEARCA:OIL) price, natural gas price and depletion rates.
Recently, basic materials (NYSEARCA:XLB) have been going down sharply and the downtrend of commodities in general (NYSEARCA:DJP-OLD) doesn't seem to end.
As the oil price goes down, the industry, represented here by the Market Vectors Oil Services (NYSEARCA:OIH), also goes down, providing opportunities. As a note, the U.S. energy rig count rose 33 to 1,771 last week, with oil rigs gaining 30 to 1,387 and natural gas rigs added 2 to 377.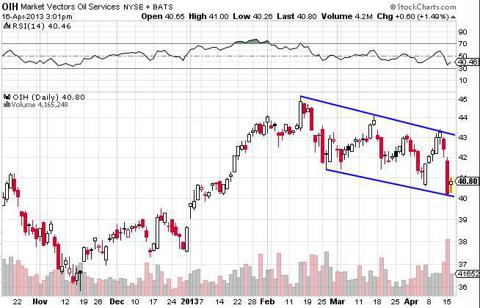 Statistical Evaluation
Numbers should always have priority over any subjective analysis. The following image shows a simple quantitative analysis presented in a layer or checklist-type format that I call Plan 21. My research methodology tends to focus more on a future growth analysis rather than solely relying on pure deep-value models. The aim is to have a system that is both straightforward and comprehensive by taking into consideration key elements from the income statement, balance sheet and cash flow statement without losing attention on the business expansion for coming years.
Only companies with positive EPS (12 trailing months) and positive growth for the current year qualify for the analysis. A glossary for the abbreviations is included at the end of Part II. As a reminder, we always need to be aware that estimates are multi-variable dependent forecasts that carry the inherent risk of future prediction.
Part I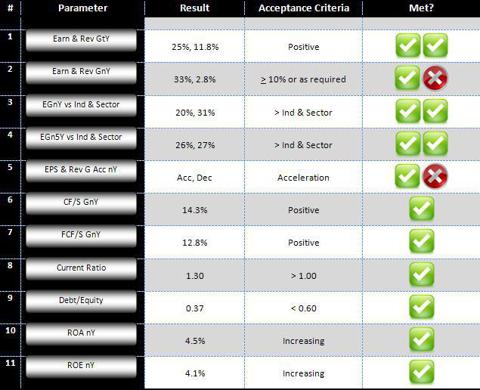 Part II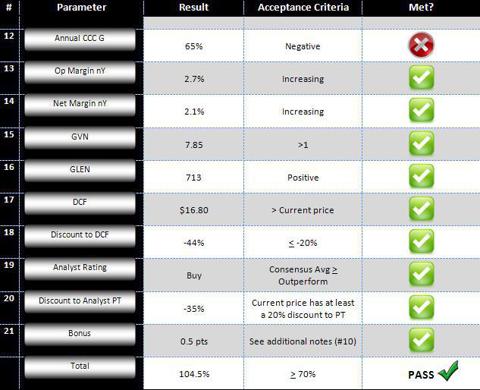 Data for calculations: Thompson Reuters, Yahoo finance, SEC filings
Earn=earnings, Rev=revenue, GtY=growth this year, GnY=growth next year, EGnY=earnings growth next year, Ind=industry, EGn5Y=earnings growth next 5 years, Acc=acceleration, Dec=deceleration, CF/S=cashflow per share, FCF/S=free cashflow per share, CCC G=cash conversion cycle growth, Op Margin=operating margin, GVN=growth and value number, GLEN=growth and lean equity number, DCF=discounted cash flow, PT=price target
TGC Industries passed the test with a 104.5% score, or an A+ rating.
The company simply blew away the test. It is not common to find an aggressive growth stock trading at such a discount to DCF (44%). Similar competitors for TGC are companies like Dawson Geophysical (NASDAQ:DWSN), which has a 60% premium over DCF, and Geokinetics (GEOKQ), which is in a restructuring process. To validate my point and be sure that this situation was uncommon, I verified other high growth companies in the oil and gas services industry like Cameron International (NYSE:CAM), Hornbeck Offshore (NYSE:HOS), Lufkin Industries (NASDAQ:LUFK), Tetra Technologies (NYSE:TTI), Weatherford International (NYSE:WFT), Baker Hughes (BHI), FMC Technologies (NYSE:FTI), Oceaneering International (NYSE:OII) and Schlumberger (NYSE:SLB). All of them trade at a premium to DCF analysis. Halliburton (NYSE:HAL) is currently trading at par with its DCF price.
TGC is expected to easily beat its industry and sector by more than 20% over the next five years. The very high GVN and GLEN metrics that TGC display suggest that the stock is very cheap at its current price. The analyst covering the stock seems to agree (it has a "buy" rating). It has a 35% discount to the analyst's average price target. Apparently, there is only one analyst covering the stock though.
As a "negative" point, the revenue growth estimate for next year is a weak 2.8%, which contrasts with the 33% earnings growth estimate for 2014. However, with 15 crews, new equipment and less expenditures, the free cash flow is set to prosper.
Other considerations to be aware of:
On March 21, the company announced that it "will record a reserve of approximately $2 million in the first quarter associated with clean-up expenses related to the ending of the Canadian winter season during the second quarter. The Company did not record such a reserve in the first quarter of 2012. Consequently, the Company is reaffirming its previously disclosed statement that it expects first quarter 2013 results to be below last year's first quarter. This is due to the above-mentioned reserve to be taken in the 2013 first quarter that was not taken in the first quarter of 2012; land permitting delays, mainly in the Northeast; and difficult winter weather conditions in parts of the U.S. during the first two months of this year." In other words, do not expect a great first-quarter report.
Companies within this industry are typically subject to high fixed costs, which consist primarily of depreciation (a non-cash item) and maintenance expenses associated with seismic data acquisition, equipment and crew costs. As a result, any extended periods of significant downtime or low productivity caused by reduced demand, weather interruptions, equipment failures, permit delays, or other causes could adversely affect results.
The acquisition of seismic data for the oil and natural gas industry is a highly competitive business. TGC's competitors include companies with financial resources that are significantly greater than its own.
TGC Industries seems to be a good bet to profit on the drilling boom in North America. I will be watching the market to take advantage of the dips to initiate a position and probably to add more shares later if appropriate.
Tell me what you think of TGC or its industry peers in the comments section below. Until later, trade safe.
Parameter Selection and Acceptance Criteria Rationale
There are some non-conventional metrics included in the tables:
Parameter #15 (GVN) is a growth and earnings yield hybrid that takes into consideration the company size, earnings and growth. An acceptable result must be greater than one (1) since that means a better safety margin when compared against an investment grade corporate bond benchmark. The higher the result, the better. I developed the GVN in the spirit of having a more reliable growth-value metric (compared to a 5 year estimated PEG).

Parameter #16 (GLEN) is a growth and balance sheet quality measure. A positive value is required in order to separate the best balance sheets from the rest without ignoring the growth of the company. The higher the result, the better. I created the GLEN in an effort to have a more practical and comprehensive measure than the net current asset value (NCAV).
Additional notes about Plan 21:
Only companies with positive EPS and positive growth for the current year (parameter#1) qualify for the analysis.

Parameters 1 trough 5 have two requirements each. Each requirement is worth 0.5 points.

The acceptance criteria for parameter #2 varies as a function of company size and other considerations. The requirement for revenue differs from the earnings one.

Parameters 3 and 4 are the differences between the stock growth and the growth of the industry and the sector. A negative number means that the growth of the stock is estimated to be smaller than the estimated growth of the industry or the sector.

Acceleration is calculated using only numbers from the previous year, estimated current year and estimated next year. Absolute differences are used, not percentages.

The results reported for ROA, ROE and margins reflect how much the measure of interest will increase or decrease based on estimates (absolute increase/decrease, not growth).

The annual CCC uses the past 2 years for calculation.

DCF uses a 50% safety margin for growth, a 0% long term growth and a 10% discount rate (10% is about the average of the very long-term stock market return, is also about twice the current BAA corporate bond yield and more than twice the AAA yield).

Stocks receive additional credit for DCF discounts greater than 20%.

There are three possible outcomes for the bonus result: 0 points, 0.5 points or 1.0 points. These bonus points are awarded to companies that comply with specific growth and share structure requirements at the moment of evaluation.
Disclosure: I have no positions in any stocks mentioned, but may initiate a long position in TGE over the next 72 hours. I wrote this article myself, and it expresses my own opinions. I am not receiving compensation for it (other than from Seeking Alpha). I have no business relationship with any company whose stock is mentioned in this article.
Additional disclosure: Any content in this article should not be considered as a recommendation or investment advice given that financial objectives and individual needs of the end user have not been evaluated. Suggestions or tips are for information purposes only and there is no guarantee on stock returns or market performance. All readers must use their prudence and consult their financial advisors before acting on any of the securities or suggestions mentioned or engaging into any other high risk investment. I do not hold any responsibility and can not be held liable for any losses incurred (if any) by acting on the information provided.