In my last article, I discussed the near-term outlook for the energy sector and recommended buying exploration stocks on declines. It is good to see some correction in energy companies like BP plc (NYSE:BP), Total SA (NYSE:TOT) and Eni SpA (NYSE:E). I do expect a further correction in these quality stocks, which will give investors a good opportunity to consider long-term exposure to the energy sector.
In this article, I will discuss another sector, which might remain depressed in the near term giving investors some relatively attractive medium to long-term buying opportunity. With the Bank of America Corporation (NYSE:BAC) missing analyst estimates, the banking sector stocks have taken a hit with Citigroup, Inc. (NYSE:C) down nearly 2% and JPMorgan Chase & Co. (NYSE:JPM) down over 3%. I do expect the banking stocks to decline further over the next 3-6 months in line with a broad market correction and relatively depressed earnings. This expected correction can give investors an opportunity to add few quality banks to their portfolio.
Before I discuss further, I would like to mention that banking stocks can give moderate to good returns. However, the equity portfolio should not be overloaded with banking stocks. One or two names in the sector can be considered as a part of the portfolio diversification.
Coming to the reasons for being bullish on U.S. banks, the sector is fundamentally strong in the U.S. compared to the rest of the advanced market economies. Further, there has been rational improvement in the U.S. banking sector after the crisis. A rational improvement includes factors such as deleveraging and the sale of unprofitable subsidiaries.
My point on the relative strength of the U.S. banking sector is evident from the chart below. Compared to the banks in the euro area (including the U.K.), US banks do look fundamentally strong. U.S. banks score better than German banks on loan absorption capacity, funding, asset quality and profitability. With the banking sector taking a cautious stance on new lending, balance sheets might improve further going forward.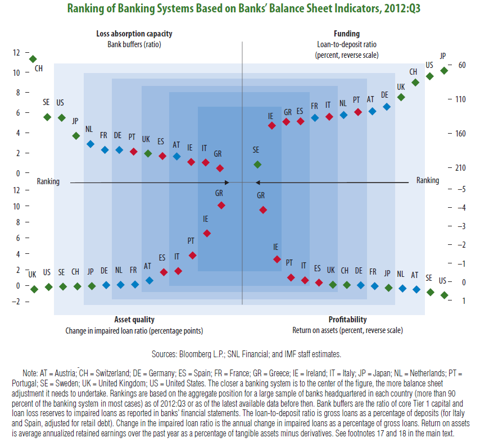 The fundamental comparison on the wholesale funding and the bank leverage ratio also indicates that U.S. banks are much better placed as compared to banks in the European region.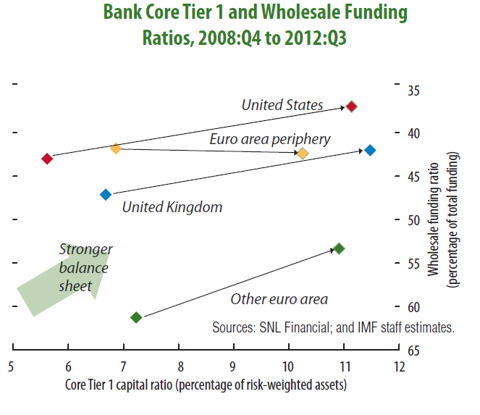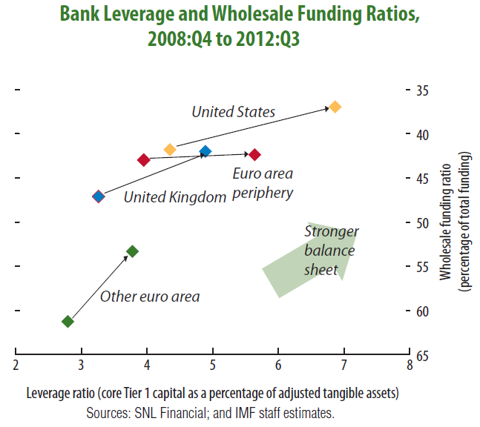 With high leverage and a high wholesale funding requirement, banks in the core euro area still are a high risk investment. For the U.S. banks, even on a standalone basis, the key ratios have tended towards improvement after the crisis. With Fed fund rates expected to remain low at least until 2014, the banking sector still has time to avail the extended bailout and further improve on its balance sheet.
In my opinion, the expected correction will make JPMorgan Chase & Co. an attractive buy. The stock has a healthy dividend yield of 3.2% when compared to Bank of America Corporation with a dividend yield of 0.3% and Citigroup Inc. with a dividend yield of 0.1%.
Disclosure: I have no positions in any stocks mentioned, and no plans to initiate any positions within the next 72 hours. I wrote this article myself, and it expresses my own opinions. I am not receiving compensation for it (other than from Seeking Alpha). I have no business relationship with any company whose stock is mentioned in this article.