Intel (NASDAQ:INTC) is arguably in the midst of the most radical period of change that the company has faced in its existence. Short-term market participants tend to generalize companies into short story lines, and the story line for Intel has been declines in the PC market, and increased CAPEX spending. For a long-term investor, the story is about Intel increasing its durable competitive advantages in manufacturing and designing chips in various computer form-factors and data centers. In addition, we are clearly in a phase of increasing connectivity in all aspects of our lives, and these devices require chips, and no company is better suited to meet the design and manufacturing needs for these chips as Intel is. Intel's profitability in the short-term is protected by its dominance in its PC Client Group and Data Center Group businesses, but over the long-term there are bigger opportunities that await the company. While analysts might obsess about increased CAPEX and the impact on next quarter's numbers, real investors such as a Warren Buffett rejoice when a company can allocate capital to enhance the company's competitive moat. The valuation is very cheap due to enhanced uncertainty, but I don't believe Intel to be a risky stock at current prices.
I believe market participants are looking at Intel's business as simply being aligned with the likes of Microsoft (NASDAQ:MSFT), Hewlett-Packard (NYSE:HPQ) and Dell (DELL) in the PC and laptop chip business. Clearly, these companies have a rich and profitable history, but Intel is the top designer and manufacturer of semiconductors. Semiconductors are in everything that computes, whether it is PCs, tablets, smartphones or a high-tech watch that might be the wave of the future in consumer devices. The greater the number of devices and the more enhanced the technological development skill that is required to design and manufacture the chips, the greater the potential impact is for Intel. Semiconductor manufacturing requires huge amounts of capital to both get adequate scale, and to keep up with the rapidly changing requirements that have become the status quo for the industry. This is wonderful for Intel because there are a limited amount of companies with the financial heft to compete, and many of the companies that could are clients that Intel provides a tremendous amount of value to. Intel misjudged the mobile market by focusing too extensively on performance, as opposed to energy efficiency and because of this it trails ARM Holdings (NASDAQ:ARMH) in this key market. The threat of ARM is significant because the company designs chips that can be built in foundries reducing the need for Intel. Since chip design is a far less capital intensive business, it is easier for smaller companies such as ARM to get a foothold into the industry on a particular line of chips. Because of the rapidly changing technical requirements of the chip business, the company that can continuously plow the resources into R&D, and optimize both the design and manufacturing over multiple cycles, should eventually emerge as the winner. Intel is a proven winner and it has the key client relationships, financial heft, and manufacturing acumen to transform the current industry status quo from being reliant on ARM in mobile.
Intel's manufacturing business is by far and away the industry's finest, with the lowest costs and the most advanced technology. Intel is actually parlaying its acumen as both a designer and manufacturer of chips to deliver high-end chips to customers by serving as a foundry of sorts. The company recently won an attractive deal to manufacture chips for Altera on Intel's 14 nanometer process technology. On the conference call outgoing CEO Paul Otellini mentioned that of course design win activity leads the announcement activity, so I'd certainly expect to see additional deals announced. Intel will be very selective in its decisions on who it builds chips for and what projects it undertakes. The key considerations will be whether or not there is a competitive threat element and the margins must be satisfactory, which is why the focus is exclusively on the high-end. In addition, Intel only wants to work with businesses that will have multiple products needing manufacturing, instead of any one-off type deals that can be done at any regular foundry. This business won't have a material impact on revenues over the next couple of years, but I view the additional utilization of Intel's robust manufacturing platform as being a very positive development.

Source- Intel 1st Quarter Press Release
On April 16th, Intel reported results for the 1st quarter with revenue of $12.6 billion, down 7% from $13.5 billion in the 4th quarter of 2012. Gross margins were 56.2%, down from 58% in the prior quarter. Operating income was $2.5 billion, down 20% sequentially from $3.2 billion. Net income was down 17% sequentially to $2 billion, from $2.5 billion. Earnings per share were $.40, down 17% from $.48 in the prior quarter. Intel generated approximately $4.3 billion in cash from operations, paid dividends of $1.1 billion, and used $533MM to repurchase 25MM shares of stock. R&D plus MG&A spending was $4.6 billion in the quarter. The PC Client Group had revenue of $8 billion, which was down 6.6% sequentially and down 6% YoY. The Data Center Group had revenue of $2.6 billion, down 6.9% sequentially and up 7.5% YoY. Other Intel Architecture Group had revenue of $1 billion, down 3.9% sequentially and down 9% YoY.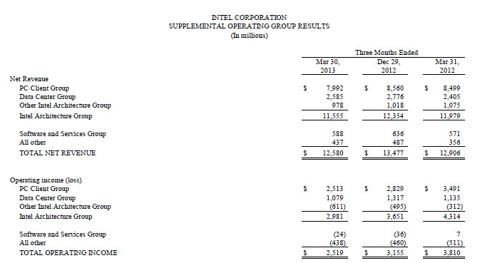 For Q2 2013, Intel forecasts revenue of $12.9 billion, plus or minus $500MM. Gross margin is expected to come in around 58%. R&D plus MG&A spending is forecasted at around $4.7 billion. For the full year Intel expects revenue to increase by the low single-digits and gross margins to come in around 60%. R&D plus MG&A spending is expected to come in at $18.9 billion, plus or minus $200MM. Full-year capital spending is expected to be $12 billion, plus or minus $500MM, which is actually down $1 billion from the initial expectation for $13 billion.
PC client volumes were down seasonally and Intel believes that the PC supply chain saw a continued reduction in inventory levels as customers decreased inventory of older generation PCs. The 2nd quarter should be an exciting one for Intel with the launch of its much anticipated Haswell chip, which will help facilitate lighter and sleeker form-factors for its customers. I believe that this will be a huge development for the company because currently ultrabooks and convertibles are too heavy to realistically compete with the tablets, but there is a huge market for a more functional and lighter form-factor that has more business capabilities than a tablet does. Haswell also will have enhanced battery-life, which is the biggest complaint that I am aware for Microsoft's Surface Pro. I've been shopping for a tablet or ultrabook on several occasions but I've yet to find one that has the combination of weight and productivity that would make the purchase worthwhile. New form-factors are growing robustly and there is a need for rapid innovation, and Intel is betting heavily that Haswell can really be the catalyst that encourages the proliferation of devices outside of tablets and smartphones, really taking over the place of laptops. Intel and the semiconductor industry's history prove that it is not a matter if the form-factors will improve, but instead it is simply a question of when. Change is occurring extremely rapidly in this competitive space, which is why I believe that people that forecast ARM Holdings and Qualcomm's (NASDAQ:QCOM) dominance in mobile chips 5-7 years into the future might be putting the cart before the horse.
Intel has done an excellent job in its data center business, which caters to the cloud and high-performance computing segments of the market. Recently, Intel announced that it would be releasing its next-generation Atom processor for the microserver segment of the market, code named Avoton, and its Ivy Bridge product for Xeon servers will be shipping in the second half of the year. These innovations combined with Intel's existing products, and the strong growth in the data center business, leads Intel to believe that it will attain double digit revenue growth for the year. Margins have been down largely due to increased spending on new designs, and the Enterprise has been weak across the board. Europe has certainly been a burden but I believe that the worst is over and that the second half of the year should be quite strong.
Intel's Other Intel Architecture Group includes tablet and smartphone chips, among other form-factors, and is likely to be a bright spot for future growth, although there is certainly a great deal of uncertainty due to competition. Intel's first quarter tablet volume more than doubled from the 4th quarter and management forecasts that it will double again in the 2nd quarter. Intel chips have penetration in both the Windows 8 and Android operating systems, so it is not simply a bet on Microsoft, although I do believe that both companies' prospects in mobile are underrated. Windows 8 is built for touch-based computing and I would argue that most loyal Windows users are likely to be slower to transition their business computing needs because there is a real learning curve. Once these users do transition, which will be pretty soon if they are still on XP, it seems likely that they will be able to get quite comfortable with the new operating system. In the second half of the year Intel will launch Bay Trail, which will enhance its product line across screen sizes and price points. In the phone segment, Intel has a lot of catching up to do, but the company is winning designs with its new Clover Trail and apps processor, which offers both strong performance and power efficiency. Intel is plowing money and manpower to win in mobile and its next-generation Merrifield products is scheduled to ship by the end of this year.
Intel ended the 1st quarter with 5.080 billion diluted shares outstanding, down 2.1% from last year at the same time. At a recent price of $21.57, the market capitalization is roughly $109.6 billion, versus a book value of about $51.194 billion. Intel has $13.143 billion in long-term debt and $17.073 billion in cash and investments, so the enterprise value is roughly $105.67 billion. The stock yields around 4% so investors get paid for waiting, well in excess of what is available on many investment grade bonds, while retaining the upside of potential earnings growth or multiple expansion. In 2012, Intel earned a little over $11 billion and in 2011, the company earned close to $13 billion. According to Morningstar, the analysts' mean earnings estimates for 2013 are $2.04, so the stock is trading just over 10 times forward earnings. 2012 was a very difficult year for any company with exposure to the Enterprise or to the PC supply chain, so a better global economy would be a catalyst to earnings, and I'm very excited about these new innovations that will likely materially influence the form-factors we are using on an everyday basis. I believe the stock could easily trade in the high $20s to low $30s within the next couple of years as earnings grow, and if the company does indeed win in mobile, than there could certainly be upside beyond that.
Disclosure: I am long INTC, HPQ, MSFT. I wrote this article myself, and it expresses my own opinions. I am not receiving compensation for it (other than from Seeking Alpha). I have no business relationship with any company whose stock is mentioned in this article.