Although not surprising, two of the United States' largest banks, JPMorgan (NYSE:JPM) and Wells Fargo (NYSE:WFC) kicked off the first quarter with terrific earnings. JP Morgan exceeded earnings expectations, generating a record $1.59 per share in earnings on revenue of $25.8 billion. Wells Fargo's results weren't too shabby either, boasting record earnings per share of $0.93 on revenue of $21.3 billion.

Much of JPMorgan's quarter was driven by strong performance from the mortgage business, which earned a return on equity of 14% (image source: JPM Q12013 presentation). Originations grew 37% year-over-year and 3% sequentially to $52.7 billion. Net interest margins on mortgages continue to compress, and CFO Marianne Lake anticipates this will continue, saying on the conference call:
"…it's [net interest margin] tough to predict but maybe the thing is, look at is if you take off pretax spread right now of 100 basis points that compares to a longer term sort of average run rate of 65 basis points before the crisis."
This could have a negative impact on comparable earnings, especially as the rate of mortgage origination growth eventually slows.
The Corporate & Investment Bank segment remains challenged, though profitability improved as the firm focused on controlling costs. The segment earned investment banking fees of $1.4 billion, up 4% year-over-year, and ranked first in global investment banking fees. Compensation as a percentage of revenue fell 600 basis points year-over-year to 33%, while total expenses declined 2% compared to the prior year. M&A has certainly intensified over the past several months, but when we consider the amount of cash sitting idle on corporate balance sheets, we think corporate activity could increase during the back-half of the year.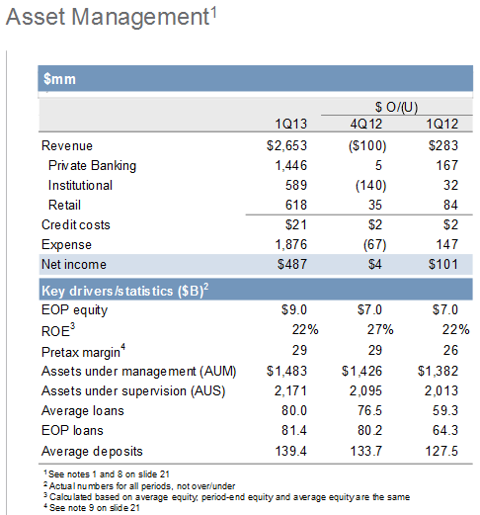 We were pleasantly surprised by the results of JPMorgan's heavy push into Asset Management. Net income soared 26% year-over-year to $487 million, on revenue increasing 12% year-over-year to $2.7 billion. Asset inflows totaled $28 billion, and the firm now manages $1.5 trillion in assets. Clearly performance was aided by strong equity market performance, but we believe the company's push into asset management will be incredibly profitable because the firm offers a full-service package that could help retain assets. In just a short amount of time, this business has become far more valuable, and an increased savings rate could provide a tailwind for the business.
As for Wells Fargo, the company made headlines when it announced the opening of its first ever 1,000 square foot branch. The move could provide the company with the flexibility to expand its ATM base at a much lower cost than the traditional 3,000-4,000 square foot office. This could be a prelude to Wells Fargo expanding its presence in smaller markets. The firm lacks the same branch footprint as Chase, but these small branch innovations could pave the way for a retail banking expansion.
As for its financial performance, Wells Fargo increased its return on equity 145 basis points year-over-year to 13.59%. Net loan charge-offs declined materially to 0.72% of average total loans compared to 1.25% during the same period last year. Loan performance continue to improve, but we do not see charge-offs falling below 0.70%; though Wells Fargo is one of the highest quality lenders amongst the large banks.
Net interest margins compressed yet again, falling to 3.48% from 3.91% a year ago, but just 8 basis points lower than the previous quarter.

Mortgage originations (shown above; source: WFC Q12013 presentation) fell sequentially though remained robust at a whopping $109 billion. Wells Fargo remains far and away the country's largest mortgage originator, though recent results show that competition may be intensifying. CEO John Stumpf suggested the business could decline, saying:
"So I think we're very bullish on the [mortgage] business. That said, our expectation is that it's probably likely that revenues and margins will come down a little bit. All that said, to the extent that it comes down further than we think, we'll adjust cost as or team has done through various cycles on a number of occasions."
The asset management business performed strongly during the quarter, driven by market performance and fund inflows. Assets under management were 7% higher than the year prior at $1.5 trillion, driving a 14% increase in net income. We believe inflows could remain strong if the Dow and S&P continue hitting new all-time highs, increasing general interest in the broader stock market. Like JP Morgan, Wells Fargo could benefit from increased savings trends over the long-term.
Although neither is owned individually in our actively managed portfolios, we hold the Financial Services Select SPDR ETF (XLF) and the SPDR S&P Bank ETF (KBE) in the portfolio of our Best Ideas Newsletter, and we remain optimistic about return prospects in the industry. Still, the balance sheet risk of owning an individual bank stock is too large for us to stomach. JP Morgan and Wells Fargo have the strongest balance sheets of the "too big too fail" banks, in our view, but we have no way of knowing the balance sheet well enough to get comfortable with owning either stock.
Disclosure: I have no positions in any stocks mentioned, and no plans to initiate any positions within the next 72 hours. I wrote this article myself, and it expresses my own opinions. I am not receiving compensation for it (other than from Seeking Alpha). I have no business relationship with any company whose stock is mentioned in this article.