By Brad Zigler
Real-time Monetary Inflation (per annum): 7.7%
"Good as gold" is a phrase that's meant to assure the listener of an item's intrinsic worth. Lately, you wouldn't have used that idiom to describe agribusiness. No, you'd have to say that agribusiness is actually better than gold.
Agribusiness, represented by the Market Vectors Agribusiness ETF (NYSE: MOO), has been outperforming the bullion-holding SPDR Gold Shares Trust (NYSE: GLD) since late February.
The Market Vectors portfolio tracks 44 global firms making up the DAXglobal Agribusiness Index. Index constituents include companies producing agricultural chemicals and farm equipment, livestock operations and biofuels manufacturers. The index roster is populated with large-capitalization issues such as Potash Corp. of Saskatchewan (NYSE: POT), Archer Daniels Midland Co. (NYSE: ADM) and Komatsu Ltd. (OTCPK:KMTUY) as well as smaller outfits including Maple Leaf Foods, Inc. (Pink Sheets: MLFNF) and The Andersons, Inc. (Nasdaq: ANDE).
Year-to-date, the agribusiness ETF has gained 10.3% compared with a barely perceptible 0.9% inching up in the gold trust's price.
Gold (GLD) Losing Ground To Agribusiness (MOO)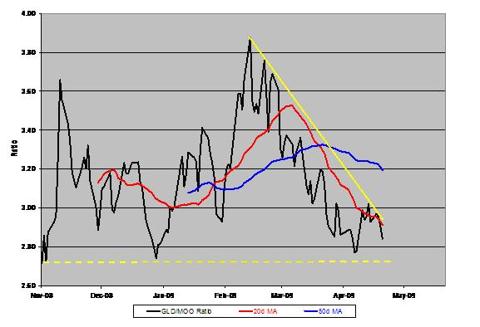 The GLD/MOO ratio, now at 2.84, seems headed to test a previous low at 2.72 (a lower ratio value represents a cheapening of the gold trust relative to the agribusiness portfolio).
The ag fund certainly has momentum now, having reached new highs Thursday versus commodity futures proxied by the GreenHaven Continuous Commodity Index ETF (NYSE: GCC) and against broad-based commodity producers tracked by the Market Vectors RVE Hard Assets Producers ETF (NYSE: HAP).
Agribusiness Breaks To The Upside Against Commodities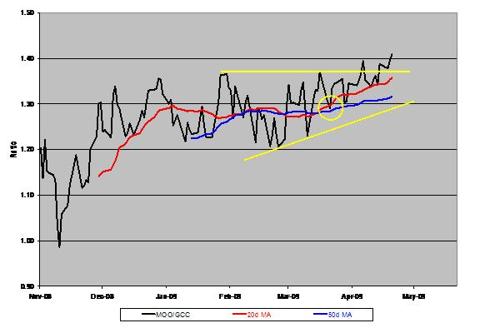 The GLD/MOO ratio' s move to the downside has as much to do with the market's cooling ardor for bullion as it does with a growing appetite for stocks. Equities are rebounding. COMEX spot gold lost 1.7% this week, but the 30-stock Dow Jones Industrial Average gained 2.7%.
Gold's luster is being oxidized by the evaporation of the fear that drove capital to bullion.
Credit spreads are narrowing, reflecting a resurgent enthusiasm for risk. The three-month TED spread - the yield differential between risk-free Treasury bills and commercial loans priced at the London Interbank Offered Rate (LIBOR) - was squeezed to 89 basis points (0.89%) Thursday, its lowest level since June 2008.
With GLD/MOO spoiling to score new lows, ag investors shouldn't hope for a golden future.