Exxon Mobil Corporation (NYSE:XOM) is poised to strike big, now and in the future. Exxon is a profit maker. With sales of near $120 billion per quarter, its profit is averaging $10 billion per quarter.
Exxon Mobil Corporation engages in the exploration and production of crude oil and natural gas, and manufacture of petroleum products. The company also transports and sells crude oil, natural gas, and petroleum products and is part of the basic materials sector and energy industry. During Exxon's annual statement in December 2012, the outlook for growth was linked 50-50 directly to oil operations and natural gas, both domestically and internationally.
Cash is King. In 2012 Exxon had 4.48 billion shares outstanding and bought back $21 billion worth of shares, about 4.9%. First quarter of 2013, the company bought back another $5 billion. After all these buy backs, Exxon still has $13 billion in cash reserves. This will be a huge key to success I will describe later, but you understand the flexibility it has with all these funds available.
Over the last year the stock price has remained flat (from $86.49 to 86.61) with a dividend of 2.28 and book value of $36.56. The increased value of the stock price over book is due to the huge profits it makes. This is another reason why investors want to see an increase in the dividend. An increase to a $1.00 per share, per quarter and $4.00 for the year with a reduction of the stock buy backs could push the stock prices higher by 10 percent or more .
Rex Tillerson, CEO of Exxon, orchestrated the purchased XTO Energy of Fort Worth in 2009 for $35 billion dollars because of its success in the Natural Gas business using Fracking techniques. Tillerson was smart enough to retain the executives and field engineers to absorb their knowledge. He used the concept of reverse integration, but saved millions of dollars, time and set the company on the path to success quickly. Tillerson realized that Exxon was behind on getting in on the Fracking process and use XTO to catch up without the cost associated with the learning curve. XTO also held some of the best land rights that were grabbed in the early days of Fracking. Production at the XTO sites have continued to improve as Exxon is sitting on huge tracks of Natural Gas that will take years to extract, using the current processes and profiting quite well into the future.
There is a difference in the natural gas being collected. 'Dry Gas' is mostly methane gas, where 'Wet Gas' has ethane, propane and butane mixed in with it. Dry gas prices have been driven down, but the Wet gas has added value as it provides additional products like gas additives and industrial uses by chemical companies. Both of these play a part in the Exxon's path to success.
Prices are down in the U.S. ($2-4 per thousand cubic feet) due to the surplus extending beyond the demand. But more electric plants are being built to use natural gas, along with more automobiles, locomotives, and other industries that are switching. The demand will go up, but prices are expected to level at about $6 over the next 10 years. The real market is the international market where some countries are paying $16 per thousand cubic feet.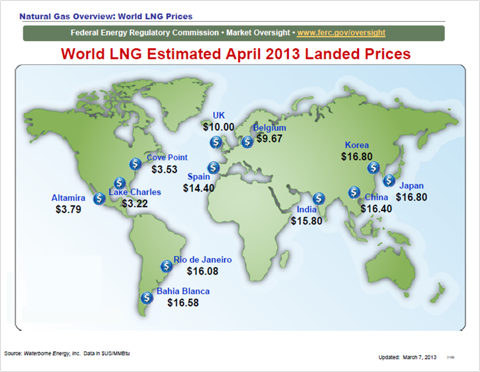 Multiple companies have submitted permits to sell internationally, and when these export terminals come on line between 2014 and 2018, we expect up to 30 billion cubic feet per day will be shipped out. Exxon has its export terminal with support to several others. An additional note on the exports that few analysts or politicians are talking about yet, is that the politicians may charge additional taxes to all exports as a way to fund additional government spending.
Exxon is also collaborating with other countries in the exploration and production of crude oil and natural gas, and transport of crude oil, natural gas, and petroleum products. In Russia, Exxon is working with Rosneft, which is a principle competitor of the state run Lukoil. Exxon is helping Rosneft with Fracking, as it attempts to gain access to billions of barrels of oil in the Russian oil fields. Russia has little knowledge and would take years to develop, so the most beneficial method is to cooperate with companies with this technology. Exxon also brings capital reserves to assist Rosneft with the costs of development over time.
Exxon has a large stake in Qatar, which has huge natural-gas reserves in its offshore North Field. Exxon has invested heavily in facilities to produce and export liquefied natural gas, which is super-cooled and transported in massive tankers.
Exxon has a $15.7 billion LNG project in Papua New Guinea that will begin supplying gas in 2014 to customers in Asia.
Exxon is also a partner in the Chevron-led, $37 billion Gorgon LNG project in Australia.
Exxon is working with Chinese companies and in Argentina to expand additional projects through its partnerships. All of the projects are cash-infusion projects around the world for Exxon.
Environmentalists are challenging the process of 'fracking,' as to the damage it can cause to the environment and hazards to humans. There is a learning process ongoing, and Federal regulations will help shape the processes, as well as the companies' own policies.
In every state where there is fracking, there is the opportunity for hazards, loss of containment and threats to wildlife and humans. The industry will have to take precautions to prevent accidents, be responsible for any clean-up and create a transparent reporting venue to the federal agencies, states and the people. BP has set a good example with the oil spill in the Gulf of Mexico. There are ongoing studies and the Environmental Protection Agency [EPA] has its own due out in 2014. One thing for sure, fracking is here to stay as natural gas is a staple of human consumption.
All of this tells us that Exxon is an international player in the oil and natural gas business, from exploration, production, and transportation of crude oil, natural gas and petroleum products. Its international business operations and integration with so many companies and countries has created a cash flow for its investors. Exxon will excel as the world economy grows, yet is resistant to loses during downturns in the economy. Investors would be wise to buy and maintain Exxon in their portfolios.
Disclosure: I have no positions in any stocks mentioned, and no plans to initiate any positions within the next 72 hours. I wrote this article myself, and it expresses my own opinions. I am not receiving compensation for it (other than from Seeking Alpha). I have no business relationship with any company whose stock is mentioned in this article.