Any investor who held 'solar' stocks the last five years would have felt some pain with nearly all companies suffering extreme falls in share prices. If we take First Solar (NASDAQ:FSLR) as an example, one of the largest players in the solar space, the share price peaked on May 14, 2008 at $317, it closed on the April 15, 2013 at $36.01, a fall of 88.6%!
First Solar Share Price [USD]

Source: Yahoo Finance
So what happened to First Solar? Well firstly we need to understand a bit about the company and the solar energy sector before we can answer this, and then determine whether the company has now turned a corner.
Company
First Solar was founded in 1999. It manufactures and sells solar modules with an advanced thin-film semiconductor technology, and it designs, constructs, and sells photovoltaic solar power systems. First Solar is a thin-film PV solar module manufacturer and a PV solar module manufacturer.
Solar Energy Sector
Over the past decade demand for solar energy has risen considerably (grown by an average of 30% per annum from 1990 - 2010). This was initially supported by falling industry costs (making solar become more economically viable versus traditional energy sources), government subsidies and a shift toward cleaner energy. The consensus view was that solar, in the not too distant future, would be a major player within the energy space. As markets became excited about the prospects and earnings potential of many solar companies share prices rose significantly with First Solar peaking at $317 on May 14, 2008. Conventional wisdom viewed First Solar as the "Google" of the solar energy sector and as such investors were willing to pay a high multiple for the stock. First Solar had a much lower cost structure to peers, which made the company highly desirable to investors. With governments in key markets offering generous subsidies the outlook for the solar sector was with conventional wisdom, very bullish.
So What Changed?
There were various changes that occurred over the past five or so years that changed sentiment toward the sector and First Solar in particular.
Competitors - With limited barriers to entry, First Solar has come under pressure from competitors and this has led to pricing wars and a reduction in margins in a space that now has oversupply.
Falling Costs - In November 2008, JPM stated "First Solar currently produces PV modules at a cost basis approaching $1.00/watt vs our estimate of $2.50/watt industry average." However through technological advances competitors have now managed to drive down their costs. This has led to First Solar's competitive advantage being eroded away. We have seen a similar situation in the U.S. Natural Gas market where technological development has helped lower the price of U.S. Natural Gas, which has in turn hit the margins of many gas companies (it should be noted that there is likely to be "diminishing technological returns" as the pace of advancement slows).
Substitute Energy - Cheap shale gas in the U.S. has raised concerns regarding the need for renewable energy, not only in the U.S. but globally (U.S. Natural gas has fallen from ~$15/MMBTU in 2006 to ~$4/MMBTU in 2013).
Cut in government subsidies - The two largest solar markets, Germany and Italy both announced reductions to their subsidies in 2011. These government announcements seemed to be the latest catalyst in the bloodbath that hit First Solar and other solar stocks.
It may be a brave call to invest in First Solar currently, but there are various factors that make First Solar stand out from the 'solar' crowd and could help support a recovery in share price.
First Solar Strengths
First Solar has a very strong balance sheet. With life expectancies of peers in doubt amid losses and large debt burdens First Solar's balance sheet strength may allow it to survive the next couple of years as peers don't, which will allow it to grow market share. Its current ratio for FY2011 was around 2.6, highlighting its abilities to meet short-term liabilities.
First Solar's debt burden is also minimal; in fact its net debt/EBITDA is negative indicating the company has more cash than debt. The high EBITDA to total interest expense also helps highlight the low debt and that the interest payments needed are easily covered by earnings.
First Solar (along with competitors it should be noted) have been able to bring down its costs. Lower costs make solar more viable as an energy source versus the current traditional sources. The key term here is "grid parity" and effectively once this is achieved versus traditional energy, demand should increase dramatically.
First Solar has a global presence and the current corporate strategy is to focus on developing on the ground sales teams in each geographical area that will be focused on. With a poor pipeline from 2015 onwards, achieving good sales and pipeline extensions will be positive for share price.
Diversification - First Solar is a way to play both solar's increasing penetration of emerging solar markets and the shift by utilities towards working with established companies with strong experience executing. These potential JV partnerships should allow First Solar to penetrate new markets, and also help to share the burden of new start-up costs.
Strong Revenue Growth - First Solar has successfully increased revenues year on year from FY 2005 through FY2011. This is despite falling prices (largely due to technological advancements) and strong competition, particularly from low cost Chinese competitors [Trina (NYSE:TSL) and Suntech Power (NYSE:STP) U.S.].
Market consolidation should become apparent as the sector appears to be breaking up into "winners and losers." There is a shift in focus from cost structure (which has become very clustered and was one of the structural industry problems) towards balance sheet strength. As has been highlighted, First Solar's strong balance sheet versus peers should see it become a "winner" and allow it to take market share from companies that cannot survive.
First Solar recently reported earnings for 2012, which came in at $4.90 per share; consensus was $4.61 per share. Share price reacted positively to these surprise earnings, with share price jumping over 45% in a day!
First Solar Share Price over the Short Term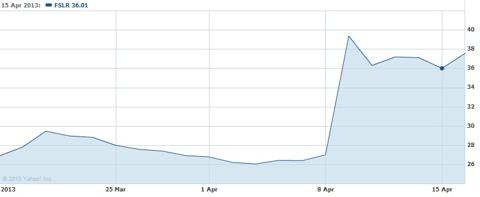 Source: Yahoo Finance
Summary
First Solar's strong balance sheet and serviceable debt should allow the company to survive in the near term and survive in an unsubsidized world, as some competitors are forced to exit the market place. With falling costs and "grid parity" approaching, demand for solar energy should increase. First Solar has a global footprint and this should enable the company to capture growing market share in fast rising markets such as China.
Disclosure: I have no positions in any stocks mentioned, and no plans to initiate any positions within the next 72 hours. I wrote this article myself, and it expresses my own opinions. I am not receiving compensation for it (other than from Seeking Alpha). I have no business relationship with any company whose stock is mentioned in this article.