It's no secret that a sharp year-over-year increase in the price of natural gas has resulted in a dramatic shift back to coal. Now we're starting to see the resulting impacts to the supply chain and pricing.
One of the immediate and most highly tracked impacts has been changes in coal spot prices. PRB spot prices have made quite a jump recently. Southern Co's solicitation for 10Mst of PRB coal (bids due at the end of the month) to power plants in Alabama and Georgia is a good example of a shift not only from gas-to-coal, but of App coal-to-PRB coal. Transportation costs are a significant hurdle for PRB producers such as Cloud Peak (NYSE:CLD), Arch (ACI), Alpha Natural Resources (ANR), and Peabody (NYSE:BTU). However, low regional average strip ratios and thick seams more than offset this cost.
(click to enlarge)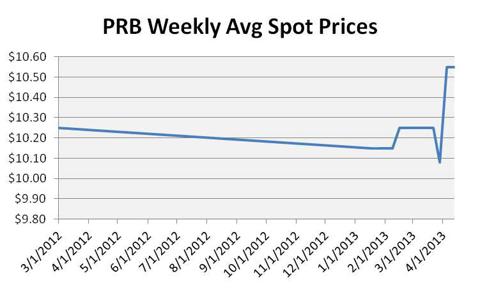 What has come as a surprise is the recent rebound in CAPP spot prices. This is great news for companies such as James River (JRCC), CONSOL (NYSE:CNX), and Alliance Resource Partners (NASDAQ:ARLP) who have seen their production costs sky rocket in recent years. As anecdotal examples, recent MSHA Q1 production numbers show CONSOL as having strong production thus far in 2013 and Mechel recently announced that production at their Bluestone subsidiary (idled in late-2012) would increase to 2.5Mmt in 2013 (Note: both of these examples also produce significant amount of Met coal).
(click to enlarge)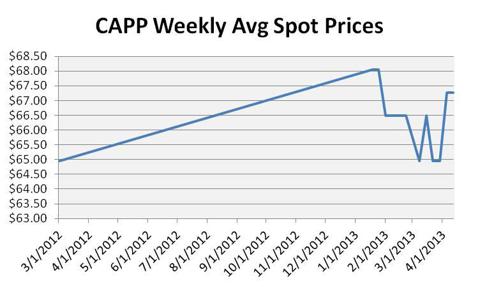 Despite these signs of improvement, coal inventories for electrical use remain high. Recent trends, along with the EIA forecast, are moving in the right direction. However, this varies by Basin with PRB and NAPP inventories at, or close to, historic average days of burn while CAPP inventories remain high.
(click to enlarge)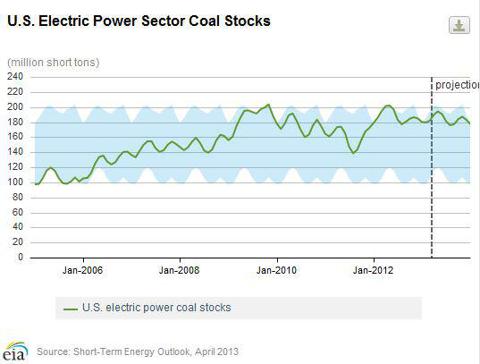 These trends are no secret to the market but they represent some of the bedrock fundamentals one likes to see when making investments in coal companies. And, after last year's brutal declines in the coal market, many coal companies remain undervalued.
Disclosure: I am long CLD, ACI. I wrote this article myself, and it expresses my own opinions. I am not receiving compensation for it (other than from Seeking Alpha). I have no business relationship with any company whose stock is mentioned in this article.