Northwest Pennsylvania: Great Exploration Frontier In The Marcellus, Utica And Upper Devonian Shales
After more than five years of break-neck natural gas development in the Marcellus Shale, it may appear counterintuitive that only a relatively small percentage of prospective acreage in Pennsylvania has transitioned into full development mode. Moreover, vast swaths of prospective lands still remain essentially unexplored. While clearly not all counties are equally endowed by mother nature with highly productive underlying geologic formations (in some areas drilling has been on hold due to poor economics), in many cases, particularly in wet gas areas, the real culprit has been the lack of production and takeaway infrastructure which has discouraged exploratory drilling.
Northwest Pennsylvania (the counties shown in yellow on the 2012 drilling activity map below) is the case in point. This enormous area offers promising stacked-pay, liquids-rich potential in the Marcellus, Utica, and Upper Devonian shales but still remains a barely touched exploration frontier. As the map shows, unconventional drilling in Northwest PA counties has been a rounding error to the activity in the established Northeast and Southwest sweet spots: 129 wells out of Pennsylvania's 1,365 total, or less than 10%, were drilled in the Northwest in 2012. Moreover, over half of that well count was concentrated in just one county - Butler County - which has access to gathering and processing infrastructure.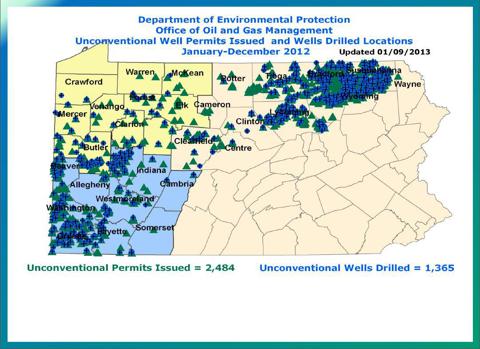 (Source: Pennsylvania DEP).
It is important to emphasize that Northwest Pennsylvania is a highly prospective liquids-rich province characterized by several potent plays stacked upon each other in the stratigraphic column. Productive potential is well illustrated by a slide from a presentation by Rex Energy (NASDAQ:REXX), an active operator in Butler County, PA. The slide highlights exploratory success that Rex has seen in at least three liquids-rich shales: the Utica, Marcellus, and Burkett (an Upper Devonian shale). Rex's first Utica well, Cheesman 1H, showed a very strong initial rate of 9.2 MMcfe/d, assuming ethane extraction (and has caught the industry's attention).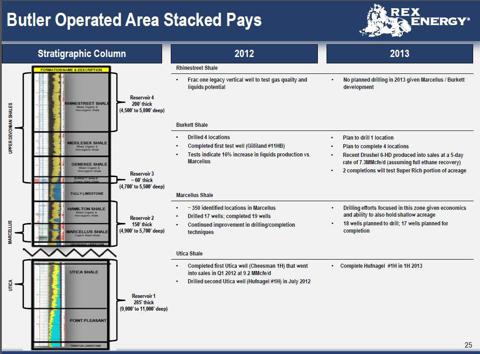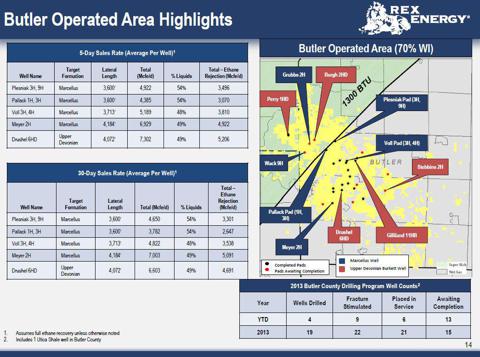 (Source: Rex Energy April 2013 Investor Presentation)
While the liquids-rich, stacked pay potential of Northwest Pennsylvania is broadly recognized, the infrastructure remains a major issue. The two maps from MarkWest Energy Partners (NYSE:MWE) presentation below show that both Rich Marcellus and Rich Utica fairways extend well beyond the point where processing and gathering infrastructure is currently available (the second map looks particularly striking in that regard). Operators would be challenged at the moment to bring to sales significant liquids-rich production in areas to the north, east and west from the existing MarkWest's Keystone processing hub.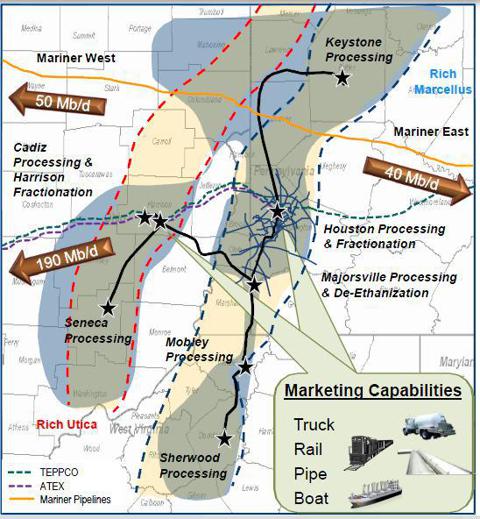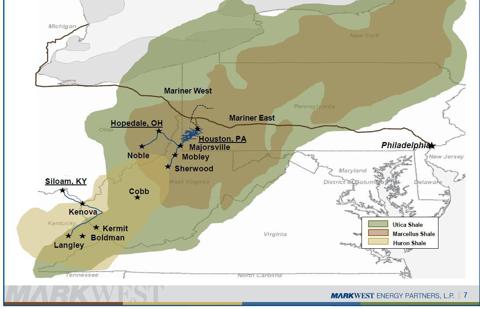 (Source: MarkWest Energy Partners' April 2013 Investor Presentation)
In this context, the announcement last Friday by Williams Partners (WPZ. WMB) of a plan to develop a wet gas gathering and processing infrastructure hub to service Northwest Pennsylvania, with Royal Dutch Shell (RDS.A, RDS.B) as a joint venture partner and anchor customer, is a major positive news for the play. The endorsement of the plan from Shell is important: Shell holds a significant acreage position in Western Pennsylvania, mostly in Lawrence, Butler and Mercer Counties, which Shell still categorizes as exploratory. The agreement with Williams may be an indication that Shell plans to step up its testing activity on its acreage and is confident that production volumes will grow.
Williams' announcement is in fact a mirror reflection of the fact that the upstream exploration effort in the area has gained momentum and the outlook for the several liquids-rich plays in the area is ever more encouraging (upstream activity outlook is discussed further in this note).
Williams To Develop A Large-Scale Infrastructure Hub In Northwest Pennsylvania
The announcement from Williams came on Friday last week. Williams will be launching a new midstream venture, Three Rivers Midstream, to service production from the Marcellus and Utica in Northwest Pennsylvania and Northeast Ohio, with Shell being the anchor customer. While the project is structured as a joint venture with Shell, Williams will initially own substantially all of Three Rivers Midstream and operate the assets. Shell has the right to invest capital and increase its ownership prior to mid-2015. Williams Partners' portion of initial capital expenditures on the Three Rivers plant, not including the gathering system, will be ~150 million. Subsequent capital investment is expected as the JV's business and scale increases.
Three Rivers has signed a long-term fee-based dedicated gathering and processing agreement for Shell's production in the area, including approximately 275,000 dedicated acres. The venture also plans to pursue gathering and processing agreements with other producers in the liquids-rich areas of Northeast Ohio in addition to Northwest Pennsylvania.
The Three Rivers system is expected to be connected to two major proposed developments in Pennsylvania - the Bluegrass Pipeline system that would deliver Marcellus and Utica mixed NGL stream to the Gulf Coast and Shell's proposed ethylene cracker in Beaver County. The proposed Bluegrass pipeline, Williams' 50/50 joint venture with Boardwalk Pipeline Partners (NYSE:BWP), is currently in development and is targeting a late 2015 in-service date (see detailed discussion here). Shell's ethylene cracker is still in the feasibility study stage.
With the Three Rivers venture, Williams is targeting to develop a major supply hub in northwest Pennsylvania, similar to its strategy in the dry gas area of northeast Pennsylvania where Williams is an unrivaled midstream powerhouse, and provide a feed into the Bluegrass Pipeline.
Three Rivers plans to construct a 200 MMcf/d cryogenic gas processing plant and related facilities. The planned large-scale gas processing complex would be expandable as Three Rivers' business grows. The initial plant is expected to be placed into service by second quarter 2015.
The venture will invest in both wet gas handling infrastructure and dry gas infrastructure serving Marcellus and Utica Shale wells in the area.
Williams Is Aggressively Expanding Its Marcellus Presence
Williams has moved fast to leverage its recently announced Bluegrass Pipeline project which may have provided an edge in securing an agreement with Shell. The investment is not without risk, as exploratory success in the area is yet to be fully demonstrated. However, should the area live up to expectations, Williams' strategy may pay off handily with a multi-year growth opportunity and margins supported by "supply push." MarkWest, who has emerged as a powerhouse in the liquids-rich sweet spot in Southwest Pennsylvania and now has market capitalization of $9 billion, is a vivid illustration of how significant the opportunity could be.
Even prior to the Shell JV announcement, Williams has been a heavyweight in the Marcellus/Utica midstream. The slide below summarizes the company's key systems in the plays.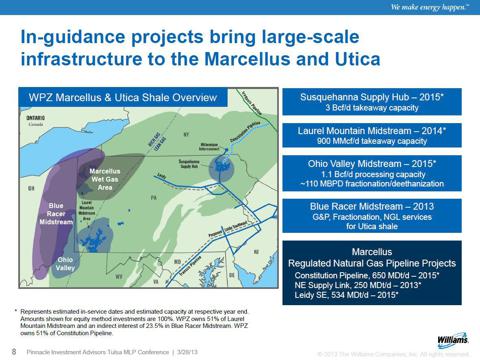 (Williams Energy Partners' April 2013 Investor Presentation)
Williams is making a major bet on the Marcellus and Utica, with the expansion plans now approaching $6.5 billion in new projects.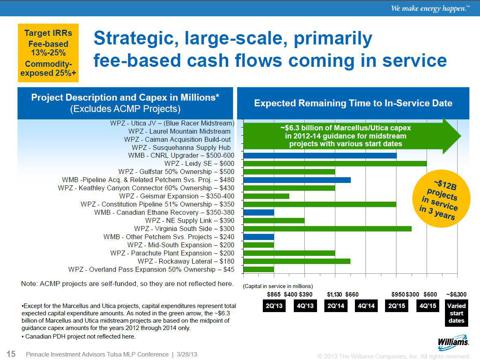 (Williams Energy Partners' April 2013 Investor Presentation)
The Bluegrass Pipeline project was a masterful move by Williams and Boardwalk as it capitalized on existing assets and seems to have taken competition by surprise by offering a fast solution to both the NGL takeaway and processing capacity challenges in the liquids-rich Marcellus and Utica.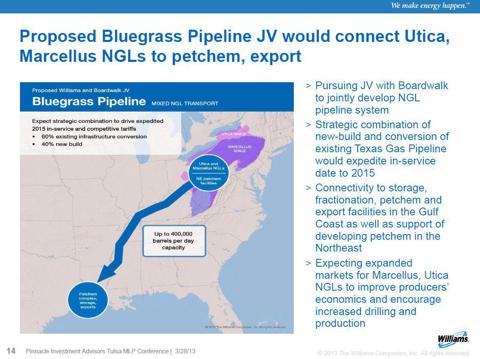 (Williams Energy Partners' April 2013 Investor Presentation)
Exploration Gaining Momentum - Midstream Infrastructure Much Needed
There are many signs that Northwest Pennsylvania has potential to surprise to the upside and emerge as another powerful production hub, alongside the two proven sweet spots in Pennsylvania and the southern part of the Point Pleasant/Utica play in Ohio. Exploration effort has been clearly gaining momentum. Almost a dozen operators have already drilled a variety of tests in the area. Still the exploration effort is just getting started Judging by operators' enthusiasm, announced drilling plans and permitting activity, 2013 may see a significant step up in drilling in the area.
Utica exploration in the Northern Extension area has been well publicized. A map from a recent presentation by Halcón Resources (NYSE:HK) shows dozens of permits issued for Utica wells in the area. The list of operators involved is a Who Is Who of the oil and gas industry: Halcón, Shell, Chevron (NYSE:CVX), Hilcorp (private), National Fuel Gas' (NYSE:NFG) Seneca, Range Resources (NYSE:RRC), BP (NYSE:BP), and more. The set of names is impressive and leaves little doubt that capital will be available to push the development forward should exploratory success be demonstrated.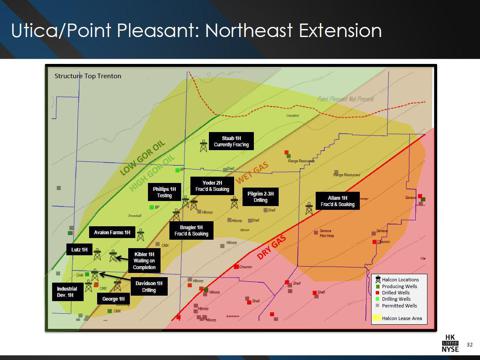 (Source: Halcon Resources April 16, 2013 Investor Presentation)
Halcón commented with great enthusiasm about the play in its press release two days ago:
Interest in the Utica/Point Pleasant play seems to be peaking at a time when well data is becoming more available and activity continues to ramp. However, the company [Halcón] believes the industry is still in the early stages of what could develop into one of the most exciting unconventional resources plays in the lower 48.
Halcón is currently conducting its first production test on the Philips 1H well in Mercer County, PA and expects to perform its second production test on the Allam 1H well in Venango County, PA in early May. Expectations are to test six wells by the end of the second quarter of 2013. The company currently has one well flowing back, three wells resting, two wells being completed or waiting on completion and two wells being drilled on its 140,000 net acre position in this play.
Drilling results from Halcón's 10 well delineation program should be available in the third quarter of 2013. Once the data becomes available, Halcón anticipates it will be able to make a decision on how to proceed with its multi-modal infrastructure build-out in the play and should also be in a position to determine when and where to increase its operated rig count.
Other operators are folloing in a lockstep, with over a dozen Utica tests scheduled for the year.
Utica is not the only formation that offers potential. A slide from a presentation by National Fuel Gas shows that lands prospective for liquids-rich Marcellus extend even further east and provide additional, largely untapped, exploration opportunities.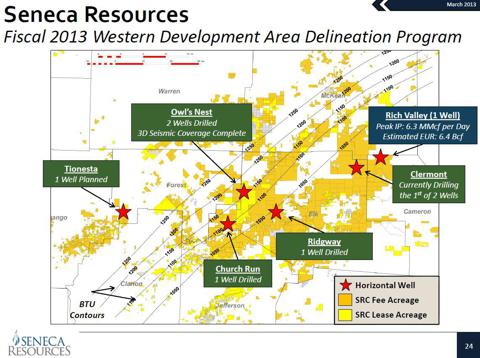 (Source: National Fuel Gas' April 2013 Investor Presentation)
Upper Devonian shales is yet another largely untapped resource that promises bright future in many areas.
Conclusion
Williams' plan to develop a large-scale midstream hub in Northwest Pennsylvania is a mirror reflection of upstream operators' plans to pursue large-scale exploration effort in the area. 2013 may be a breakthrough year in exploration and, assuming success, may set the stage for the industry's big push in the northern part of the play in 2014, targeting liquids-rich opportunities in the Utica, Marcellus and, possibly, Upper Devonian.
The next two years have the potential to substantially redefine the extent of commercial liquids-rich resource base in the U.S. Northeast.
Disclaimer: This article is not an investment recommendation. Any analysis presented herein is illustrative in nature, limited in scope, based on an incomplete set of information, and has limitations to its accuracy. This article is not meant to be relied upon for investment decisions. Please consult a qualified investment advisor. The information upon which this material is based was obtained from sources believed to be reliable, but has not been independently verified. Therefore, the author cannot guarantee its accuracy. Any opinions or estimates constitute the author's best judgment as of the date of publication, and are subject to change without notice.
Disclosure: I have no positions in any stocks mentioned, and no plans to initiate any positions within the next 72 hours. I wrote this article myself, and it expresses my own opinions. I am not receiving compensation for it (other than from Seeking Alpha). I have no business relationship with any company whose stock is mentioned in this article.