The Gist
Bank of America (BAC) was down 6% on Wednesday at the time of this writing. I believe the company has been unjustly sold off. See chart below provided by CNBC.com.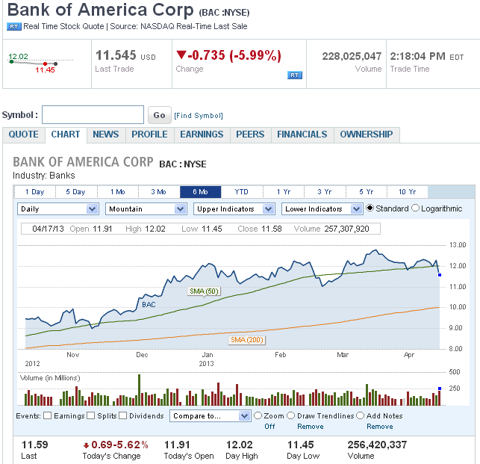 Wednesday before the market opened, BAC reported first quarter EPS of $0.20 which misses by $0.02 while revenue of $23.7 billion, up 5% year-over-year, beat estimates by $0.2 billion. The miss on EPS was the culprit for the selloff. Nonetheless, when you dig into the report, many positive developments have occurred. In the following sections, I will review the top reasons I am still bullish on BAC.
Many Improving Fundamentals Reported
The following is a list of ten fundamental areas of improvement for BAC discussed on the conference call. You can read the transcript here.
Normalized net interest income and revenue have stabilized.
Additional progress on legacy mortgage issues has been made.
Continued asset quality trends with consumer and commercial loss rates at lowest level since the first quarter of 2008 and fourth quarter of 2006 respectively.
Estimated Basel 3 Tier 1 common capital ratio of 9.42% is well ahead of 2019 8.50% requirement.
Received Federal Reserve approval for capital distributions after stress test.
Global Wealth & Investment Management revenue, earnings and margin at record levels.
Commercial loan growth of $54 billion or 17% from first quarter of 2012.
Increasing international revenue with corporations and institutional investors.
Improvements in customer activity across many revenue streams.
The bank estimates recent settlements bring about the resolution of 80% of all Countrywide-related claims. Liability management actions contributed to stability of net interest income.
Compelling Valuation
The current tangible book value per share of $13.46 is up from $13.36 in the fourth quarter of 2012 and up significantly from $12.87 a year ago. With BAC stock currently trading at $11.59, this is a 16% discount to tangible book. Furthermore, BAC's book value per share is $21.98 with $10.23 in cash per share. BAC is trading at a 44% discount to book value. These are close to historic lows.
Progress On Cost Savings
According to management, progress on cost savings is on target or ahead of schedule across all divisions. BAC's cost-cutting efforts are paying off. Non-interest expense of $18.15 billion is down nearly $1 billion from a year ago. Total headcount of 262,800 is down from 278,700 a year ago. The credit loss provision of $906 million is up $29 million year-over-year as improvement in portfolio trends have stabilized.
BAC Has The Most Room To Run
Currently, BAC is lagging way behind the other banks, creating a significant buying opportunity. Please review the chart below provided by Finviz.com detailing my top five bank stocks' price-to-book ratios.

BAC is trading for the lowest price-to-book ratio at .56 of book value. Morgan Stanley (NYSE:MS) is second trading at .69 of book while Citigroup Inc. (NYSE:C), JPMorgan Chase & Co. (NYSE:JPM) and Wells Fargo & Company (NYSE:WFC) round out the top five trading at .75, .89 and 1.21 of book value, respectively.
BAC is trading for the lowest price-to-book ratio of the five major banks listed. BAC is currently trading for just over half of its book value. Historically, BAC has traded for closer to two times book. The bank has substantial upside potential going forward.
The Bottom Line
BAC is still a solid buy right now. Although the bank has doubled over the past year, BAC is still trading three times below its historical average price-to-book ratio. Moreover, earnings continue to increase. EPS is up over 100% this year and expected to grow by more than 30% next year.
I posit the recent pullback in BAC was healthy for the stock. BAC still has considerable upside potential, strong fundamentals and catalysts for growth. BAC has a fortress balance sheet and strong cash flow providing the opportunity for additional share buybacks and/or dividend increases in the future.
It really amazes me how quickly sentiment changes. Just a few weeks ago, everything was going great and the market hit all-time highs. Here we are couple of weeks into April and the macroeconomic and geopolitical picture has gone from overly bullish to overly bearish in an instant. I'm not buying it. The summer swoon spin-doctors are hard at work. I posit BAC is on track for significant gains.
The stock is a solid buy at this level if the U.S. housing market continues to improve. BAC seems poised for solid growth. My target price is $20 within the next twelve months. I see the pullback as a major buying opportunity. You buy a stock for where it is going, not where it has been.
If you choose to start a position in any stock, I suggest scaling into the position over the summer to reduce risk. As you can see by the recent market swings, you may get a chance to pick up shares at even a lower price point.
Disclosure: I have no positions in any stocks mentioned, but may initiate a long position in BAC, C over the next 72 hours. I wrote this article myself, and it expresses my own opinions. I am not receiving compensation for it (other than from Seeking Alpha). I have no business relationship with any company whose stock is mentioned in this article.
Additional disclosure: This is not an endorsement to buy or sell securities. Investing in securities carries with it very high risks. The information contained within this article is for informational purposes only and is subject to change at any time. Do your own due diligence and consult with a licensed professional before making any investment.