While parsing the conference call transcript yesterday after Intel (NASDAQ:INTC) released its Q1 2013 earnings, a curious fact dawned on me. The amount of time devoted both by management, and the analysts on the call, to the software acquisitions made by Intel over the past few years was immaterial. Intel basically dedicated one sentence in the conference call that actually just served to remind anyone listening that it had not forgotten about the companies it has acquired. Yet over the last 3 years, the company has spent roughly $8.5B between the acquisitions of McAfee and Wind River. However, as articles such as this at the time of the announcement showed, eyebrows were raised at the price paid by Intel. Years later, the actual results of these acquisitions raise even more eyebrows when reviewing the financial results. The bullish camp will argue that it is too early for these acquisitions to have reached their full potential. Specifically with McAfee, integrating the security software into the hardware will truly start to add value with the next generation of chips that Intel ships. That may well be the case, but the counter argument would be that security integrated into the chips should offer a higher value proposition. This is not supported by the falling gross margin percentages seen by Intel over the last year. Nor is it supported by the secular decline in the personal computer market, which makes up a substantial piece of Intel's business. Investors should be asking when these acquisitions will begin to bear fruit, and likewise, should be concerned if Intel shows signs of acquiring other companies based on the track record of their last two significant acquisitions outside of the hardware realm.
Recap of Acquisitions
In early 2011, Intel completed its acquisition of McAfee for a price of almost $7.7B. In purchasing McAfee, Intel acquired a software security services provider with the intent of eventually integrating the security more deeply into the chips manufactured by Intel. At the same time, the purchase price raised more than a few eyebrows as it came at a 60% premium over the current price McAfee was trading at prior to the announcement.
In 2009, Intel acquired Wind River Systems for a price of about $900M. Wind River specialized in making software for chips in embedded systems, such as car electronics. The acquisition was a bid by Intel to expand its addressable market beyond personal computers and servers that made up the bulk of their current target market.
What Have You Done For Me Lately?
Fast forward to Q1 2013 and as noted earlier, barely a mention of these acquisitions in the latest earnings report or conference call. In fact, the exact reference to the acquisition was in prepared remarks by CEO Paul Otellini that read:
Through the acquisitions of Infineon Wireless Solutions and McAfee, we've invested in strategic capabilities like baseband technology and security that position us to deliver important new capabilities and compete across an even broader range of devices.
Even with this statement, the McAfee reference receives less than 15 words in and of itself. Remember, this is a company that was acquired for $7.7B just a few years ago. You would think the company would want to be touting the prospects of such a large acquisition instead of simply giving it minor lip service. The company does not even reference Wind River.
The likely reason that Intel does not talk about these acquisitions is because, to this point in time, they have proven to be a complete failure. Below is the financial profile for the Software and Services Group, a business unit Intel breaks out within its financial statements. This financial profile covers each quarter directly prior to, and after, the McAfee acquisition: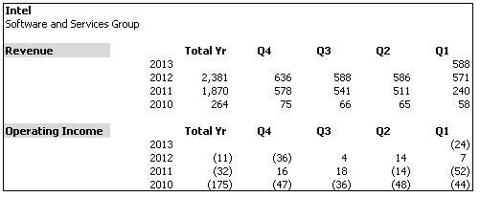 The financial results should speak for themselves, in a way that Intel clearly does not celebrate. After spending $8.5B on the aforementioned acquisitions, Intel is currently realizing negative operating income on these purchases. It is striking in a way that these results do not draw more attention or criticism from the investment community. The reality is that from an internal rate of return standpoint, these acquisitions will have to produce massive profits in the future to justify having deployed $8.5B in capital and earning no return over a 3 year period.
Investment Implications
Intel is in the midst of a transition at the top. Their current CEO has announced his retirement, and a new CEO is supposed to be announced prior to the company annual meeting in May 2013. The risk for an investor is that the new CEO will provide more of the same and attempt to make his or her mark with another splashy acquisition. The results of the McAfee and Wind River acquisitions to date do not provide any level of comfort that Intel is capable of expanding outside of its core expertise. As a company like Intel looks for growth, investors should hope it does not decide to toss another $8.5B down the drain.
Disclosure: I have no positions in any stocks mentioned, and no plans to initiate any positions within the next 72 hours. I wrote this article myself, and it expresses my own opinions. I am not receiving compensation for it (other than from Seeking Alpha). I have no business relationship with any company whose stock is mentioned in this article.