After posting strong Q4 2012 results in January, eBay (NASDAQ:EBAY) once again saw better-than-expected financial results in Q1 2013, but fell in after-market hours. Revenue was up 14% to $3.7 billion, compared to the same period of 2012. The company reported first quarter net income on a GAAP basis of $677 million, or $0.51 per diluted share, and non-GAAP net income of $829 million, or $0.63 per diluted share. Analysts expected eBay to post earnings of $0.62 with revenue of $3.77 billion (eBay missed on revenue but beat earnings).
"We had a strong first quarter, with accelerating user growth across both Marketplaces and PayPal, and with GSI enabling their retail clients to grow faster than e-commerce," said John Donahoe, eBay's president and CEO, in a release. "Technology is creating a commerce revolution, and we are in the forefront with strong mobile leadership and a focus on helping retailers and brands engage consumers anytime, anywhere."
The company said that eBay gained approximately 2.8 million new customers in the period through mobile, driving double-digit growth in active users at both PayPal and Marketplaces.
PayPal's (NASDAQ:PYPL) revenue was up 18% to $1.5 billion, and the payments giant gained 5 million active registered accounts in the period and ended the quarter with 128 million, a 16% increase. PayPal's net total payment volume (TPV) grew 21% to $41 billion, driven by consumer and merchant use of PayPal both on and off eBay.
Marketplace revenue increased 13% to $2 billion with marketplaces gaining 3.9 million active users in the period, ending the quarter with 116 million, a 13% increase. Gross merchandise volume (GMV), excluding vehicles, increased 13% to $18 billion, reflecting the continued improvements to eBay's core technology designed to make it easier and faster for consumers to shop and buy. Marketplaces continues to invest in innovation and expanding its addressable market both locally and globally.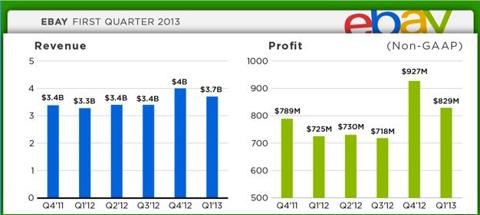 Because the company has seen strong growth in PayPal, mobile sales and marketplace, investors have been bullish on eBay and its stock. During the first quarter, the company reorganized its mobile group and released a number of new apps and expanded its same-day delivery service. During its analyst day a few weeks ago, eBay revealed that it plans to enable at least $300 billion in global commerce across its businesses, up from $175 billion in 2012.
The Race Against Amazon
After over a decade of living in the shadow of 'e-tail' giant Amazon.com (NASDAQ:AMZN), the perennial second-place sales site is starting to get a bigger slice of attention from Wall Street and the tech press. And why not? For the first time in years, second-place eBay is taking first place in the race for returns: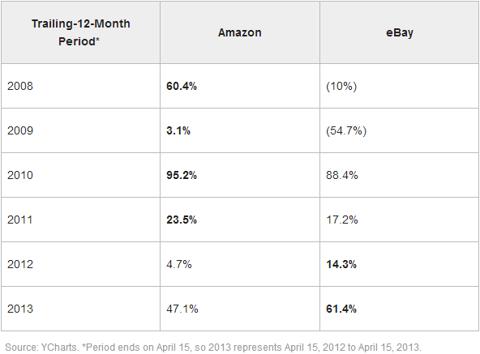 EBay is moving in the right direction, but it's too soon to claim that the company is about to beat Amazon at its own game. Although eBay has pushed hard into mobile commerce, and now sees almost a third of its purchases come from mobile devices, that segment will still only account for about 15% of total e-commerce revenue this year. Of course, that's expected to rise in the future as more consumers shift their primary browsing and shopping habits from desktop to tablet or smartphone, but it would be rash to count Amazon out of this race.
Should You Buy?
The one thing eBay undoubtedly has going for it over Amazon is valuation. Compared to Amazon's negative P/E (and 76 forward P/E), eBay looks downright cheap. Furthermore, the companies 50 and 200 day moving averages are climbing, indicating a bullish trend, as pictured in the chart below.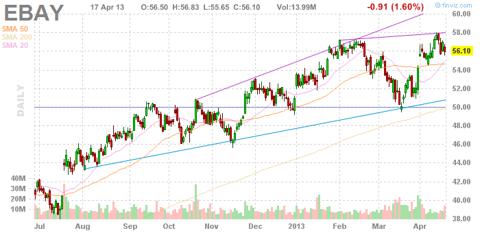 The share price of eBay has steadily returned 56% over the past 12 months and the stock is trading near within 2% of its 52-week high. Fundamentally, eBay is relatively solid. The company's debt level is fairly in line as reflected by its on-par leverage ratio. The firm's gross and operating margins of 70.04% and 20.53% are in 85th and 98th%iles, respectively, for the retail industry. Late last month, eBay set aggressive three-year growth targets, based on international expansion plans and more focus on mobile commerce. The company is investing heavily in these initiatives and such spending may be behind the weaker second-quarter profit forecast.
Though Amazon's significant lead in e-commerce could make its future more certain than eBay's, the market has definitely already priced this benefit into Amazon's stock. eBay, on the other hand, offers benefits that do not seem to be recognized by the market -- at least not to the extent that they have been for Amazon, and with positive growth initiatives and solid fundamentals, eBay is a stock I would definitely consider in the near future.
Disclosure: I have no positions in any stocks mentioned, but may initiate a long position in EBAY over the next 72 hours. I wrote this article myself, and it expresses my own opinions. I am not receiving compensation for it (other than from Seeking Alpha). I have no business relationship with any company whose stock is mentioned in this article.