On Wednesday, April 17th Deutsche Bank lowered its stock target prices on several refiners, expecting weak margins to weigh on earnings in Q2 and in 2013 as producing gasoline gets less profitable. Of the ten refining companies Deutsche Bank had given a rating of 'Hold', only one carries a P/E ratio and forward P/E ratio under 11 and yields at least 7.00%.
In this article I wanted to take a look at Calumet Specialty Products Partners, L.P. (NASDAQ:CLMT) (which Deutsche Bank now has a $34 price target on) and highlight two of the longer-term catalysts behind my decision to establish a position in the company.
Calumet Specialty Products Partners, L.P.: Based in Indianapolis, Indiana, Calumet Specialty Products Partners "produces and sells specialty hydrocarbon and fuel products in North America. It operates in two segments, Specialty Products and Fuel Products". (Yahoo! Finance)
Shares of CLMT, which currently possess a market cap of $2.48 billion, a P/E ratio of 10.26, a forward P/E ratio of 10.62, a very impressive PEG ratio of 0.61, and a yield of 7.18% ($2.60), settled at $36.23/share on Wednesday. One of the things to point out for growth investors is the fact that shares of the company are actually 13.77% higher since January 1st of this year.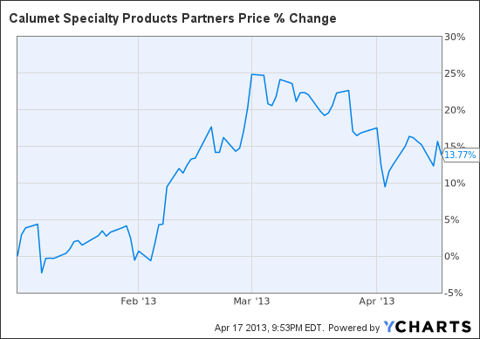 CLMT data by YCharts
North Dakota: Even if weak margins take a minor toll on CLMT's near-term earnings, I think the company's recent development in North Dakota could translate into some long-term growth as prospects remain fairly bullish. On April 10th it was announced that North Dakota broke ground on the first new U.S. refinery since 1976 with hopes it would resolve the state's diesel demand problem. In conjunction with its joint-venture partner MDU Resources (NYSE:MDU), Calumet hopes per day production will reach 8,000 barrels in the first 20 months of operation and even more by 2025, when the daily need is expected to jump to 75,000 barrels per day.
If on one hand, Calumet can successfully address and resolve North Dakota's diesel demand problem, by producing at least 8,000 barrels at or ahead of schedule, investors could see some very nice upside. If, on the other hand, Calumet fails to meet production goals with regard to North Dakota's diesel demand issue, shares could take a hit and as a result distributions could subsequently head down a similar path.
Dividend Behavior since May 2008: Since May 1, 2008, CLMT has increased its dividend a total of eleven times by an average of $0.0181 per increase each time. The total increase equates to $0.20/share or 44.44% over that period. From an income perspective, the company's current yield of 7.18% coupled with its moderately high payout ratio (currently 66.00%) and its continued periodic increases could equate to a very viable income option for long-term investors.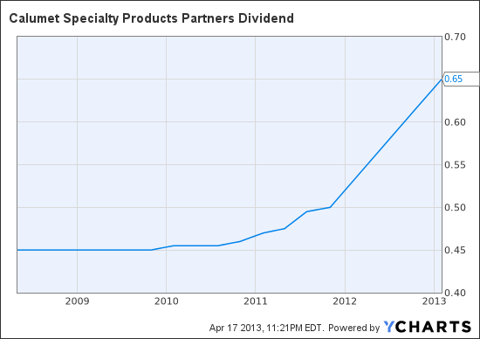 CLMT Dividend data by YCharts
Conclusion: When it comes to those who may be looking to establish a position in Calumet Specialty Products Partners, the company's North Dakota joint-venture with MDU resources, coupled with its dividend behavior over the last five years, strengthen the long-term case for this high-yielding oil & gas play.
Disclosure: I am long CLMT. I wrote this article myself, and it expresses my own opinions. I am not receiving compensation for it (other than from Seeking Alpha). I have no business relationship with any company whose stock is mentioned in this article.