Panera Bread Company (NASDAQ:PNRA) has delivered high and stable top and bottom line growth over the previous years. Earnings growth in the last four years was in the 25% to 30% range, while revenue grew in the 4%-18% range. The company continues its efforts to sustain the growth momentum for years to come.
During the fourth quarter the company opened 32 new bakery cafes, 18 company and 14 franchised, with a total 123 openings in 2012, which was ahead of initial expectations. It was an acceleration compared to 2011. The company purchased approximately $20 million worth of shares under the new $600 million authorization. The management expects a $0.03 EPS benefit in 2013 from the repurchase.
In the fourth quarter conference call, the management noted that the strong EPS growth has been driven by consistently strong comp store sales over many years. Panera has achieved an average comp growth of 5.3% over the last four years, with acceleration from 4.9% in 2011 to 6.5% in 2012. In the same four-year period, bakery café margin improved 350 basis points. They also said that the pace of investment will increase in 2013, as the company is looking to build the foundation for growth in the future.
The loyalty program is also doing very well. From its full system rollout by the end of 2010, and 4.5 million registered members, the program more than doubled to 9.5 million members in 2011, and currently has over 13 million members. Management believes that there is still room for substantial growth.
The company guided for 16%-19% earnings growth in the first quarter, and 17%-19% growth for the full year. The growth will be achieved with an estimated 4.5% to 5.5% comp growth and 115 to 125 new bakery cafes. Full year operating margin is targeted to be flat to 50 basis points compared to 2012.
Analysts have been bullish on Panera recently, with four upgrades since March 19th. Two upgrades were to outperform, one to market perform, and one conviction buy, and all four analysts raised their price estimates.
Peer valuation and price movement
A look at some of the valuation metrics reveals (in the table below) that Panera valuation is similar with Starbucks' (NASDAQ:SBUX) valuation. Both stocks have roughly the same trailing and forward P/E ratios. Panera has achieved more robust earnings and revenue growth than Starbucks, while both companies are estimated to report a 20% increase in earnings this year. Panera has the lowest PEG ratio. McDonald's (NYSE:MCD) offers the lowest trailing and forward P/E ratios, but the reported and estimated growth levels are far below others. Chipotle Mexican Grill (NYSE:CMG) has the highest valuation, but the growth is not far greater than Panera's.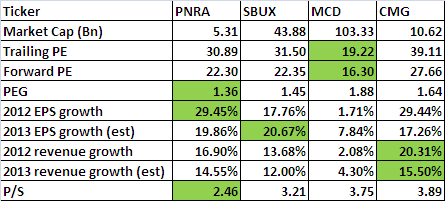 Source for data: Yahoo Finance, Zacks
All four stocks experienced falling prices since their respective peaks in February-April period of 2012. Only Panera managed to reach new highs in September, but quickly succumbed to the group weakness. Panera and McDonald's were able to reach new all time highs recently, Starbucks is near its high too, and Chipotle still has a long way to go, as it was hit the hardest in 2012, falling 47%.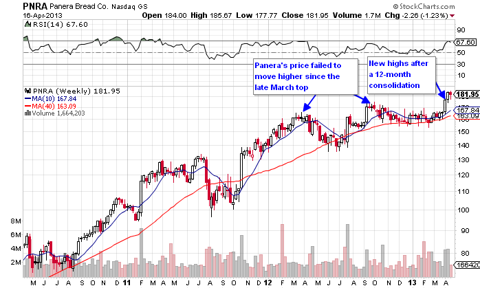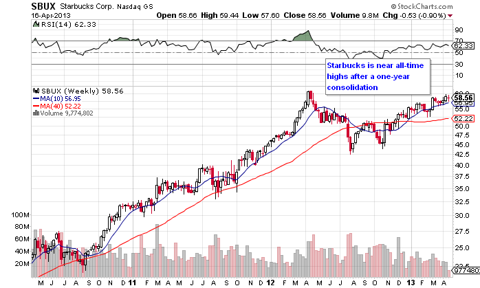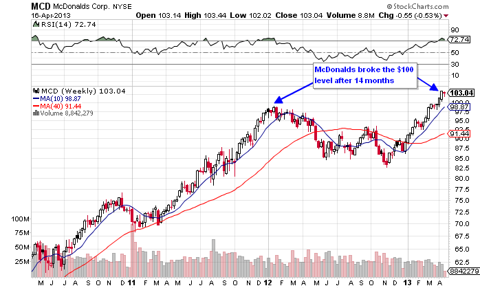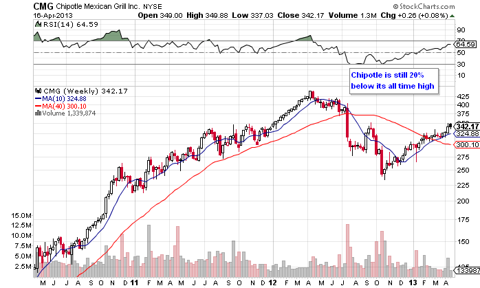 Source: Stockcharts
McDonald's will report earnings on April 19th, and it could have an impact on the price movement of the group.
One major cause for concern for all the stocks mentioned in this analysis is that the cyclical bull market has entered its fifth year, and an intermediate correction or a bear market could dampen the prospects of Panera and for most stocks.
Conclusion
Panera is doing the right things, and continues to grow. The growth momentum will continue in the next few years, and the shareholders might enjoy higher prices. Strong comp growth, new bakery openings, successful loyalty program and improved sentiment of the group with new all time highs bodes well for the company's prospects. Its valuation is closest to Starbucks, and offers a better value than Chipotle and substantially more growth than McDonald's.
Disclosure: I have no positions in any stocks mentioned, and no plans to initiate any positions within the next 72 hours. I wrote this article myself, and it expresses my own opinions. I am not receiving compensation for it (other than from Seeking Alpha). I have no business relationship with any company whose stock is mentioned in this article.