DISH Network's (NASDAQ:DISH) proposed acquisition of Sprint (NYSE:S) has the makings of a smaller market participant (grounded in skilled operations and financial strength withstanding) that aims to acquire a larger company in what is much more open shark-infested waters where constant upheaval in networks and devices is the norm.
This may be the critical juncture that is DISH's 'best and last hope' of achieving a deployment of wireless broadband network with the market strength to develop the large sustainable cash flows needed to join the fast-paced re-investment cycles of mobile operators. The critical distinction is how the business models differ between satellite and mobile operators:
Satellite operators have high up-front investments in new generations of satellites that have lifetimes of several years.
The replacement cycle for satellite receivers is also a several-year cycle.
Home DTV units, sling boxes, offer room for innovation such as recent DISH Anywhere mobile device applications and Hopper that runs up against content suppliers and is limited by the bandwidth pipe available.
DISH must compete in building their own network from a limited customer base; 14 million subscribers.
Sprint and Softbank operate in a 'Internet times mobile' pace of development device market that witnesses rapid turnover and need for constant reinvestment to remain current. The business model requires heavy up-front subsidies for lucrative post-pay subscribers, including popular Apple and Samsung devices. Among the synergies in favor of Sprint-Softbank is a combined market for mobile devices, including much needed devices for the 2.6GHz spectrum.
Proposed Market Synergies; Enticing Yet Unproven, Not Exclusive
DISH proposes synergies in markets and operations that they project will result in bottom-line savings and expansion into new sales opportunities. We don't doubt the basic premise but question some of the details as being very aggressive. From our perspective, the envisioned market opportunities will be an uphill battle due to the high degree of current market saturation, overlap, and subscriber contractual commitments and loyalties. Churn in the mobile industry has become low and reasonably predictable. What DISH portends is a new service model that is attune to Apple's (NASDAQ:AAPL) entry into the market with the iPhone: the ability to strip away some subscribers from other operators while continuing to hold ground on DISH and Sprint current subscribers. This is a possibility, however, to understand how attractive the "TV everywhere" experience will become, and how that will compete against Verizon (NYSE:VZ) and others plans, remains too speculative to forecast in such generous terms.
images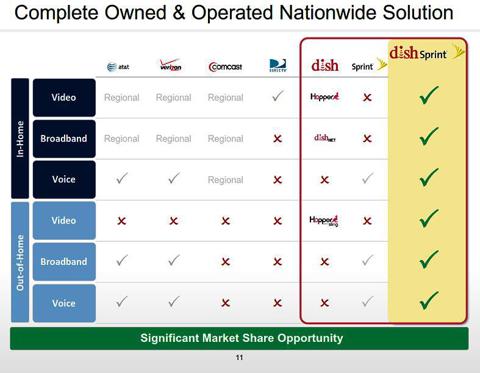 Source: DISH Networks, April 15, 2013 "Project Wavelength Investor Presentation", p. 11
DISH's presentation points out the vision for the combined mobile and satellite-terrestrial network operations. The timeline for the combined services was not detailed but is know to be at least three years out. The rollout might otherwise be staged to roll perhaps starting late 2014, however, that would be very aggressive.
The plans ignore expectations that Verizon will compete increasingly in video services. Although the profile of services appears to differ, Verizon has already begun preparation of networks and signed agreements for access to video services that foretells expansion into the video services market. It remains to be seen how effective this can be against 'seat to the street' seamless video service potential of DISH-Sprint. However, the market opportunity might be viewed as 'osmosis' - the flow tends to be from denser market concentration to more sparsely populated, namely, the reserve of walking up satellite services into the mobile environment.
Supporting that understanding has been the experience of 3G and 4G mobile services: about 15%, mostly 'younger generation' mobile broadband subscribers who do not live with their parents (under their BB service), do not subscribe to a TV or home BB service. This number is relatively small but is a new and growing phenomena. This number might be the canary in the coal mine for a more extensive shift in consumer habits that can accelerate as mobile networks deploy LTE-Advanced into broader bands of spectrum currently planned. Additional spectrum expected by 2015 will extend the overlap further.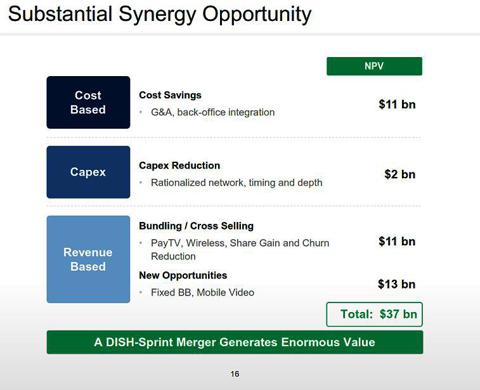 Looking Through the Glass Onion
Our observation of the projected cost savings is limited: we agree that synergies can be expected, however, have too few details of net operational savings. Sprint has engaged in significant cost savings over the past four years, including consolidation of customer service facilities, network harmonization and upgrades such that substantial operational savings have probably already been taken advantage. We would expect further savings to be possible, however. Perhaps most dramatically, savings can be achieved in combined marketing efforts.
The marketing synergies hold significant potential, however, there is a fear of the unknown: The combined service opportunities are new to both Sprint and DISH. We think that Sprint will understand this better than DISH since they have played in the topsy-turvy mobile wireless market and have a history of attempting to go against the consensus for network model adoption, notably the use of WiMAX in New Clearwire 2.6GHz spectrum. That experience proved only partly beneficial, falling short of sales growth expectations while averting larger losses in subscribers than likely otherwise. The outcome of Sprint's acquisition of Nextel Networks and formation of New Clearwire resulted in fewer synergistic benefits than forecast at the outset. The Nextel experience resulted in heavy losses in subscribers and revenue that dodged Sprint until more recently. And the Clearwire experience, although a stepping stone into 'True 4G' to come, has resulted in $4.5 billion in accumulated debt that will be assumed.
The biggest area of speculation in the projected synergies is the $13 billion in new opportunities revenues in fixed BB and mobile video.
A problem with this projection stems from the growth being in areas where Sprint-Softbank plan to move into, albeit from the higher density osmosis of the mobile subscriber device and connection carrier into the home environment. From the other end of the binocular viewpoint, the home video opportunity looks to be a relatively smaller and congested market to expand into.
Further analysis is needed. However, our preliminary observation is that DISH will face an uphill battle to convince Sprint's BOD. The total package of the financial deal plus market opportunities and opportunities to be lost by abandonment of the Softbank acquisition presents a high hurdle for the smaller market share DISH to swallow the larger, mobile-converging market competitor.
Observations about the impact on the stocks of DISH Networks (DISH), Sprint (S), Clearwire (CLWR) and Softbank (OTCPK:SFTBY):
DISH - The company is boldly entering into uncharted waters in which their future prospects may come into sharper focus. Short term, the outlook for the stock looks bearish pending favorable news of their offer. Longer term, with or without the acquisition of Sprint, DISH will be entering into less firm footing of mobile networks. The company has several favorable assets including the ability to innovate in networks and devices, a strength we think has been sorely lacking at Clearwire-Sprint.
Sprint - While financially needy of a partner, Sprint has the largest cache of subscribers to use in expanded services made available using LTE-Advanced and improved 3G networks. The price has moved up over recent months, however, we see less downside risk. Most likely the price level has reached near-term highs. We do not think Softbank is likely to increase their offer above DISH's and may not meet it, instead relying on better proven synergies in markets and demonstrated new networks.
Clearwire - The company is more certainly locked in to the Sprint deal now that DISH has made a side-stepping offer for Sprint. Ergen had expressed some frustration with the regulatory process and Sprint's high hurdles for that must approve any deal for Clearwire, having effectively taken it out of the running months ago. As this became clear, DISH's options have narrowed and what remains for upward pressure for CLWR is the 30c or so needed to convince minority shareholders that the best offer is on the table.
Softbank - Softbank's stock tends to initially react badly to major news of their foreign partnership with Sprint. The stock had plunged after the announcement of the merger but pulled back to near new highs over the course of several weeks since. Softbank's hedging of the $17 billion USD funding of the Sprint acquisition has proven to have been a potential windfall of about $2.5 billion. Combined with a $600 million agreed default payment by Sprint should the deal fall through, Softbank would have a nice going away consolation prize. The outlook for the stock remains dicey due to a potential bidding skirmish with DISH.
Disclosure: I have no positions in any stocks mentioned, and no plans to initiate any positions within the next 72 hours. I wrote this article myself, and it expresses my own opinions. I am not receiving compensation for it (other than from Seeking Alpha). I have no business relationship with any company whose stock is mentioned in this article.