Gold prices fell by around 8.5% in the last six months, after the historic rally that lasted a decade. It saw a gain of over 365% in the last 10 years.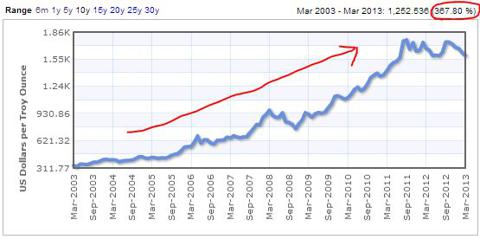 But that does not really impress us much when we consider the return of a Jersey-based gold mining and exploration company, named Randgold Resources (NASDAQ:GOLD). When gold returned over 350%, Randgold saw its market cap rise by around 800% to $6.5 billion during that period. That's almost twice the return you would have got by investing in gold alone.
The question now is whether Randgold Resources would be worth the investment in the coming few years or not. Due to the drop in gold prices, Randgold Resources' stock price has taken a hit. It fell over 30% in a year till date. However, Randgold is not alone. Several other bigger companies also took a hit. Goldcorp Inc. (NYSE:GG) fell by over 23.5% in the year till date, while Barrick Gold Corp (NYSE:ABX) dropped by over 48%.
And, with Goldman Sachs (NYSE:GS) and Deutsche Bank (NYSE:DB) supposedly manipulating the gold market, gold prices are expected to fall even further. And lower gold prices mean lower stock price for Randgold as well. Not to mention the fact that lower gold prices also equate to lower revenue as well. While revenue has consistently pushed upward in the last few years, it might go down in the next two years.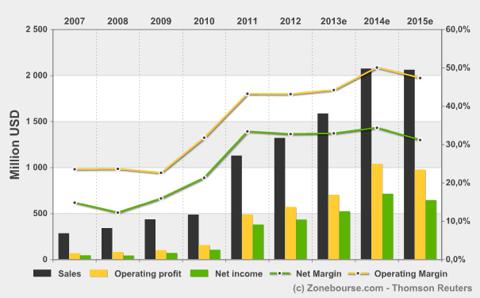 In the short run, gold prices might go down even further. With the Cyprus dumping of gold, followed by other countries such as Portugal, Ireland, Greece, Spain and Italy, and additional manipulation of gold prices by the banks, the short-term expectation of gold prices shooting up is bleak. However, there is a strong chance that gold prices are going to bounce back after some time. With quantitative easing all over the globe, prices of gold cannot go anywhere else but upward. And that's when Randgold Resources' stock price would start soaring again.
Although Randgold Resources' profitability margins have rather been stagnant for the last 2 years, it must be noted that they are better than most of its immediate peers. Randgold's gross margin of 60.88% and EBIT margin of 43% is much better than 52.9% and 22.47% of Gold Fields Ltd (NYSE:GFI), and 35.67% and 17.74% of AngloGold Ashanti Limited (NYSE:AU).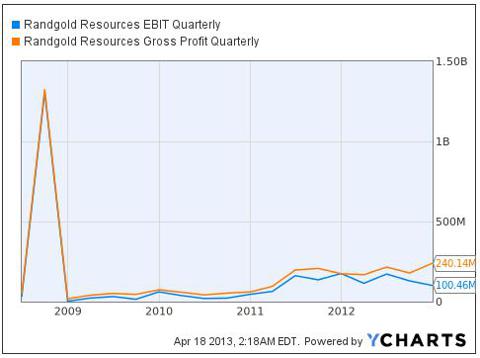 Having said that, it must be remembered that Gold Fields Ltd is in a stronger position since it also deals in copper, and as John Stephenson of First Asset Investment Management told Bloomberg,
"Copper is the preferred way to play China growth, and it should be very strong. The commodities that will do well [in 2013] are the ones that China doesn't have a hammerlock on in terms of their ability to produce, and copper certainly would be that."
Even total assets have gone up steadily to over $3 billion in the last 2 years, while LT debt has remained at a constant level. With strong cash flow from operations, the company has always been in a steady financial position for the heavy capital expenditures. With a current ratio of 4.1, much higher than Goldcorp's 2.15 and Barrick Gold's 1.33, the company is financially stable at the moment. The assets already acquired would reap benefits in the years to come. But, it is wise to note that a rebound in gold demand might take some time.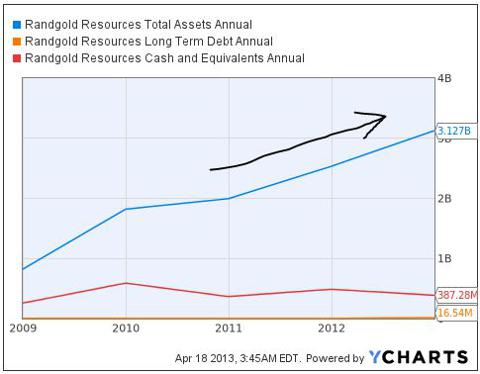 Moreover, 'quality over quantity' seems to be the latest motto of the company management. Randgold's annual mineral resource and reserve declaration, published in March this year, shows total attributable mineral reserve ounces up by 80 320 to 16.36 million while total attributable resources were down from 28.25 to 27.21 million ounces. With group reserve grade increasing from 3.84 to 3.87g/t, we are seeing solid improvement in the asset quality, which is an indicator of future earnings growth potential.
In short, the company in itself seems fundamentally stable to me. With solid asset reserve, stable financial standing and consistent market performance, Randgold Resources seems a stock fit for your portfolio. However, the only thing that poses concern is that it deals in gold and gold is out of favor these days. With investors flocking to U.S. stocks, anything related to gold might not be a suitable vehicle for investment (at least, for the short term).
With EPS expected to fall in the coming few years, it is safe to say that price would go down as well, not to mention the general negative investment outlook on gold.
But, the gold market is expected to rebound after a couple of years. So, what should you do with Randgold Resources at the moment?
If you are a value investor, you can keep your Randgold Resources stocks safe in your vault, for they are going to rise in value by 2020. But, if you want to make some money right now or are in for the short run, you should probably sell Randgold Resources right now. (On a side note, you can keep the stocks, buy put options for the time being, sell them while they are "in the money" and buy them back at a profit later on.) Either way, you might want to keep Randgold Resources in the long run while still make some nice profit off selling them in the short run.
Disclosure: I have no positions in any stocks mentioned, and no plans to initiate any positions within the next 72 hours. I wrote this article myself, and it expresses my own opinions. I am not receiving compensation for it (other than from Seeking Alpha). I have no business relationship with any company whose stock is mentioned in this article.