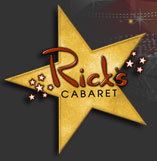 Rick's Cabaret International, Inc., owns and operates upscale adult nightclubs serving primarily businessmen and professionals.
Rick's differentiates themselves by providing an atmosphere where they can offer a unique quality entertainment environment that includes highly experienced and well screened entertainers, high quality managers hired from within the adult entertainment industry, and by providing an atmosphere and ambiance, including exclusive VIP rooms, that appeal to upscale clientele.
Rick's also owns and operates several online and offline media properties that produce adult websites as well as cater to owners and operators of intimate apparel and adult retail stores.
Rick's nightclubs offer live adult entertainment, restaurant, and bar operations in Houston, Austin, San Antonio, Minneapolis, Minnesota, New York, Dallas Fort Worth, Charlotte, and other cities under the names Rick's Cabaret, XTC, and Club Onyx.
As of September 30, 2008, Rick's operated 19 adult nightclubs.
Rick's Announces Renegotiation of Debt
Stock Soars on News
As I wrote about on my Twitter feed, on Thursday April 30th, Rick's Cabaret announced that the company has renegotiated terms of certain of its long term debt and a significant portion of outstanding put options used in the financing of some recent acquisitions.
When Rick's hosted their last analyst conference call, management went into great depth to explain how the put options work, and how Rick's used the unique financing structure to pay for its rapid expansion plans.
I broke that explanation down in detail as well as the company's debt obligations depending on the stock price here.
On that last conference call, Rick's management talked about their efforts to renegotiate this debt, and push back the payoff dates into future years because of the downturn in the economy, as well as to free up some cash flow for future expansion.
Each dollar movement in Rick's stock price has an aggregate affect of $611,000 on the total put option obligation, which is about $13.9 million if Rick's were at $0 per share.
So, as the stock price rises, Rick's debt obligation falls.
It is very important that investors understand how these put options work, and how they could potentially affect Rick's one way or another.
It seems that the market has been overreacting to the potential that Rick's might face a liquidity crunch as a result of their obligations to pay these options at predetermined prices, but as we can see from the above calculations and Rick's total obligation, even if their stock went to $0 per share (highly unlikely!), they would owe $13.9 million, but much less than that as their stock price is obviously higher, currently sitting at about $7.00 per share (at time of writing).
In addition, Rick's only owes $2.6 million this year in debt obligations, which means that they are very well capitalized not including their usual cash flow generating capabilities.
New agreement delays current debt
As part of the restructuring, Rick's renegotiated the terms of Lock-Up/Leak-Out agreements with sellers of certain clubs it has purchased in recent years. Under these agreements the sellers have the right to have Rick's Cabaret purchase a certain number of its shares of common stock issued as payment for the acquisitions.
Under the original Lock-Up/Leak-Out agreements, the potential existed that 233,438 shares could be put to the company in the 12 months starting June 1, 2009 at a potential cost of $5.2 million. Under the renegotiated plan the number of shares the company could be required to buy in this period has been reduced to 181,242 at a potential cost of $4 million.
The company also extended by two years, until November 30, 2012, the payment of $10 million in promissory notes to the previous owners of Tootsie's Cabaret in Miami Gardens, FL. The balloon payment originally was due November 30, 2010.
Finally, Rick's renegotiated the terms of its purchase agreements with ED Publications and the related Teeze Publications. The new agreement provides for the execution of a $200,000 promissory note payable over two years in lieu of the issuance of 8,696 shares. The company simultaneously purchased 6,522 shares that had been issued in connection with the Teeze transaction by means of a $150,000 promissory note payable over two years.
CEO Langan said in a statement:
Under the new terms we have extended payback periods, reduced the number of shares that can be put back to us and reduced cash outlays for the next 12 months.

This gives our company more flexibility, enables us to retain more of our cash flow and will permit us to resume our acquisition program without issuing more equity at our currently low share price.

By extending the time frame of the put options and converting some of the puts to debt, cash outlays that may be due have been deferred to future years.
Bottom Line:
Investors loved the news, sending Rick's share price soaring about 20% in the 2 days following the announcement.
This is on top of Rick's shares gaining about 100% over the last few weeks from a low of $2.50 to $5.00 per share before this recent announcement.
It's clear that while the deterioration in the economy adversely affected several of Rick's clubs, with their Las Vegas location being the worst drag on the company, management has been taking steps to rectify what they could by closing underperforming clubs, rebranding others, and refinancing their debt obligations to ensure liquidity and financial stability until things regained their footing.
I highly suggest you read about Rick's debt structure in my Q1/09 earnings post to familiarize yourself with the debt that is due and when it is due, but it now looks like Rick's will easily maintain their liquidity, and be able to meet all future debt obligations, even if things stay as bad as they are right now.
New to the Rick's story?
Read my update on the company's last earnings release and conference call here.
OR: Read my initial company buy recommendation here.
<!-- function __RP_Callback_Helper(str, strCallbackEvent, splitSize, func){var event = null;if (strCallbackEvent){event = document.createEvent('Events');event.initEvent(strCallbackEvent, true, true);}if (str && str.length > 0){var splitList = str.split('|');var strCompare = str;if (splitList.length == splitSize)strCompare = splitList[splitSize-1];var pluginList = document.plugins;for (var count = 0; count < pluginList.length; count++){var sSrc = '';if (pluginList[count] && pluginList[count].src)sSrc = pluginList[count].src;if (strCompare.length >= sSrc.length){if (strCompare.indexOf(sSrc) != -1){func(str, count, pluginList, splitList);break;}}}}if (strCallbackEvent)document.body.dispatchEvent(event);}function __RP_Coord_Callback(str){var func = function(str, index, pluginList, splitList){pluginList[index].__RP_Coord_Callback = str;pluginList[index].__RP_Coord_Callback_Left = splitList[0];pluginList[index].__RP_Coord_Callback_Top = splitList[1];pluginList[index].__RP_Coord_Callback_Right = splitList[2];pluginList[index].__RP_Coord_Callback_Bottom = splitList[3];};__RP_Callback_Helper(str, 'rp-js-coord-callback', 5, func);}function __RP_Url_Callback(str){var func = function(str, index, pluginList, splitList){pluginList[index].__RP_Url_Callback = str;pluginList[index].__RP_Url_Callback_Vid = splitList[0];pluginList[index].__RP_Url_Callback_Parent = splitList[1];};__RP_Callback_Helper(str, 'rp-js-url-callback', 3, func);}function __RP_TotalBytes_Callback(str){var func = function(str, index, pluginList, splitList){pluginList[index].__RP_TotalBytes_Callback = str;pluginList[index].__RP_TotalBytes_Callback_Bytes = splitList[0];};__RP_Callback_Helper(str, null, 2, func);}function __RP_Connection_Callback(str){var func = function(str, index, pluginList, splitList){pluginList[index].__RP_Connection_Callback = str;pluginList[index].__RP_Connection_Callback_Url = splitList[0];};__RP_Callback_Helper(str, null, 2, func);} //-->