Introduction:
In a my recent article "How Investing For The Long Term Helps Reduce Market Risk" I used Colgate Palmolive (NYSE:CL) as an example of how investing $1000 a year, every year since 1984 has played out.
While Colgate Palmolive is only one of my holdings, I also have done very much the same thing with Procter and Gamble (NYSE:PG), Kimberly Clark (NYSE:KMB), Coca-Cola (NYSE:KO), and Johnson and Johnson (NYSE:JNJ).
What You Should Know:
As a Dividend Growth Investor, I have a tendency to reinvest dividends back into my various stock positions. There have been times that I've decided to take the dividends as cash, accumulate those dividends and then take that money and reinvest it in perhaps a new position or as additional stock in an existing position.
Now, most DG investors will debate the best use of dividend income and how it is used before they reach retirement years. There are a number of different approaches to dividend reinvestment with some being 100% reinvested, some using a combination of reinvestment and taking cash, and still others who take 100% in cash and collect that money in a "cash account."
Whatever you do is really up to you, but if the principle of compounding is going to work in the DG model, then perhaps reinvesting is the "best way" to go.
Again, using Colgate Palmolive as a starting point, I took the time to take a look at how things would have worked out had I not reinvested my dividends and how that would contrast with the actual reinvestment of those dividends since 1984.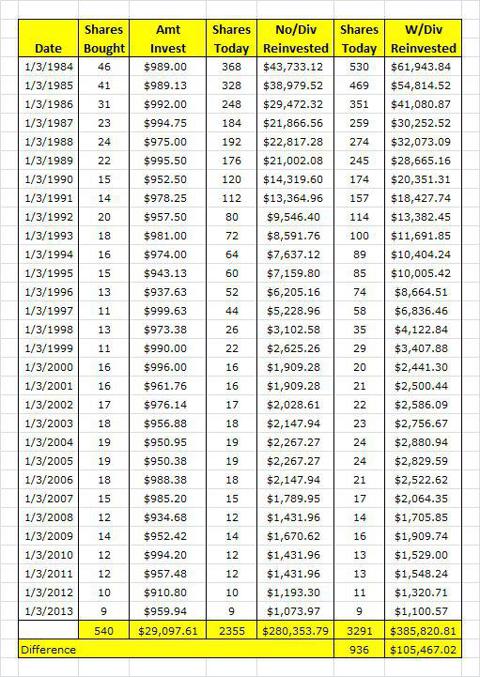 The original table that I shared showed that by investing $1000 a year in CL since 1984, that reinvesting dividends has taken 540 shares of stock and turned it into 3291 shares today with a value of $385,820 dollars. Based on today's dividend of $2.72, Colgate Palmolive will pay $8951 in dividend income this year.
When we look at what would have happened if dividends were not reinvested, investing $1000 a year in CL would have purchased the same 540 shares and today we would own 2355 shares which would be worth $280,353 dollars today. The dividend income from those 2355 shares would be $6405 this year.
What I Know:
The difference between reinvesting dividends and not reinvesting dividends in Colgate Palmolive means that the reinvestor has an additional $2546 in additional dividend income.
The difference between reinvesting and not reinvesting means that the reinvestor has an additional 936 shares of CL stock and the value of his position is $105,467 larger than the investor who did not reinvest.
The difference between the two practices shows quite an advantage to reinvesting dividends. While CL has split the stock on three occasions since 1984 and has announced that they would like to split the stock again, the major difference is in using the dividend income to purchase additional shares during the period in question.
Conclusion and Summary:
While every DG investor will have his or her own metric as to what to do with dividends and I can't criticize their approach, for me, it is becoming more obvious that reinvestment is the way to go.
As someone who has done both--reinvested and collected cash--I am speaking only from my own experience. I think it might be human nature to think that a particular stock is "overvalued" and investing dividends back into that stock would be "purchasing at a high," the reality is that dividend reinvestment a very good way to let the notion of DG compounding work for you as opposed to leaving that compounding money on the table.
Disclosure: I am long CL, KMB, KO, PG, JNJ. I wrote this article myself, and it expresses my own opinions. I am not receiving compensation for it (other than from Seeking Alpha). I have no business relationship with any company whose stock is mentioned in this article.