Industry Overview
The cable TV industry in the United States has seen a significant change in terms of operations in the last decade. The cable TV industry has been revolutionised with the expansion and penetration of Internet and with the convergence of technologies which has taken place in the ICT - information and communication technology industry. The expansion of broadband and high speed communication technologies has made it possible to bundle various services together. The leading network providers are offering a bundle of cable television and Internet services to subscribers. These providers are the big ISP (Internet service provider) companies like Comcast Corporation (NASDAQ:CMCSA), Time Warner Inc. (NYSE:TWX), Cox Communications, etc.
Bundling of Services
Cable bundles have become very popular in the TV and Internet industry in the United States. Cable offers Internet that is faster than DSL, and its installation is easier than satellite. Through bundling, various services like cable television, Internet, phone, etc. can be provided by a single cable operator.
Some Players in the TV and Internet Industry
Cable TV and ISP providers - Comcast Corporation, Time Warner Inc., Cox Communications
Traditional phone service providers (providing cable TV and Internet services) - AT&T, Inc. (NYSE:T) and Verizon (NYSE:VZ)
Content Providers - NBC Universal (Now merged with Comcast); HBO, CNN, Cartoon Network (Subsidiaries of Time Warner); ESPN, Disney Channel, ABC [Subsidiaries of The Walt Disney Company (DIS)]
New Entrants -
Netflix (NASDAQ:NFLX) is moving towards content creation.
Google (NASDAQ:GOOG) is the jack-of-all-trades, the latest entrant to provide Cable TV and

Internet services through Google Fiber.
Trends in the Industry
Convergence in the ICT industry
Vertical Integration
The various players in the cable television and Internet industry have expanded their positions in the value chain of the industry. Some players have achieved this through mergers and acquisitions and some through strategic diversification of their business operations.
Below Table indicates the strategic position of various players in the value chain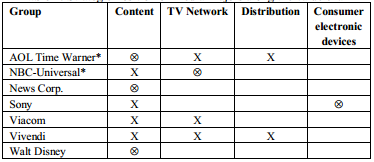 NBC - Universal is now part of Comcast
Source: Corporate Strategies, Business Ecosystems and Convergence - Nabyla Daidj
Companies like Comcast and Time Warner have vertically integrated their position in the value chain. Comcast does cable TV and Internet distribution and also content creation. Recently, Comcast has acquired NBC - Universal from GE, which has strengthened the portfolio of Comcast. Through NBC- Universal, Comcast has entered into content creation.
Convergence in ICT has taken place in mobile, Internet, television, media industry and some big ICT groups have emerged.
Main ICT Groups in 2012
Source: FT Global 500, 2012
Increasing Importance of Content Providers
The importance of content providers is increasing day by day as the focus of consumers on original content is increasing. Currently, the Content providers are charging the cable operators substantially for carrying their cable channels. As a part of a deal, cable operators pay to the content providers for their successful channels as well as for the less successful channels. The cable operators are passing these costs on to the customers.
Consumers Paying more under Bundling of Services
The extra costs incurred by the cable operators are being passed to the customer under the bundled cable bills. This is causing consumers to pay more for the services. Cable providers have not provided the option to the customers to pay for what they watch. So a customer is made to pay more for a channel even if he is not watching the particular channel. The customers have no choice but to pay for everything even if they want to see fewer channels. This kind of pricing is not in the favour of consumers. As the likes, interests and expectations of all customers are not same, their choices of channels are also different. The industry needs to introduce the concept of à la carte in which the customer will have the freedom to buy only what she wants. The customers should pay only for those channels which they like to watch.
Cable Companies turning into Micro Monopolies
US consumers are being charged too much by cable TV and Internet providers for providing a basic utility service. The nature of cable TV and Internet broadband allows such pricing unless the government and regulators takes strict action. The capital intensive nature of the business has created micro monopolies. There are one or at the most two cable TV and Internet providers in one area throughout the United States. This is enabling the companies to charge high fees which the consumers are forced to pay (because of the necessity of the service). Big cable companies like Time Warner Cable have been lobbying regulators to stop the competition from increasing.
Increasing Competition from Technology Companies
Technology companies like Intel (NASDAQ:INTC), Google and Microsoft (NASDAQ:MSFT) have decided to move into the domain of broadcasters and cable companies. The cable and broadcasting industries are lucrative as they are stable and offer a big TAM. All the above-mentioned companies have or are planning TV products and services. They want to change the way TV content is consumed by offering radical new services and products. Intel is already discussing content deals for its new TV service. Google has been trying to bypass the cable and telecom companies by building its own gigabyte optic fibre network. Google, in a direct challenge to cable, has rolled out Google Fiber, which is 100 times faster than the average broadband network currently.
Increasing Costs Leading to Decrease in the Cable TV Subscriptions
With the increasing monthly subscription costs, many citizens are finding it tough to pay for the cable TV service. Many customers are moving towards online streaming to watch their favourite shows. The various advancements in the technology have made this possible. Also, services like TV on demand provided by Netflix and that too at a very low price has been successful in attracting the customers. Many subscribers have terminated their cable connections in order to reduce expenses. Companies like Comcast have faced some problems as they have lost a large number of pay TV subscriptions. With the progress of time, cable companies will find it increasingly difficult to sell customers on anything more than Internet access. Consumers may not be willing to pay $100 or more a month for content which they can easily get for less than $10 through Netflix.
Partnerships and Alliances
Various partnerships and alliances have taken place in the industry which has helped the companies in diversifying their operations. The figure below gives a snapshot of the various partnerships and alliances which have recently taken place in the industry.
Time Warner has decided to shed its cable assets to focus on its content generation businesses. This has been a good decision, since the value of content seems to be increasing as more and more companies look to distribute both old and new material.
Recently, Comcast Corporation bought the half of NBC Universal that it didn't own from General Electric Company (NYSE:GE). Comcast initially lacked the expertise in content creation but it now looks strong with the purchase of NBC.
With the cost of content increasing because of the aggressive efforts of companies like Netflix to fill out online media services, Comcast looks set to save money it might have otherwise spent to buy content. It will also have the ability to sell its content to other cable providers. Comcast has got a good deal with NBC Universal.
Data Caps
Various ISPs have imposed strict data caps for monthly usage per user. Cable operators justify them as being a price control mechanism but the low incremental cost of data for the operators negates this viewpoint. It may be a strategy of the cable operators to dissuade customers from moving their TV viewing from traditional subscriptions to online video services.
Cable giving tough competition to Satellite
Cable operators have been successful in earning a better market share than the satellite television providers. Various advantages of cable like bundling of services and disadvantages of satellite like frequent disruption of service have put the ball in the court of the cable operators.
A comparison of Comcast (Cable Operator) with Dish and DirecTV (Satellite television providers) gives you the broad picture.
Comcast has better margins, net income, revenue and market capital. Clearly, Comcast has a better performance than the satellite television providers.
Can Fibre optics be the game changer in the cable television and Internet industry?
Google launched the Google Fiber project in Kansas City last year, a project that provides super-high-speed broadband Internet service at one gigabit speed to the residents of Kansas City. The broadband speed offered by Google through Google Fiber is about 100 times faster than the average broadband network currently in the U.S. market.
Recently, Google received regulatory permission to expand its fibre optic network into regions where AT&T and Comcast are already present. With Google Fiber, subscribers will have the option to choose between a stand-alone Internet connection for $70 a month or Internet connection bundled with Fiber TV service for $120 a month. The price plan of the services offered by Google Fiber is very competitive as the connection speed is 100 times faster than the traditional cable. Google has announced to expand its Google Fiber service to Olathe as well. Cable operators currently charge about $60 per month before taxes and fees for a 20 Mbps Internet connection. When compared with Google Fiber pricing, it is a 50 times increase in the Internet connection speed for just $10 extra per month. Google Fiber can prove to be a game changer in the cable television and Internet industry.
But, there are some obstacles in the way of Google. The most important is the cost. It has been estimated that each home accepting Google's Fiber will cost around $6,000 to $8,000 to get going - that's no small investment. With the TV service included, and at the top rate, it would take Google five-and-a-half years before they start seeing a profit from a house, that's a big risk to be taking. Google's initial network investment will touch $84 million to reach almost 150,000 homes in Kansas City this year. A larger-scale expansion to 300,000 homes could double costs to around $170 million. A nationwide rollout could cost up to $11 billion.
But, cable television and Internet is a lucrative business. Time Warner Cable and Comcast had substantial Internet growth last year, with annual revenues increasing to 13.7% and 9.2% compared to 2011, respectively. These companies have very high margins of 97% on cable Internet and will have to face tough times with the widespread expansion and success of Google Fiber. Google with more than $48 billion in cash and equivalents, and operating cash flow, has the potential to invest in Fiber for the long term.
Google is expected to continue with its Fiber service, though at a slower rate initially. AT&T also operates a hybrid U-verse network in some regions; it runs fibre optic cables through neighbourhoods but then runs copper from the main line to the house. With the progress of time it can also offer full fibre services.
Now, Let us look at the drivers for the success of fibre optics in the cable television and Internet industry.
Exponential growth of Data Usage
The graph below shows the growth in average monthly data usage over the past decade:
(Source: Cisco Visual Networking Index Global IP Traffic Forecast, 2010-2015)
Data usage has seen an exponential growth in the last decade. The convergence of technologies, emergence of high speed broadband, changing lifestyles have led to an exponential increase in the data usage per user globally as well as in the United States. With the changing habits and lifestyles, people are spending more time on web. The need for being connected 24*7 for various business operations has also increased the data usage.
The future projections for the global Internet traffic show a widespread increase in the data usage and its requirement. As the data requirement and traffic increase, there will be a need for high speed Internet networks with huge bandwidth in order to absorb the traffic. Thus there is a need for high speed Internet networks in the future as the existing Internet networks offering speeds up to 75 Mbps will face severe difficulties in handling such huge amount of traffic. Fibre optics has the potential to offer such high speed networks of speeds greater than one gigabit per second. Thus there is a huge potential for fibre optics in the future.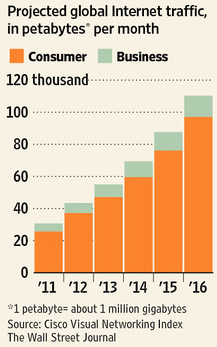 Consumers are continuing to migrate to faster speed
Source: FCC Report on Consumer Wireline Broadband Performance in the U.S.
Currently, consumers are feeling the need to migrate to faster speed as can be seen from the above chart. As people's requirements are increasing so is their need for higher speed network. With the requirement of high speed downloads like blue ray and HD movies, there is a need for high speed network.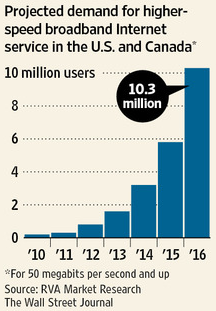 The projected demand for higher speed broadband network of connection speed more than 50 megabits per second is expected to reach about 10 million users in 2016. This offers a good potential for fibre optics to expand in the cable television and Internet industry.
Growth of Fibre Optic Industry
The future of the fibre optics and its penetration into the cable television and Internet industry depends on the performance and growth of the fibre optic industry. According to the economic principles of demand and supply, the increase in demand has to be met with the increase in supply. The increase in demand for fibre optics in the cable TV and Internet industry has to be met with the increase in the production of the fibre optics.
According to a report by Phillip Radbourne of Integer Research, the fibre optic industry has seen a tremendous growth in the last decade fuelled by a strong growth in the demand for fibre optic cable. The global demand for fibre optic cable had been about 182 million fibre-km in 2010.
Currently, the maximum demand for fibre optic globally comes from China but the demand for fibre optic is rising in countries like the U.S., Japan, Germany etc.
Growth of Fibre Optics in the last decade
Growth in 2012
According to the previously cited report, the demand for optical fibres is rising in the US because of the shift in the policy towards optical fibres and efforts to build Fibre to-the-Node and Fibre-to-the-Home (FTTH) networks.
In the future, major growth is expected to come from the United States. This shows that there is a potential for the growth of fibre optics in the Cable TV and Internet industry in the U.S.
China and U.S. - Leading producer of fibre optic cable in 2011.
Investment Outlook
As can be seen from the above discussion, there is a need for high speed Internet connections and hence, there is a potential for fibre optics.
An expansion of fibre based Internet can cause serious revenue loss for the cable providers. But, that kind of widespread rollout of fibre based network will take time. However, in one scenario, content producers that do not have access to fiber optic cable might need to pay a premium to future fiber optics providers like Google for access. In another scenario, they can start building their own fiber optics cable network, hence offering a newer range of data access solutions to customers. Telecom sector investors need to take a very careful look at their existing portfolio to determine which companies are lagging behind in the deployment of fiber optics, and what are the new synergies that are developing. Providers of hardware and other services essential to fiber optics can also be good investments in the coming years.
Disclosure: I have no positions in any stocks mentioned, and no plans to initiate any positions within the next 72 hours. I wrote this article myself, and it expresses my own opinions. I am not receiving compensation for it (other than from Seeking Alpha). I have no business relationship with any company whose stock is mentioned in this article.