Natural gas (NYSEARCA:UNG) rose to its highest price since mid-2011 today after a smaller-than-expected add to stocks. The chart below depicts the U.S. Natural Gas ETF at 2:55 PM.
UNG $23.96 1.09 (4.77%)
The U.S. Natural Gas ETF, LP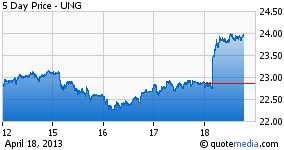 Source: Seeking Alpha
Moreover, wholesale natural gas prices have doubled during the last year, the commodity being now just over $4/Mcf (thousand cubic feet).
Energy experts say prices in the $4 or $5 range won't affect the increasing use of the fuel by consumers and industry since the price was $8 just a few years ago. Gas drilling companies are obviously happy with the rising price and so are leaseholders and states that get revenue based on the market price.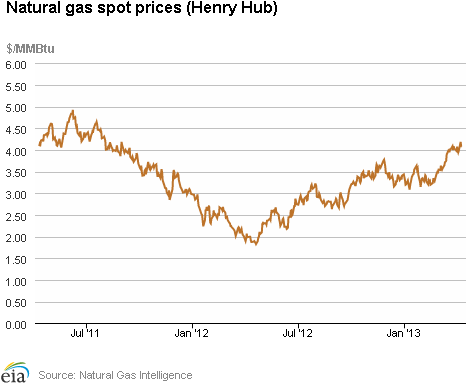 In recent years, natural gas production has increased significantly in the U.S. As a matter of fact, this source of energy is now more accessible and cheaper than 30 years ago. Shale gas discoveries proliferated in North America as hydraulic fracturing and horizontal drilling, a relatively new technology, allowed an efficient way to extract shale gas, producing a cheaper source of energy than oil.
Over the last decade, U.S. shale gas production has increased 12-fold and now comprises about 25% of total U.S. production. Increased dry shale gas production went from 0.39Tcf (trillion cubic feet) in 2000 to 4.80Tcf in 2010, accounting for 23% of U.S. dry gas production. Daily production rates are about 50 to 250Mcf per day. The chart above is depicting last week's natural gas rig count.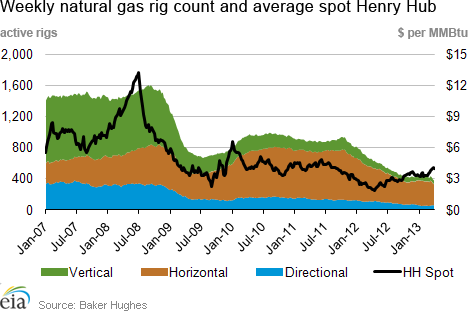 To know more about what the natural gas and shale gas will do to change the U.S. economic future, please read my article, Shale Gas Revolution: Greatest Boom Ever For The U.S. Economy?
Japanese companies which have increased use of natural gas to generate electric power since the 2011 tsunami crippled the Fukushima Daiichi nuclear plant, import LNG (liquefied natural gas) for around $16. This represent four times the price for natural gas here in North America.
Natural gas producers are pushing the government to relieve the domestic surplus by allowing more export by getting licenses to build LNG export terminals. So far, Houston-based Cheniere Energy's (NYSEMKT:LNG) Sabine Pass terminal in Cameron Parish, Louisiana, is the only U.S. facility that have received an export license. For more information about LNG export opportunities, see the article Shale Gas Revolution: Top Promising LNG Exports Investments.
The increased price of natural gas will give the producers a better margin to operate and if that trend continues, some higher-operating closed rigs could get re-opened to benefit from the higher prices. This opportunity becomes even more interesting for investors looking to open a position in a stock-related industry.
I believe that the natural gas boom of recent years will eventually force the Government to act and grant export licenses to major producers willing to export LNG.
My top picks are Cheniere Energy, Teekay LNG Partners L.P. (NYSE:TGP), Chevron (NYSE:CVX), ConocoPhilips (NYSE:COP) and Chart Industries (NASDAQ:GTLS). Other potential investments here.
Disclosure: I have no positions in any stocks mentioned, and no plans to initiate any positions within the next 72 hours. I wrote this article myself, and it expresses my own opinions. I am not receiving compensation for it (other than from Seeking Alpha). I have no business relationship with any company whose stock is mentioned in this article.