Buying dividend producing stocks has long been viewed as a strategy that won't make you rich. But with great economic uncertainty echoing across the world, more financial stress for the markets is on its way. Taking some profits from the most recent market run-up and adding strong yielding companies to your portfolio will fare well in coming months.
Why Now?
With the S&P 500 and Dow Jones at all-time highs, it may seem counterintuitive to pull your money from those stocks that seemingly refuse to pull back. After all, if you had listened to those clambering about the overbought Dow at 13,500 you would have missed out on an extra 1,200 points. But with the Dow Jones Dollar Index firming up and even warning of a breakout, a stock market correction seems overdue.
For the past few months politicians have swept economic uncertainty under the rug - but it can't stay hidden forever. For example, turmoil overseas is once again being moved to the front burners of the eurozone. Deteriorating conditions in both Spain and Cyprus will bring facts to light that will require extensive bailouts and loans on an already slumping currency.
But these problems are not just abroad, but also here in the United States. Two weeks ago, the Michigan Consumer Index posted its worst miss on the estimated number for all of 2013. Naturally this caused quite a stir with the stock market. More specifically, Fortune 500 companies such as Alcoa (NYSE:AA) and Bank of America (NYSE:BAC) have already missed earnings estimates in 2013, perhaps predicting what is to come for more companies. While these companies, like most, reported positive earnings, missing estimates demonstrates the slowing of an economy. Further demonstration of a slowing economy is the GDP missing its 2013 first quarter growth expectation, as illustrated in the Fed's FOMC minutes.
The solution is simple: Begin to shift a portion of your portfolio from tech and other aggressive sectors into durable stocks and funds with strong dividends. This strategy will ensure you return even in the choppiest of markets.
However my views are not alone. Linda Duessel, Senior Equity Strategist at Federated Investors, remarks in her weekly notes that not only is now the time to start adding to your portfolio's yield, but that many investors are already chasing after stocks and funds that pay significant dividends.
So, is it time to rebalance your portfolio? If so, here are a few stellar stocks to start with:
Flock to Oil
Most analysts pushing strong dividend paying stocks will have Exxon Mobil (NYSE:XOM) on the top of their lists. With a strong dividend history and considerable yield for the largest market cap stock in the world, Exxon is a seemingly good choice. (Note that Exxon just had a fire in one of its plants near Houston, where it processes 365,000 barrels of oil per day and 2.8 million gallons of gasoline each year). While I like parking capital in energy stocks, I prefer using ConocoPhillips (NYSE:COP).
Like Exxon, Conoco has a broad market worldwide, but also has actively become a leader in offshore and alternative drilling. And in case you missed it, Conoco is pumping up its production in Alaska. Conoco also yields a dividend almost double that of Exxon's (4.4% versus 2.6%) and has almost matched Exxon's stock price gain over the last year, as shown in the chart below. Considering these factors, I like buying Conoco at $56 over Exxon at $86 (meaning lower capital outlay to buy 100 shares - in case you decide to sell covered calls), while enjoying a larger dividend payout.
Finally, oil is trading closer to the bottom of its 52-week low than to the top. If oil prices rise, this would be a boon to both Exxon and ConocoPhillips.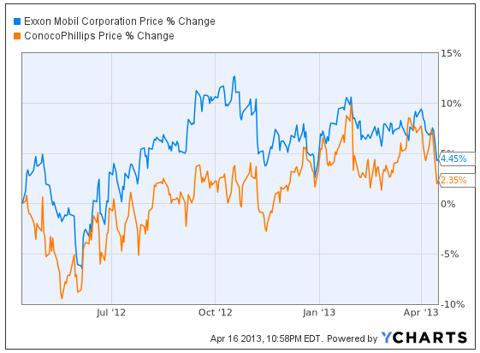 Pick Up Your Cell Phone
A great starting point when searching for strong dividend performance is communications, because of its more stable cash flow. And top of the communication class is Verizon Communications Inc. (NYSE:VZ).
The great thing about Verizon is its low volatility. The nature of the communication service industry is a consistent revenue stream that will help solidify a portfolio during a market pullback. As shown in the chart below, Verizon retained its value almost 30% better than the S&P 500 index during the recession of 2008-2009, all while paying its investors a steady dividend.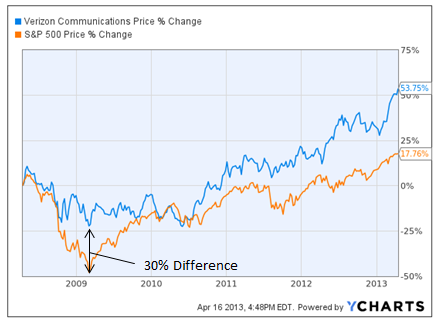 However, Verizon is not only poised to continue to pay dividends but also to continue to show strong growth. The 54% growth over the last three years has come about as Verizon streamlined its strategy and has shown extensive growth in both its wireless service and entertainment departments. Further, its cash-heavy balance sheets have allowed for a continued dividend payment, along with acquisitions in the northeast that have strengthened the company. Yielding just over four percent currently, Verizon is a smart buy during any market reversal.
Obscure But a Winner
My final suggestion is a fund, one that is full of low-rated bonds. Pioneer High Income Trust (NYSE:PHT) is just that. Pioneer is a closed-end fund focused in bond holdings. But I want to focus on Pioneer's track record.
This track record has the fund currently yielding just over nine percent. Since 2002, Pioneer has chugged away at a steady pace, paying a dividend of 14 cents a share. Every. Single. Month.
In every month for each of the last ten years - even during the recession of 2008 - Pioneer paid out. This is the yield that will create you consistent and frequent gains and will free up cash to chase the next big investment. Portfolio manager Andrew Feltus, in his semiannual report, testifies to the careful risk management and anticipated future returns. This cautious environment has been the backbone of consistent returns. Pioneer is the perfect addition to a portfolio to increase returns in any market.
Reposition Today
Waste no time. Consider quickly repositioning your portfolio to reduce your overall market risk and limiting your potential downside. Holding for the long-term and remaining in the market through a correction is a good strategy - but at least ensure that your holdings pay you while you wait.
Disclosure: I have no positions in any stocks mentioned, and no plans to initiate any positions within the next 72 hours. I wrote this article myself, and it expresses my own opinions. I am not receiving compensation for it (other than from Seeking Alpha). I have no business relationship with any company whose stock is mentioned in this article.
Additional disclosure: By Ian Finney