Transocean (NYSE:RIG) has had a rough couple of years. The company was front and center during the Macondo incident in April 2010, when its Deepwater Horizon rig suffered a huge explosion and subsequently sank. Now that 3 years have past, the majority of the lawsuits and financial damages are behind the company, and I see a lot of long term value in the shares. After improving results over the past 6 months, RIG has recently put forth a proposal for its upcoming annual meeting in May to reinstate a dividend (which was suspended more than a year ago). If passed, the stock will provide an attractive yield of 4.5%.
Looking at the industry trends and recent developments, here are 5 reasons that I think Transocean is worth considering at $48/share:
1. Carl Icahn - One intriguing aspect that makes RIG even more worthy of investment than before, is the recent interest of activist shareholder Carl Icahn in the company. He has made a proposal to increase the dividend substantially more, up to $4/share (yield >8%). Although unknown whether his proposal will pass or not, Icahn's presence is likely a good thing for the common shareholder as he puts a lot of pressure on management and the board to take shareholder friendly actions to drive near term value.
2. Long Term Prospects Remain Bright - I am an IT professional and I don't pretend to be a deep expert on the Oil & Gas industry. However I have been working at a large multi-national Oil company for over a year now and I've seen some presentations from industry analysts on the future direction of exploration. One thing that surprised me is that we are no where near a "peak oil" phenomenon. In fact if you count oil that is deep in the earth's crust we have probably extracted less than 20% of the available source. However what is becoming increasingly difficult is to find conventional oil which is near the surface. In fact all of the major oil fields still producing today were discovered 40 to 50 years ago. Much of the remaining undiscovered oil is in the technologically difficult and more expensive places to get - e.g. Canadian tar sands and deep water. At the same time new technologies are being developed rapidly for alternative fuel sources, and new technologies such as fracking have come into play. Although, we don't yet know what alternative sources might become dominant in the coming decades (i.e. solar, wind, biofuels, etc), it is certain that collectively they will grow to take a much more substantial chunk of the energy pie. The problem though that I see from an investment perspective, is that it's unwise to bet on any one of these technologies long term because we don't know which one will really win out, i.e. there is no real safe margin of safety. However, what we do know, is that due to world population growth and the near term surge in demand from big countries like China and India, it is highly likely that the push to find more and more unconventional sources of oil & gas will grow substantially. Even though oil & gas will over time become a smaller part of the energy pie, this will occur very slowly, and in 30 years they will still make up likely 50% or more of our energy sources. The following graph shows the expected growth in oil & gas reserves:
(click image to enlarge)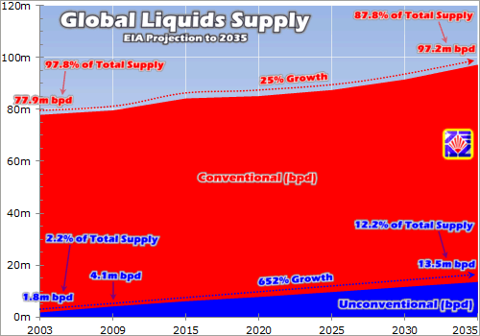 This chart shows that the U.S. Energy Information Administration projects that, from 2003 to 2035, there will be a 652% growth in unconventional oil as part of the total supply available for consumption (blue triangle at the bottom). Note that the growth in conventional sources is only 25% over the entire period. Being a market leader in deep water drilling, Transocean is well positioned to take advantage of this long term trend.
3. The Company is Cheap Based on Cash Flows - The above trend in unconventional oil & gas growth would indicate a CAGR of about 6% for Transocean assuming its growth fell exactly in line with this trend. However, in the near term, as the bottom line continues to improve substantially post the Deepwater Horizon incident, analysts actually expect lofty earnings growth rates of more than 25% annually. Indeed FCF/share has increased already about 50% from 2011 to 2012. Without getting out the crystal ball on earnings predictions, it's worth noting that even if you consider 10% growth with a 10% discount rate, fair value comes in around $68/share, which is 42% upside from the current price. I think it's safe to say the shares are attractively priced at these levels. Indeed the price seems to be trailing behind recent earnings growth, as the PEG is only 0.41.
4. The Company is Cheap Compared to Tangible Book Value - The tangible book value of RIG is around $36/share. The company is trading near the bottom of its 5 year range on this metric. This is probably unjustified, considering how near term free cash flow and earnings have been improving the past few years.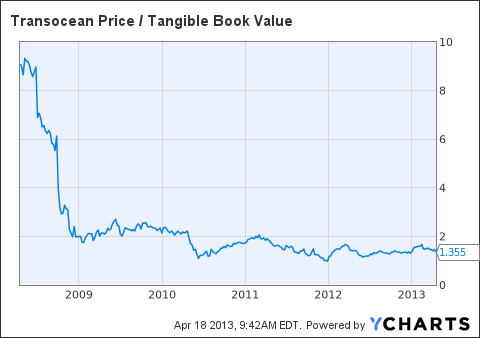 RIG Price / Tangible Book Value data by YCharts
5. Competitive Advantages are Strong - Although there are several formidable competitors in this space, what I like about Transocean is its sheer scale and size, as it owns the world's largest offshore drilling fleet. It also has historically always been strong in technological innovation, having been first to deploy jackup drillup rigs, dynamically positioned drill ships for exploration, and the first to go to water depths of more than 10,000 feet. Also, a favorable aspect to consider is that operators of rigs are now seeking much longer term contracts, in some cases even 10-15 years long, which provides a lot of stability and moat around expected cash flows going forward.
Conclusion
Priced attractively and having been largely out of favor in recent years due to the Macando incident, I like Transocean as a long term investment today. The need for its services is only growing as the demand for deep water exploration of unconventional oil sources continues to accelerate. As it takes significant time and capital to build new rigs, the increases in demand has led to an industry shortage and a significant rise in day rates. Neither trend is expected to change anytime soon. This provides strong prospects for continued earnings growth in the near term, and makes Transocean a solid value pick for your portfolio.
Disclosure: I am long RIG. I wrote this article myself, and it expresses my own opinions. I am not receiving compensation for it (other than from Seeking Alpha). I have no business relationship with any company whose stock is mentioned in this article.