VIX -- Market Sentiment
Thursday S&P futures again were moving slightly higher, recovering from the move yesterday on strength out of Europe. These gains were short lived, however, after negative economic news yet again caused stocks to retreat yet again. As I mentioned on the sonar Monday (see here), the unemployment claims and Philly Fed index would likely move the market. Sure enough, both numbers again missed as unemployment claims came in at 352,000 vs. a consensus estimate of 349,000 and the Philly Fed Index fell to 1.3 from an expected 2.7 reading. This was somewhat foretold by looking at the VIX just minutes to the Philly number being released as heavy call buying stepped up combined with the SPDR S&P 500 Trust ETF (NYSEARCA:SPY) put buying. The market continues to try to hold on to the 1540 level, but cracked through momentarily today with under two hours left in the trading session.
Just one day after April VIX settlement rocked the volatility world, as I detailed in my sonar report yesterday, volatility was again heavily traded as investors look to head for the sidelines. Volatility ETF (NYSEARCA:VXX) and 2x ETF (NYSEARCA:UVXY) continued to move higher as front-month (now May) futures continued to rise. Hard to think these futures were trading at 14.75 on Tuesday and now trading near 17.00. Spot VIX is technically in backwardation, which is not super-uncommon. But we are quickly approaching backwardation in the VIX futures, which would greatly benefit those VXX and volatility ETFs. Most interesting today was that VXX actually had overall net put buying, which was exactly opposite of the VIX contracts. VIX saw call buying and put selling across the board on average volume. This was, of course, in direct contrast to VXX who saw net put buying and call selling, which is highly unusual.
Click to enlarge images.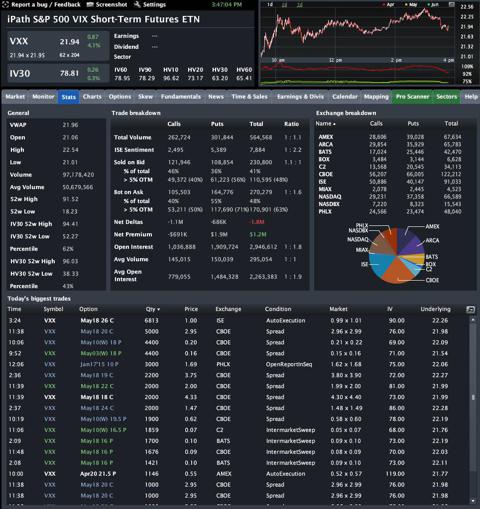 Statistics and screenshot provided by LiveVol.
VIX futures are listed below:
Yesterday
May VIX futures 16.40
June VIX futures 16.75
July VIX Futures 17.15
Today
May VIX futures 16.90
June VIX futures 17.15
July VIX Futures 17.58
Options Paper
For readers of my sonar reports, the SPDR Gold Trust (NYSEARCA:GLD) has been in the sonar report every day this week since the tumble taken on Monday. Today, the first bullish trade hit my screen in what seems to be forever as one large GLD bull stepped in today, buying 17.3K of the 135-155 January 2015 call spread for 7.00. This long-term bull risked 7.00 to make 20.00 if GLD is at or above 155 on January 2015 expiration. This would turn this trader's $12.1 million bet into more than $35 million, which would be a very nice chunk of change over the next 20 months.
GLD today for the first time in more than eight trading days had a positive call premium to the tune of almost 23 million in call buying today. For you gold bulls out there, keep in mind puts were also bought again to almost 1.2 million in net premium today, so for those playing for a bounce be careful. Options activity was more than 1.25x average daily volume with calls outnumbering puts 1.6 to 1 on the trading day.
Statistics and screenshot provided by LiveVol.
3M (NYSE:MMM) is not a name that appears on the sonar often, but today some interesting put activity hit my screen. This activity is not what you would think though as puts typically represent bearish flows. This trader, however, believes MMM will continue to hold strong after more than 9,000 of the April 105 puts were rolled to May and appears to be a short put, which is bullish for the stock. The seller of this option is willing to get long 9.5 million shares of MMM at 105, which is already in the money at the time of writing this article.
More importantly, this trader collected a net premium of 1.5 million in selling these puts looking for the stock to stay above this level post earnings, which are set to be released on April 25. If MMM does stay strong, this trade will be a huge winner as volatility is just two points off a 52 week high. The weekly straddle is predicting a 3.50 move between now and next Friday, so as volatility collapses this trader could be in for a big winner. If you're a MMM bull this may be a great time to look to collect some premium on this name, which typically does not see elevated volatility levels. Options were 4x average daily volume with puts outnumbering calls more than 4-to-1 on the day.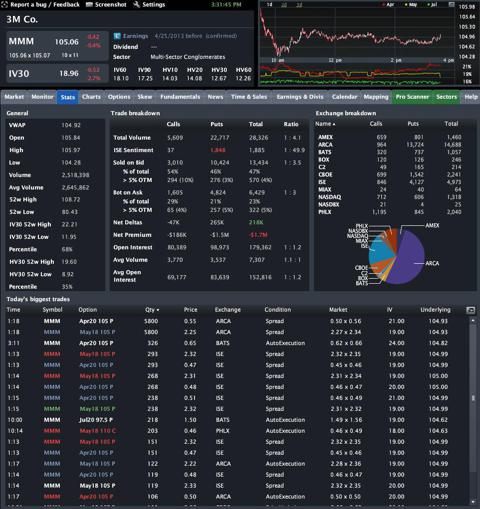 Statistics and screenshot provided by LiveVol.
Popular ETFs and Equity Names With Bullish/Bearish Paper
Bullish option flows -- ISE and % OTM calls bought on offer:
Talisman Energy (NYSE:TLM) 94% -- 2.0K OTM calls bought - Name continues to disappoint me
Westport Innovation (NASDAQ:WPRT) 79% -- 2.8K OTM calls bought on offer.
VeriSign (NASDAQ:VRSN) 65% -- 5.3K OTM calls bought on offer
Bearish option flows -- ISE and % OTM puts bought on offer:
Crown Castle (NYSE:CCI) 95% -- 2.5K OTM puts bought
Bally Technologies (NYSE:BYI) 91% -- 3.4K OTM puts bought
Gerdau S.A. (NYSE:GGB) 88% -- 2.2K OTM puts bought
Disclosure: I am long AGNC, BA, BAX, CBB, CIM, CONE, DNDN, DRYS, HEK, IOC, LNG, NQ, SNDK, and TLM. I am short ASH, EA, HPQ, LULU, and SPY.
Trades Today: Trimmed HPQ short.
Portfolio Exposure:
Long -- 22.1%
Short -- 13.0%
Cash -- 64.9%
Disclosure: I have no positions in any stocks mentioned, and no plans to initiate any positions within the next 72 hours. I wrote this article myself, and it expresses my own opinions. I am not receiving compensation for it (other than from Seeking Alpha). I have no business relationship with any company whose stock is mentioned in this article.
Disclaimer: The opinions in this document are for informational and educational purposes only and should not be construed as a recommendation to buy or sell the stocks mentioned or to solicit transactions or clients. Past performance of the companies discussed may not continue and the companies may not achieve the earnings growth as predicted. The information in this document is believed to be accurate, but under no circumstances should a person act upon the information contained within. I do not recommend that anyone act upon any investment information without first consulting an investment professional as to the suitability of such investments for his or her specific situation.