Perhaps it is wishful thinking on my part to believe that Annaly Capital (NYSE:NLY) could be on the verge of actually increasing their dividends, sometime in 2013 (there are 3 more quarters to announce something). Some of the recent news, and comments from the CEO, leads me to believe that maybe my "wishful thinking" has more merit now.
As noted in this press release and news report, the final deal has emerged for the completion of the purchase of the remaining shares of CreXus (NYSE:CXS):
Annaly Capital Management, Inc. ("Annaly") and CreXus Investment Corp. ("CreXus") today announced the final results of the tender offer (the "Offer"), which commenced on March 18, 2013 and expired at 5:00 PM ET on April 16, 2013, whereby through a newly formed subsidiary, CXS Acquisition Corporation ("Acquisition"), Annaly offered to purchase all the shares of CreXus that Annaly does not already own. Annaly has accepted for purchase 55,225,336 shares of CreXus' common stock at a purchase price of $13.05206 per share, for an aggregate cost of approximately $720.8 million, excluding fees and expenses relating to the Offer. The 55,225,336 shares accepted for purchase in the tender offer increase Annaly's direct and indirect ownership to approximately 84.5% of CreXus' common stock.
While this news had already been anticipated, it was what Wellington Denahan stated within the release that got MY attention:
"The expiration of this tender offer and anticipated subsequent closing of a merger between Annaly and CreXus is a meaningful next step in the evolution of Annaly's capital allocation strategy," said Wellington J. Denahan, Annaly's Chairman and Chief Executive Officer. "We estimate that this acquisition will be accretive to the 2013 dividend, and the true benefits to the Annaly shareholder will be further realized as we continue to build upon our existing commercial real estate platform."
Now pinch me if I am day dreaming, but to me, this could mean some sort of dividend increase in remaining 3 quarters (the merger will close around May 23rd by the way). Now, let's take a look at some of the recent activity in the housing/mortgage market for some more clues.
More Positives For Higher Dividends?
According to a recent report showing more mortgages or purchases than refinances, it appears that even though the Government has extended HARP through 2015, refinancing is taking a back seat to NEW mortgages:
Purchase loan share picked up more ground in March as mortgage rates climbed further, according to the latest Origination Insight Report from Ellie Mae. Ellie Mae's data, which reflects findings from approximately 44 percent of applications initiated on its Encompass origination platform, shows purchase share rose to 38 percent in March-an increase of 6 percentage points over February-while refinance share fell back to 62 percent.
Simply stated, refinancing is down, which means prepayments have slowed, and new business is coming in. New business means new income on top of existing income, which means earnings growth. Earnings growth should lead to higher dividends as mandated by the IRS rules governing REIT status.
To further support my opinion, the prices of homes have also been heading up. Higher prices means larger mortgages most likely, and as this report notes, higher prices with lower inventories has appeared to spearhead a surge in home-buying, heading into the spring selling season.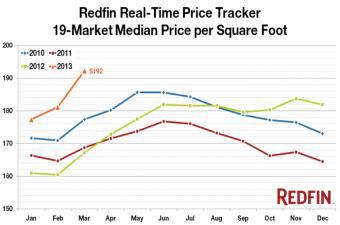 The increase in home pricing is welcome news to virtually all segments of the market. Since existing homes will increase in value to help those homeowners, and new home prices can be more reflective of the higher priced market. In each case, this will raise the amount of mortgage dollars applied for, which in turn will mean more revenues and greater profits for NLY, and others in the mortgage business.
The report further notes:
Ten of the 19 markets tracked by Redfin saw sales increase year-over-year, one fewer than February. All 19 markets posted month-over-month improvements. Home prices also saw a nice boost, growing 6.2 percent from February and 15 percent from March 2012......."With sale-to-list ratios exceeding 100 percent and buyers facing multiple offers on over three quarters of Redfin deals, the spring homebuying season is living up to our January prediction of being the most hectic in years," Redfin analyst Ted Ellis wrote.
Finally, the MortgageBankersAssociation has released its weekly report which shows actual mortgage applications have increased as well:
Mortgage applications increased 4.8 percent from one week earlier, according to data from the Mortgage Bankers Association's (MBA) Weekly Mortgage Applications Survey for the week ending April 12, 2013......The refinance share of mortgage activity was unchanged at 75 percent of total applications from the previous week.
With all of these recent positives, especially the comments from Wellington Denahan, I feel more strongly that dividend increases could be in the near future. Actually, after the Crexus deal closes, there will be only 2 more quarters left in 2013.
The Headwinds Remain Of Course
Nothing is ever going to be perfect and as I have noted regularly, just about anything can change, just about overnight. We did witness a drop in mortgage rates as well as a tighter yield curve spread as the market dipped, and that might continue if the anticipated market correction fully develops.
As much as I would urge folks not to get involved with Treasuries right now, it seems as though many will, and that could compress the yield curve further. I happen to believe that this issue is temporary however, and will not derail my thesis.
A surge in prepayments (foreclosures) can occur if the housing market weakens suddenly and the economy erodes. Prepayments will strain NLY profits and limit dividends, but I see little evidence of this. Finally, the Fed could stop their zero interest rate policy, which could have drastic effects on the mREIT business, but I doubt that will occur in the foreseeable future.
Nothing is ever risk free, and I still believe that NLY is a dividend opportunity stock with a risk bias. While I believe my thesis to be solid, I would still limit a portfolio allocation to 4% maximum, although if more positive news comes along, I might consider an additional 2% for myself.
Disclaimer: The opinions of the author within this article is not a recommendation to either buy or sell any security. Please do your own research prior to making any investment decisions.
Disclosure: I am long NLY. I wrote this article myself, and it expresses my own opinions. I am not receiving compensation for it (other than from Seeking Alpha). I have no business relationship with any company whose stock is mentioned in this article.