In this article, I will discuss a major player in the oil industry. This company has been in the business for more than 40 years and I believe it is the best well-positioned oil producer in the world in its specific area of work. Before introducing this oil producer followed by a thorough analysis, I will briefly explain the economic context in which this company may soon see its EBITDA increase by at least 50% in the next few years and see its earnings go through the roof. First, let's see what is in store for the oil industry in the foreseeable future.
A Global Rising Demand For Energy
One of my past articles was discussing about the possibility to see North America being independent of foreign oil by 2020. What was interesting to examine was that crude oil (NYSEARCA:USO) was off its all-time highs and countries with the most reserves of crude oil within their borders were set to benefit a lot. However, the price of a barrel of Brent crude oil fell below $100 for the first time in nine months, a drop trend that started Monday. Is the Brent crude oil downfall jeopardizing the U.S. oil industry? Read the article here.
Worldwide demand for crude is rising as emerging markets are driving this increased global oil demand. As a matter of fact, between 2005 and 2010, developing countries increased consumption of oil by 50%. For those unaware of this opportunity, please take a moment to read the article: Deliverance Day: The New Middle East Of North America By 2020?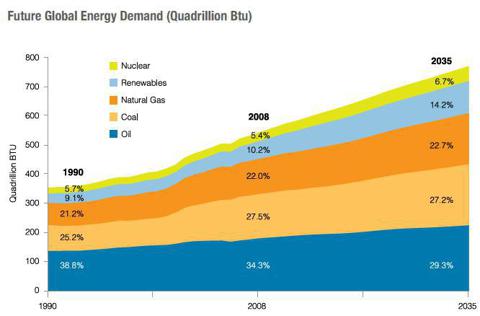 Source: EIA, Annual Energy Outlook 2011
Furthermore, besides crude oil, another great source of energy is set to see its demand increase in the coming years. What is this commodity? Natural gas (NYSEARCA:UNG). Actually, natural gas is cheaper in the U.S. than in much of the rest of the world. Moreover, emerging markets like India and China need a lot of energy to sustain their swift growth.
The abundance of this resource and the increasing demand caused the commodity price to go down as a result. Moreover, new applications for natural gas are appearing, rising the demand for the commodity. Thus, producing natural gas as an alternative to crude oil is also an opportunity that is at our doorstep with the growing demand for energy. To learn more about natural gas and its world rising demand, please refer to the article: Shale Gas Revolution: Greatest Boom Ever For The U.S. Economy?
Now is the time to introduce this mighty player in the energy sector that produces both energy sources, crude oil and natural gas. This company doesn't operate on land but in more rigorous environments where oil sources are very abundant: within the seabed. 70% of the world's discovered oil over the past two years has been offshore. When it comes to deepwater projects, nobody else does it better with the most advanced fleet of deepwater and ultra-deepwater rigs in the business. Some of these rigs, ideally suited for drilling ultra-deep wells, are reaching as far as 40,000 feet.
Seadrill (NYSE:SDRL)
Seadrill is the leading offshore deepwater drilling company producing oil and gas in 15 countries and on five continents. The company operates a versatile fleet of 75 units that comprises drillships, jack-up rigs, semi-submersible rigs and tender rigs for operations in shallow to ultra-deepwater areas with benign or harsh environments.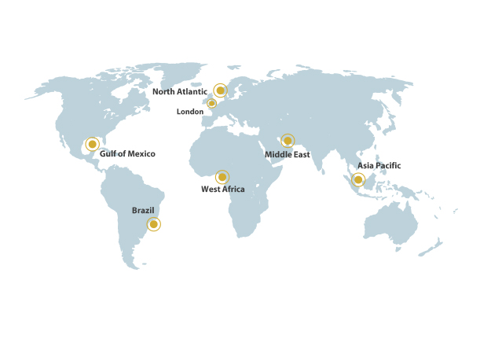 Source: Howard Weil 41st Annual Energy Conference, March 2013
In 1972, Smedvig Drilling was established. In 1973, the company built West Venture I, the first Norwegian-owned semi-submersible drilling unit. The first production drilling contract was awarded by Unocal for the Heather field in the U.K. while in 1981, the first production drilling contract was awarded to Statoil (NYSE:STO) for the Statfjord field in Norway.
On May 2005, Seadrill was established as a Bermuda-based company with an offshore drilling fleet consisting of three jack-up rigs, two FPSOs, four newbuild jack-up rigs and two newbuild semi-submersibles. In 2007, an administrative office in Houston, Texas, was established and since 2010, Seadrill has been listed at the NYSE.
Through its long experience and extensive knowledge in drilling and well services, Seadrill aims to be nothing more than the reference in sea drilling. According to the company, its primary objective is to profitably grow the business to increase long-term distributable cash flow per share to its shareholders. To do so, the business strategy consists to rely on modern state-of-the-art offshore drilling units with its main focus on deepwater operations.
Seadrill Fleet Assets
Semi-Submersibles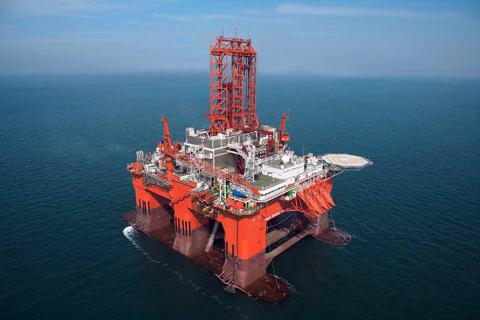 Source: Seadrill, West Eminence, Brazil
Semi-submersible rigs consist of a deck containing the working areas supported by a hull made up of vertical columns connected to horizontal pontoons. The rigs are operating in a semi-submerged position, with the lower hull ballasted down below the waterline. Anchored over a wellhead location in this position, it provides a stable platform for drilling.
Another version of this structure is a semi-submersible rig dynamically positioned like a station over the wellhead location with the assistance of a computer-controlled thruster system known as dynamic positioning.
The company owns 13 semi-submersible rigs in operation and two are under construction, West Mira located at Hyundai, South Korea, and West Rigel at Jurong in the western part of Singapore. Only one rig of that fleet has been built before 2000, West Alpha, built in 1986. Seadrill has secured a two-year extension for the ultra-deepwater semi-submersible rig West Leo built in 2012 with a total estimated revenue potential of $430 million.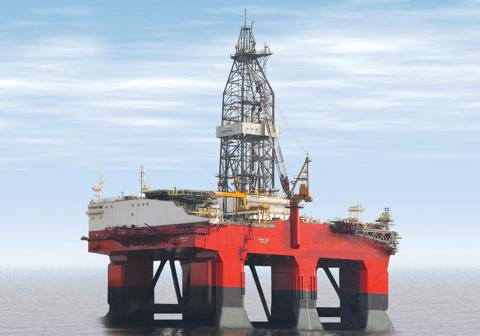 Source: Seadrill, Ultra-Deepwater West Leo, West Africa
The two projects under way are expected to be ready by Q1 2015. These rigs are set to operate between 2,000-10,000ft of water depth with various drilling depth ranging from 23,000 to 40,000ft.
Drillships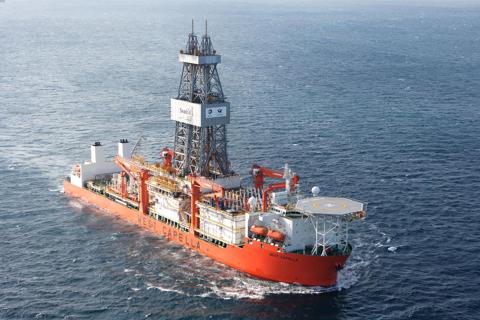 Source: Seadrill, West Capella, West Africa
Drillships are self-propelled ships equipped for drilling. They operate in water depths in which jack-up rigs are incapable of working and can drill in deep and ultra-deep waters. These ships are based like a station over the well with the assistance of the dynamic positioning.
Seadrill owns four drillships in operation and seven are under construction. These ships are used for ultra-deepwater drilling. The oldest drillship, West Navigator, is 13 years old, drilling offshore of Norway. Drillships operate in water depth between 7,500ft to 12,000ft and are drilling in the range of 35,000-40,000ft depth.
Jack-ups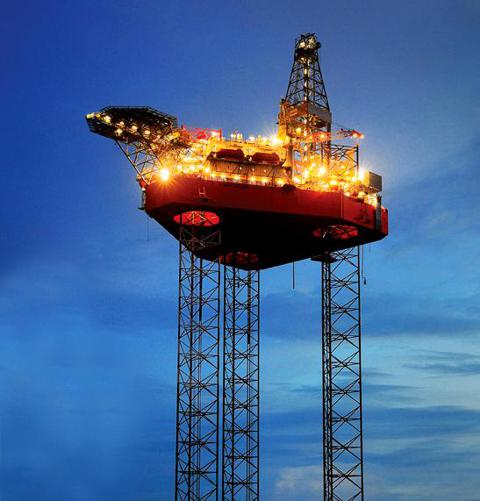 Source: Seadrill, West Callisto, Saudi Arabia/Kuwait
Jack-up rigs are mobile, self-elevating drilling platforms equipped with tubular structure legs that are lowered to the sea floor. Tugboats are used to tow a jack-up rig to the drill-site with its hull riding the sea and its legs raised. Once at the chosen site, the legs are lowered until they rest on the seabed while jacking continues until the hull is elevated above the sea surface.
With 16 Jack-up rigs in operation and nine under construction, only four of them are set to operate in harsh environments. The only one structure older than 2000 is West Epsilon which was built in 1993. Seadrill secured a two-year extension for West Epsilon with a total estimated revenue potential of $215 million. Eight jack-ups are expected to start production in late 2013 while the other two should be ready in early 2015. These structures are operating at 350-400ft of water depth with a drilling depth ranging from 20,000-40,000ft.
Tender Rigs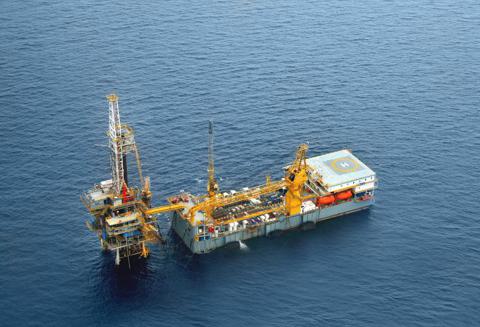 Source: Seadrill, T11, Southeast Asia
Tender rigs are self-erected, allowing them for drilling operations to be performed from a wellhead platform without the need for a permanently installed drilling package. The tender is moored next to the platform where wells are to be drilled and the modularized drilling package is lifted onto the platform. Drilling operations are supported by facilities on the tender. Tender rigs are either barge-based for smooth environment or semi-submersible hulls for rougher weather conditions.
Seadrill operates 17 of theses structures while four of them are under construction and are expected to be in operation during the current year. Four are dated from the '80s. Tender rigs are designed to operate in shallow depth, between 410ft to 6,500ft, with drilling depth of 20,000-30,000ft.
Financial Highlights
With a market capitalization of $17.6 billion and an estimated enterprise value of $35 billion, Seadrill is the leader over its competitors.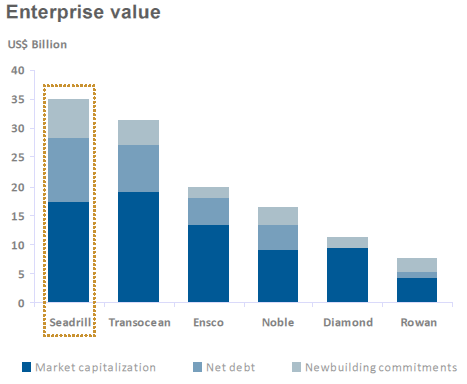 Source: Howard Weil 41st Annual Energy Conference, March 2013
Seadrill reported its 2012 EBITDA at $2.5 billion. As we can see on the chart below, its EBITDA is steadily growing year after year. The company generated operating income of $1,791 million and a net income of $1,257 million for 2012 comparing to operating income of $1,774 million and a net income of $1,482 million for the year 2011.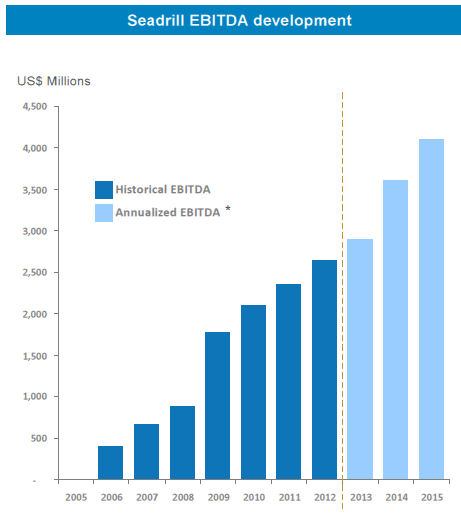 Source: Howard Weil 41st Annual Energy Conference, March 2013
As of 2012, cash and cash equivalents totaled $318 million, a net decrease from 2011 with $715 million. Net cash from operating activities for the year was $1.59 billion down from $1.82 billion the year before.
Looking at rig investment economics, it is interesting to note that UDW (ultra-deep water) floaters have an average day rate of $550,000 while the average operating cost is $170,000 which includes G&A. The investment gets repaid in about five years with a ROE of 49%. Jack-up rigs have an average day rate of $160,000 with an average operating cost of $60,000, the investment being repaid in about 6.7 years with a lower ROE at 32%.
As for tender rigs, the average day rate accounted for $170,000, has operating cost of $60,000 for an investment repaid in 5.5 years, at 39% ROE. This little exercise gives us some perspective on which structure is the most profitable to the company and in how much time they expect to see an investment being repaid. The ROE takes into account 9% WACC, 4.75% cost of debt and includes maintenance capex.
On the downside, since 2005, Seadrill has seen a decline in offshore oil production rates. With rigs aging every year, the company needs to increase the number of rigs in operation to maintain its offshore oil production rate. Therefore, scrapping and conversion of older units increased in 2011 and 2012 and the trend is expected to continue.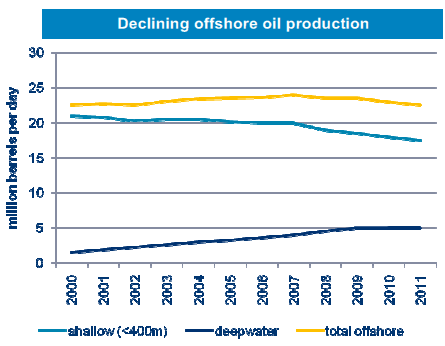 Source: Howard Weil 41st Annual Energy Conference, March 2013
However, new structures are built at new low prices and combined with high day rates, Seadrill claims that it creates unique opportunity for investments. While I understand its point of view, I wonder if it will not create a perverse situation in the future. Let me explain. Maintaining production rates require more rigs each year and I am not sure how much time it could take for them to see its fleet aging at a point where too many structures will have to be replaced to keep the production at the same level. And this is assuming that day rates will keep on staying high.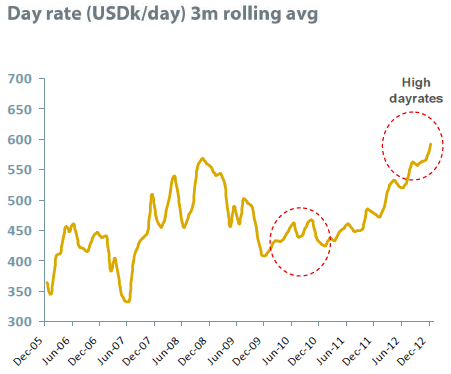 Source: Howard Weil 41st Annual Energy Conference, March 2013
Depicted on the chart below, it costs less to build a structure now than four years ago. Will that trend continue in the future? I can only imagine what would be the impact of the rising costs of basic materials (NYSEARCA:IYM) with this investment pattern. On the plus side, the company gets potential growth in cash flow in the near term because Seadrill Partners, LLC (NYSE:SDLP) can buy rigs from Seadrill and I believe that this trend will continue with investment deals and spin-offs for years to come.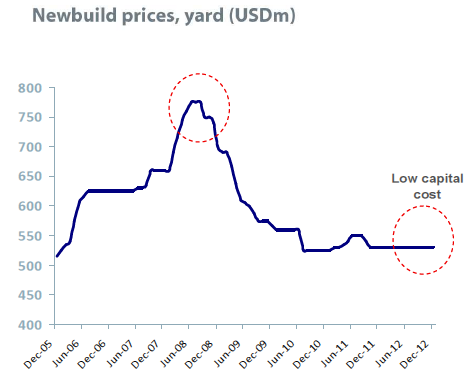 Source: Howard Weil 41st Annual Energy Conference, March 2013
Looking at the long-term debt, the company reported $8.7 billion in 2012, a drop of $300 million from $9.0 billion the year before. Net debt per UDW equivalent unit should decline in mid-2013 and the trend is expected to go onward in the next few years. Furthermore, the long-term debt takes into account $4.6 billion in financing within the last eight months which will not need new equity to finance the $8 billion newbuild ongoing program.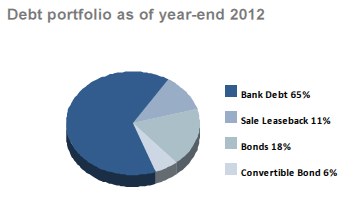 Source: Howard Weil 41st Annual Energy Conference, March 2013
Seadrill had over $19 billion in backlog from quality customers during 2012. British Petroleum (NYSE:BP) has committed 24% in contracts, Total (NYSE:TOT) 12%, Exxon (NYSE:XOM) 11%, Statoil 10%, Petrobras (NYSE:PBR) 9%, Chevron (NYSE:CVX) 6% and many others including Husky (OTCPK:HUSKF) and Tullow (OTCPK:TUWLF).
Moreover, during Q4 2012, Seadrill secured a five-year commitment with Husky for the newbuild UDW semi-submersible rig West Mira for operations offshore Canada, with an estimated total revenue potential of $1.2 billion and added in total, $2.3 billion to the order backlog during the same period for a total backlog of $21 billion at the end of February 2013.
Future Outlook
Improvements in technology and better government oversight have made drilling inherently safe. In fact, since 1975, offshore drilling has had a 99.999% safety record. Believe it or not, more oil actually spills into U.S. waters from natural sources and municipal and industrial waste than it does from offshore oil and gas drilling. Therefore, this should keep those who fear oil spills at bay.
As we have seen earlier, emerging markets have increased its oil consumption by 50% in just five years while 70% of discovered oil the last two years has been offshore oil. According to Seadrill, the company expects to see its EBITDA growing by at least 50% in almost three years. With the analysis of available data, I believe it is an achievable goal.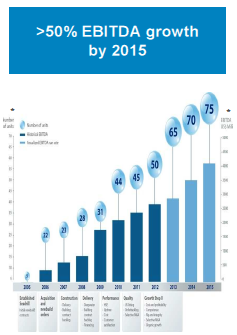 Source: Howard Weil 41st Annual Energy Conference, March 2013
Seadrill's management is committed to ensure growth through targeted alliances, purchase of new structures, mergers and acquisitions, develop its strong position in deepwater and harsh environments, expand its rapid growing fleet of premium jack-up rigs; and finally improve its position in the tender rig market and pursue further growth in conventional waters as well as deepwater areas. Moreover, combination of term contracts and quality assets will provide the opportunity to obtain debt financing to sustain growth if need be.
The company offers an enticing dividend which has increased from $1.20/share in 2008, $3.06/share in 2011 to $3.36/share in 2012. Right now, the dividend yield is at 9.13% while the industry average is at 2.03% and 2.72% for the sector average.
(Click to enlarge)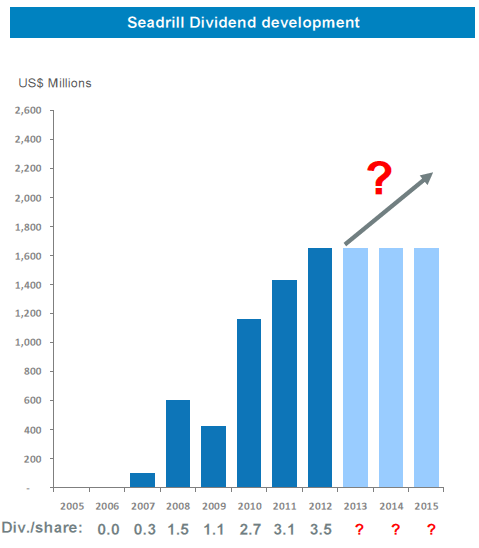 Source: Howard Weil 41st Annual Energy Conference, March 2013
Bottom Line
Don't get me wrong, there is a significant amount of risk which is why the yield is that high but for that kind of industry, the risk is ubiquitous. Seadrill's fair PE Ratio of 16.63 suggests that investors are expecting lower earnings growth in the future compared to the industry's PE of 28.99 but a little higher than 12.30 for the sector. That gives us some insight about the company's value.
In conclusion, the company is a dividend-paying behemoth and for a large cap company, it lives close to the edge, borrowing heavily when necessary to finance new structure programs and acquisitions while pushing almost all the available cash through to shareholders as dividends in addition to growing that dividend quite aggressively. Therefore, as rewarding as it is, Seadrill is not for the faint of heart, especially if you don't think the days of huge deepwater day rates will be maintained as more rigs hit the water in shipyards around the world.
Disclosure: I have no positions in any stocks mentioned, and no plans to initiate any positions within the next 72 hours. I wrote this article myself, and it expresses my own opinions. I am not receiving compensation for it (other than from Seeking Alpha). I have no business relationship with any company whose stock is mentioned in this article.