By David Urani
Peabody Energy (NYSE:BTU) turned in a better than anticipated Q1 result, and although it still ran at a $0.05 per share loss during the quarter, that was $0.09 better than consensus. In the meantime, revenue was down 14% year over year. Some of the relative success of the quarter could be attributed to cost management, but the factor that's particularly interesting to me is the ongoing fight between natural gas and coal for power generation.
Much of coal's bane in the past five years of course has been the gas boom here in the U.S. lowering prices for natural gas. It's approximately below the price of $4 (per million BTU) that natural gas becomes the more attractive, cheaper option over coal. Yet over the past year natural gas prices seemingly bottomed out at $2 last April and have been trending higher. Just today, the EIA actually reported a weekly supply increase that was smaller than expected, which has led to a near 4% spike in natural gas futures to $4.38.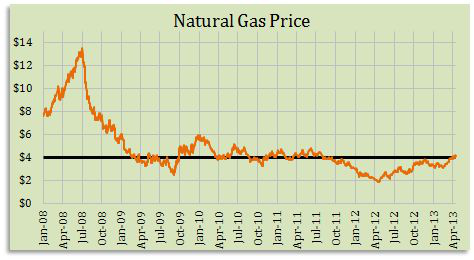 As Peabody reported today, that shift back to coal from natural gas was already occurring to some extent in the first quarter. Management commented that overall natural gas generation was down 11% during the quarter. Furthermore, that trend accelerated in March, when natural gas generation was down 16% year over year while coal was up 15%. Consequentially, Peabody's expectations for coal demand to pick up in 2013 over 2012 look well in place. That said, BTU's Q2 earnings guidance was a little soft, with expectations of -$0.25 to +$0.01 per share vs. the +$0.01 consensus. However, the guidance seems to reflect an operational event (moving two longwall mining operations).
For today, the coal industry is liking the results and commentary out of BTU, as well as the further spike in natural gas prices. Peers like Walter Energy (NYSE:WLT) (+4.3%), Alpha Natural (ANR) (+8.6%), Arch Coal (ACI) (+11.6%), and Consol (NYSE:CNX) (+7.2%) are having a strong day. BTU was up 9.8% at midday. Nevertheless, keep in mind this is a beaten down industry that's coming off a low base. But if coal is indeed making a turnaround, these heavily weighed-down stocks can make huge moves higher quite quickly.
Lastly, I would also say that the government certainly has made it known whose side they're on in the natural gas/coal battle. In that sense, this industry may not entirely be a "free market" -- and it's weighed against coal. It's a high-risk/high-reward situation, and if you're so inclined to take a stab at the potential coal turnaround story I'd recommend using a stop-loss.