Petrobras (NYSE:PBR) is the second largest company in terms of market cap in the Brazilian stock exchange, second only to beverage giant Ambev. PBR is headquartered in Rio de Janeiro and operates as an international oil and gas company. The company is divided in two main segments: its Exploration and Production segment engages in the exploration, development, and production activities; sale and transfer of crude oil in domestic and foreign markets; and sale of oil products produced at natural gas processing plants. The company's Refining, Transportation and Marketing segment is involved in the refining, logistics, transportation, export, and the purchase of crude oil, as well as in the purchase and sale of oil products and ethanol.
Government Ownership
PBR is a mix of public/private company, its main shareholder being the Brazilian Government and three other government sponsored entities.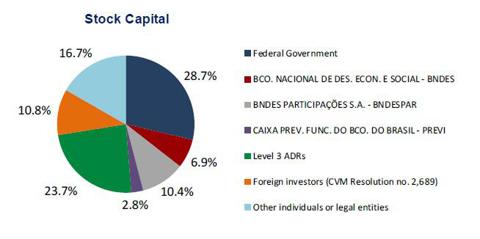 Source: here
PBR is an important pillar of the Federal Government in terms of welfare policy. The company invests in a wide range of non-core projects as well as other policies that don't exactly maximize private shareholder equity. For instance, since PBR cannot keep up with fuel demand and needs to import the balance, the company is forced to sell it at a loss, due to federal economic policy. The Federal Government has a tight inflation policy and uses PBR, in this case, to keep fuel prices and inflation in check. There are several other examples, but it's not the objective of this article to address these issues. I'm not going to discuss whether the Federal government is wrong or if PBR should act otherwise when confronted with decisions that may affect public or private shareholders. The company was founded as a public one and will remain so for the foreseeable future, so there's no point in arguing how things could be different. Therefore, I'll take into consideration this issue as a negative aspect and won't discuss it anymore. Whether PBR is a good investment opportunity or not, it'll have to be despite the large government ownership conflict. In other words, we'll require a very handsome upside and attractive valuation if we're going long this stock.
Valuation

Source: here
The 13 billion shares are divided into common stock PBR (7.4 billion) and preferred PBR.A (5.6 billion). One ADR represents two (2) shares.
Considering 2012 EPS of $ 0.85 (x2), the 2012 PE is equal to 9.08 (share at 15.45 on April 17). Forward December 2013 PE is 7x, based on a consensus estimate analysis. If we apply high/low expectations, forward December 2013 PE could range between 5x and 15x. We'll consider a forward PE of 7x for this analysis.
Price/Book stands at 0.62, meaning that the stock is trading well below its book value. These assets are mainly property, plant, equipment, cash and securities, receivables and inventories. Intangible assets amount to $40 billion, therefore Price/TBV is close to 0.72. The stock is thus trading with a 30% discount to its tangible book value.
Return on assets and Return on Equity are both very low in comparison to its peers. Total Debt/Equity is well above its main competitors.
| | | | | | |
| --- | --- | --- | --- | --- | --- |
| Company | Fwd P/E | P/B | Total Debt / Equity | ROA | ROE |
| Chevron | 9,27 | 1,67 | 8,85% | 9,89% | 20,26% |
| Shell | n/a | 1,09 | 19,88% | 6,67% | 14,87% |
| Total | 6,94 | 1,15 | 44,98% | 8,84% | 15,10% |
| PBR | 7,00 | 0,62 | 56,83% | 3,93% | 6,19% |
| Ecopetrol | 12,50 | 2,73 | 20,35% | 13,76% | 24,46% |
| British Petroleum | 7,86 | 1,11 | 40,79 | 2,82 | 10,18 |
Source: Yahoo Finance
On a price/book and price/earnings basis, valuation is very attractive. PBR is cheap considering just these variables. If the company beats EPS expectations, there could be an important upside here.
Debt has increased more than three-fold since 2008 and will affect PBR's participation in future oil basin auctions. Exxon and Shell are well positioned to win these auctions, clearly bad news for PBR.
Business and Management Plan
PBR reviewed last month its very aggressive business plan for the years 2013-2017. The board approved a US $237 billion investment plan. More than 60% of this total is being invested in exploration and production and almost 30% in downstream. According to PBR, 85% of these projects are already under implementation. Sales revenues in 2012 were close to US $145 bn. This means that the capex will be close to 30% of revenues. That fact, coupled to a low return on assets, is certainly not very promising. If we apply a 4% ROA on the whole business plan, it will mean US $9.5 bn in net income, close to $0.75 a share. That's why the most important challenge that PBR faces is to increase its return on assets, i.e., efficiency and productivity. On the bright side, PBR estimates that it will double Oil and Gas production in the next 7 years, mainly due to these investments. Current total production of 2.0 million bpd should reach 4.0 million bpd by 2019. The BP includes also US $10 bn in divestment, among it, selling Petrobras Argentina (a deal that is giving the company a huge headache).
Pre-salt productivity
Pre-salt well productivity has been extremely low in the past few years. PBR has focused its investments largely on pre-salt, and it's possible that this strategy had an awful impact on ROA and ROE. However, improvements have been made and the worst may very well be over. February 2013 saw a 138% increase in pre-salt production in comparison to February 2012. Pre-salt production is estimated to reach 1.7 million bpd by 2017, that means doubling offshore production in 5 years. In the meantime, it's better to be cautious and expect these productivity increases for 2014 and beyond.
| | | | | | | | | |
| --- | --- | --- | --- | --- | --- | --- | --- | --- |
| Production | Avrg 13 | Avrg 12 | Avrg 11 | Avrg 10 | Avrg 09 | Avrg 2008 | Avrg 07 | Avrg 06 |
| Crude Oil and NGL Production (Mbpd) | | | | | | | | |
| Brazil | 1,943.5 | 1,980.1 | 2,021.7 | 2,003.9 | 1,970.8 | 1,854.7 | 1,792.1 | 1,777.7 |
| Offshore | 1,732.6 | 1,768.4 | 1,808.5 | 1,790.2 | 1,754.8 | 1,633.3 | 1,563.1 | 1,545.7 |
| Campos basin | 1,592.2 | 1,618.3 | 1,677.0 | 1,676.8 | 1,693.6 | 1,546.8 | 1,475.3 | 1,468.3 |
| Other | 140.4 | 150.0 | 131.6 | 113.4 | 61.3 | 86.5 | 87.7 | 77.4 |
Source: here
Conclusion
In terms of valuation, the stock is very attractive. It's trading well below TBV and at a low Price/Earnings ratio. However, PBR's return on assets and equity is well below its peers. It's positive, though, that the company is focusing investment on efficiency and productivity measures. The local content law that forces the company to buy mostly from Brazilian suppliers has a negative impact on costs. However, on the long run, we expect suppliers to improve competitiveness and offer lower costs, thus improving net profit margins. The main risk has to do with government intervention, as said before. PBR has been used by the Federal government to keep inflation in check and to increase energy output at all costs. PBR is the government's bully in terms of social welfare and industrial expansion. This issue is not a minor one, and it explains why the stock is trading at what we could say is a large discount. It seems the market is pricing this aspect correctly and the 30% discount on TBV is actually not a discount but rather implied risk. Productivity, as mentioned above, is another large point of debate among analysts. We have seen improvements in the past few months, but not enough as to make the stock a bargain. ROA and ROE need to improve consistently, and it's probably going to take awhile to get to the point where PBR offers similar returns as its peers do. PBR presents the fundamentals as to perform similarly to the broader market. I recommend that, if you are long PBR, hold on to your position. If you're thinking about owning the stock, do so cautiously. 2013 will certainly be a turning point for PBR. Following further updates, especially Q1-2013 results, is a good starting point.
Disclosure: I am long PBR. I wrote this article myself, and it expresses my own opinions. I am not receiving compensation for it (other than from Seeking Alpha). I have no business relationship with any company whose stock is mentioned in this article.