Shares of Nvidia (NASDAQ:NVDA) have been trading in a range for more than one year. The company is failing to deliver revenue and earnings growth, and the shares might stay in this range in the near term. The company needs to get things going and get back on the path to growth.
The management recently announced that the company will return $1 billion to shareholders in the current fiscal year. The $1 billion was added to the previous buyback program of $200 million, with $100 million in stock being purchased this quarter. Most of the money will be returned to shareholders through the stock repurchase program, and $50 million in quarterly dividends. The quarterly dividend now amounts to $0.075 a share, representing a 2.3% forward yield.
Nvidia also has a strong balance sheet. The company has almost no debt and plenty of cash, as almost half of the stock's value is in cash. Cash per share is $6.05. Nvidia trades at 14 times trailing earnings and its forward PE is 15.59. So, there is no growth, and that is the problem. The buyback alone is not enough and the company needs another big catalyst in order to move the shares higher.
The company reports revenue in two primary segments: GPU and Tegra. The GPU business comprises product lines for desktop and notebook PCs (GeForce), professional workstations (Quadro), high-performance servers (Tesla) and workstations and server graphics solutions (Nvidia GRID). The Tegra Processor business includes products for smartphones and tablets, navigation and gaming devices. Tegra is the fastest growing business, with 29.3% revenue growth in fiscal 2013. GPU revenue rose just 2%, but the chipset business was discontinued, and excluding chipset, GPU revenue rose 8%.
Full-year earnings per share dropped 4%, and are expected to further deteriorate this year to $0.71. Revenue is projected to decrease less than 1%. Earnings expectations for the next year are better, with a 14% rise in earnings and 8% increase in revenue. The negative analyst sentiment can be seen in the estimate revisions in the last 90 days, so the growth was projected much higher only 3 months ago, and the situation might deteriorate further. This year's estimates were revised down in the last 90 days from $0.96 to $0.71, and from $0.94 to $0.81 for fiscal 2015. Current quarter estimates were more than halved, from $0.21 to $0.10. However, the lowered estimates had no adverse effect on the share price, and Nvidia is up 4% year-to-date, lagging the market.
Nvidia's main competitors are Intel (NASDAQ:INTC) and Qualcomm (NASDAQ:QCOM) in the tablet and smartphone market, and the main competitor in the GPU segment is AMD. The technology field is very competitive, Intel is pushing to get ahead in the mobile market, and Qualcomm already has a strong presence. In the GPU segment, AMD is trying to get back some of its market share which it lost to Nvidia.
Short interest
Short interest has increased significantly in the previous two reporting periods, from 16 million shares to 26 million shares, which translates into 5.1% of float. It looks like the bearish tone is increasing, although the share price remained in a tight trading range.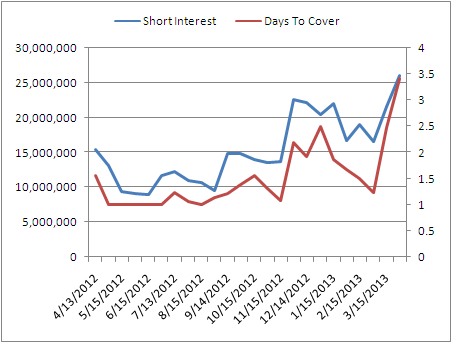 Source for data: Nasdaq.com
Price action
Nvidia's share price is in a trading range for an extended period of time. The range follows a precipitous 2011 decline of 50%, and Nvidia is far from its all-time high price of $39. I would like to see an upside break of the trading range to get more optimistic on Nvidia's prospects. It needs to move past resistance at $13.50 to get into a more bullish mood.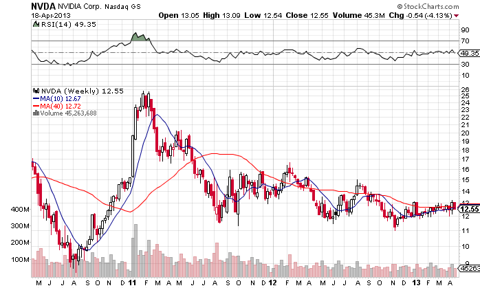 Conclusion
Although there are some positive developments recently in the form of an increased share buyback and a dividend increase, it seems that this is not enough to get the shares up and running. The company has a strong balance sheet with a substantial cash position, representing almost half of the share price. On the other hand, analyst estimate revisions have been on an aggressive downward path recently. The company is projected to return to growth next year, with expected negative earnings and revenue growth this year. My view is that Nvidia needs to stop the downward path of expectations, improve the overall investor sentiment and break the trading range in order to get things going.
Disclosure: I have no positions in any stocks mentioned, and no plans to initiate any positions within the next 72 hours. I wrote this article myself, and it expresses my own opinions. I am not receiving compensation for it (other than from Seeking Alpha). I have no business relationship with any company whose stock is mentioned in this article.