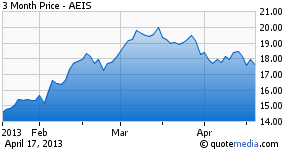 Advanced Energy Industries, Inc. (NASDAQ:AEIS) makes power conversion products that transform power into various usable forms and in various markets such as semiconductor devices, flat panel displays, solar panels, and architectural glass. Its power and control technologies are used in thin-film manufacturing and solar power generation.
In April 2013, the company acquired REFUsol Holding GmbH, a leading provider of 3-phase string solar PV inverters that are used for commercial applications. This acquisition will add tremendous growth potential and makes Advanced Energy an attractive addition to your summer shopping list.
REFUsol Acquisition - Smart, Strategic Move
The REFUsol acquisition is a smart strategic move by Advanced Energy.
It will help Advanced Energy add a product line that complements as well as expands its existing solar products portfolio.
This acquisition will also help the company make inroads into newer markets, especially important emerging markets such as India, Asia, Mediterranean countries and Eastern Europe.
The fact that REFUsol is a German company is important. Germany is way ahead of the U.S. in the solar space, in terms of installation time of photovoltaic systems (solar power plants, also knows as PV systems) as well as costs involved. Here are some quick stats from this research report.
In Germany, PV Systems get installed 10 times faster than in the U.S
The number of solar panels installed in Germany is four times the number installed in the U.S.
Solar power on a per-capita basis (in terms of megawatts generated) in Germany is ten times that of the U.S.
German residential solar systems are larger than that in the U.S.: 6.8 kilowatts in Germany versus 4.95 kilowatts capacity in the U.S.
The point I am trying to make here is that Germany is already a much bigger user of PV systems and there is heavy competition among solar energy companies in the country. REFUsol happens to be among the best in terms of quality of products and market share, and hence a very smart grab for Advanced Energy.
Solar Prospects: Emerging Countries
Rural parts of many developing countries are in need of affordable sources of energy for irrigation and basic necessities. A recent report by World Bank Group's International Finance Corporation (also known as IFC) highlighted a $40 billion annual opportunity related to providing alternative energy in rural areas globally where there is significant lack of electricity. About $37 billion is spent today annually on low-quality energy solutions at the household level for fulfilling lighting and cooking needs according to this report - alternative energy options such as solar grids can help provide a solution to this energy problem. Solar energy companies will benefit from this growing market for improved energy services at the household level. REFUsol's operations in emerging countries will help Advanced Energy tap this tremendous growth potential.
U.S. Solar Installations Grew In 2011, 2012
The solar market in the U.S. has shown growth since last year. The U.S. had 7% growth in solar capacity (in terms of megawatts) in 2012 versus 2011 (see below). The utility-scale solar market has grown 134% in the U.S., while the residential solar market grew by 62%, thanks to the financing help from the Energy department's loan guarantee program.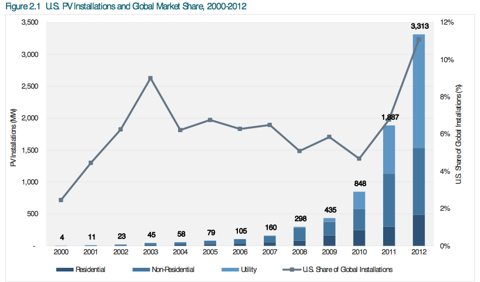 AEIS - Valuation and Fundamentals
Let's discuss numbers.
Advanced Energy's has little or no financial risk. It has a Quick Ratio of 3.1 and Total Debt-Total Capital as well as Debt-Equity ratios as zero, because the company does not have any debt.
The company's EPS slid during the 2010 to 2012 period. For the next three years though, the EPS estimates are projecting year-over-year growth through 2015.

Currently AEIS is trading at about 16 times its 2013 EPS and around 11 times its 2014 earnings, which is low compared to the industry's forward EPS of 17. Its trailing PE (12-months) is high at about 30 times but still lower than the industry's trailing 12-months PE of 45. The company's PEG ratio is low at 0.74.
Operating cash flow grew by almost 62% compared to the same quarter in the previous year. Revenues are expected to grow in 2013 by 22% and in 2014 by 23%.
Analyst Ratings and Target Price
Of the seven analysts that cover this stock, three have Buy or better ratings, three have Hold and one analyst has an Underperform rating for the stock. There are no sell ratings for the stock.
According to the First Call Consensus estimates, analysts that cover Advanced Energy have set a mean target price of $20.50 (or 18% compared to current price of $17.32), with the highest available target price being $25.00 (or 44% versus current price).
Conclusion
Advanced Energy seems a good long-term investment because of its revenue growth, less financial risks and growth in net income and cash flows. Add this stock to your summer shopping list to buy on dips. Happy investing, folks!
Disclosure: I have no positions in any stocks mentioned, and no plans to initiate any positions within the next 72 hours. I wrote this article myself, and it expresses my own opinions. I am not receiving compensation for it (other than from Seeking Alpha). I have no business relationship with any company whose stock is mentioned in this article.