Intel Corporation (NASDAQ:INTC) reported first quarter earnings this week. The results were not encouraging, but the market reaction was somewhere between muted and positive. Although the stock finished the day nearly flat, it was surely a success, given the drop in the indexes and technology stocks on Wednesday. Intel has yet to name a new CEO, and I wonder if the company can have a Yahoo moment. By that, I mean a new effort and a turnaround with the new CEO like Yahoo (YHOO) is having with Marrisa Mayer, at least judging from Yahoo's stock performance after the CEO change.
The new CEO effect
A management change can have an adverse effect on the share price of a company facing the change. Although the efforts of the new management are always questioned, the market can often discount the future in a positive way. Take Yahoo as an example. The stock is up 50% in six months, even though the company is struggling to grow revenue and profits. Intel's current CEO Paul Otelini is stepping down in May, and the company is including outsiders in the search. The new CEO issue is considered far more important than the earnings announcement. The importance of changes can be seen in shares of Hewlett-Packard (NYSE:HPQ), which rose 100% in three months, following the restructuring efforts and better-than-expected earnings report.
Earnings highlights
Intel reported earnings just shy of estimates. The results mark the third straight drop in quarterly revenue, and the fifth quarter in a row of negative earnings growth. Gross profit margin declined to 56% from 58% in the fourth quarter and from 64% a year ago. The lower margin is attributed to the expenses related to its upcoming Haswell line of processors.
Intel gave guidance at $12.9 billion revenue for the current quarter, just above the $12.85 billion analysts expect, and that would be a decline of 4.4% from last year. Gross margin is projected at 58%. For the full year, Intel expects a low single-digit percentage increase in sales. Analysts expect a 0.7% increase to $53.71 billion. Full year gross margin is expected to be 60%.
The company shipped its next-generation PC microprocessors, introduced a new family of products for microservers and expects to ship new tablet and smartphone microprocessors early this quarter.
Return to growth?
This is a key question for Intel. Analysts estimate a return to growth in 2014. Earnings are expected to rise 8% to $2.05, on a 4.6% rise in revenue. Valuation and price are currently where they should be. You rarely see a company with falling earnings and revenue have a high price-to-earnings ratio. If things change for the better, and Intel proves that it can grow earnings and revenue, there could be plenty of upside, as the stock can easily attract a higher price-to-earnings ratio. And together with the potential earnings growth, there is more than 50% upside in the share price, as P/E ratio of 15 could be realistic in that hypothetical situation.
A look at Intel's price performance compared to earnings and revenue growth and gross profit margins reveals that the growth slowed significantly in late 2011, and the price still moved higher. Intel's price went south when growth turned negative, and when gross profit margin began to decrease. Revenue and earnings deterioration is expected to end soon, and Intel is projecting a slight increase in revenue for 2013, and a return to growth in earnings next year.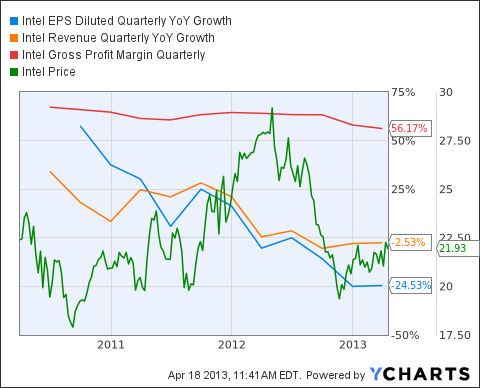 Short interest
Short interest has been increasing steadily over the course of one year, and it is at the highest level in the period. Short interest stands at 4.8% of float, and the days to cover ratio is also near one-year highs. If things change for the better, we could see a short squeeze, pouring gasoline on fire, if Intel can ignite it.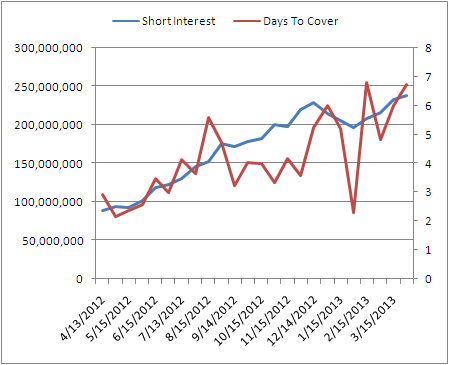 Source for data: Nasdaq.com
Price action
Although Intel is up 15% since late November lows, its performance has been choppy and volatile, and it has underperformed the market most of the time. I would like to see positive changes in the fundamentals, and the price above $23 in order to get things going for the stock. If the fundamentals change for the worse, which is not expected but might happen, we could easily see a test of the $19 level.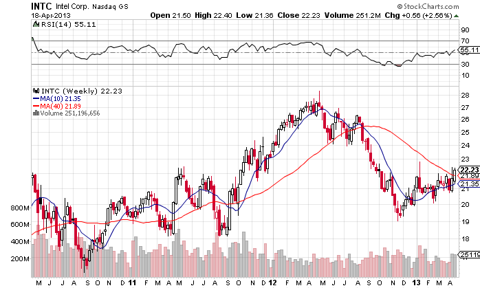 Source: Stockcharts
Conclusion
It is a challenging time for Intel. The changes that are expected might provide a positive catalyst for the stock, but that is yet to be seen. A new CEO, combined with a positive change in the fundamentals and market sentiment might be enough to push the share price higher. I would like to see the price move above $23 in order to get things going for Intel.
Disclosure: I have no positions in any stocks mentioned, and no plans to initiate any positions within the next 72 hours. I wrote this article myself, and it expresses my own opinions. I am not receiving compensation for it (other than from Seeking Alpha). I have no business relationship with any company whose stock is mentioned in this article.