Microsoft's (NASDAQ:MSFT) business is safe, fairly diversified, and not particularly dependent on artificially high margins on nascent devices that have commanded high margins, particularly as a result of a first-mover advantage. I further believe that Microsoft's capital allocation strategy is solid. Finally, I believe that Microsoft's best growth opportunities are ahead of it as computing evolves, making it an interesting long-term buy on any weakness.
The Surface
One major opportunity for Microsoft is in the tablet space. Microsoft's "Surface Pro" appears to be a hit that not only sets the bar for the OEMs in the Windows space (this increases competition/push for better quality devices), but it seems to more accurately represent the convergence of PC and tablet than any other major commercial device. I believe that things get even better in 2H 2013 when Intel (NASDAQ:INTC) releases both "Haswell" and "Bay Trail" processors (high-end and budget, respectively) which will enable thinner and lighter form factors of tablets, with newer, better editions of Microsoft's "Surface" products on the way.
My guess is that "Surface Pro" moves to Intel's "Haswell" (high-end), then the 10" "Surface RT" becomes simply "Surface" powered by an Intel "Bay Trail" Atom (and is compatible with full Windows 8), and then Microsoft introduces a 7" - 8" tablet powered by Windows RT (since there is no need for desktop application compatibility in this form factor). I'm betting that Nvidia (NASDAQ:NVDA) wins that particular socket as it seems to be pouring in more resources into supporting Windows RT than any of the other ARM (NASDAQ:ARMH) guys.
Now, this will do a couple of things. First of all, the high-end tablet space will probably go squarely to Microsoft, either by way of Surface Pro sales or via OEMs. The mainstream tablets - which I expect to now be X86 compatible since they are still closer to PC in form factor than tablet/phone - will also gain some real share over Google's (NASDAQ:GOOG) Android at that size, since I expect a similar situation to Windows 8 vs. Chrome...Windows is simply more useful and can do more things. Finally, at the low end, I totally expect that with the market flooded with cheap Windows RT tablets, the adoption of the "Metro" UI - which will drive "app" sales for Microsoft - will quicken substantially and ripple through the ecosystem.
PC Volumes Could Ramp Significantly
Intel offered the following tidbit on its recent earnings call,
We have a certain spec for ultrabooks, and that is the product that Stacy said is going to be centered at as low as $599 with some [diverse] SKUs to $499. If you look at touch-enabled Intel based notebooks that are ultrathin and light using non-core processors, those prices are going to be down to as low as $200 probably.
So Microsoft will now be able to sell licenses attached to $200 -$300, fast, fanless, thin-and-light notebooks, probably paired with a gimped version of Office (similar to what is found on the Windows RT devices today). This could lead to a significant ramp in volumes of Windows 8 powered devices, especially if Microsoft is smart and releases a "cheaper" edition of Windows 8 targeted specifically at these devices that still offers core functionality.
In addition to this, the high-end PC market could see a nice revival as the next generation of "Ultrabooks" (based on the "Haswell") offer significant form factor and usability improvements over previous notebooks as well as over competition from Apple (NASDAQ:AAPL) which seems to not want to embrace touch on its main PCs. Microsoft powered laptops will be effective notebooks with the added capability of touch, and many will double as excellent tablets. It will be hard for either Google Chromebooks or Apple MacBook Airs to really put up a fight here, especially if the PC vendors can offer devices at attractive price points.
This is all good for Microsoft.
The Other Parts Of The Business Doing Well
The other parts of the business are doing well. In the most recent quarter, server and tools multi-year licensing rose 20%, SQL Server rose 22%, System Center revenue up 16%, and Office multi-year licensing is up 16%. Office 365 is now a $1B/yr business. Despite the weak PC sales today, Microsoft is plenty diversified and has its fingers in quite a few high growth pots.
Stop Whining About Ballmer
Retail investors typically like "slogans" and "mantras". Today it's, "Oh, Steve Ballmer sucks". Why? So, as I kindly reminded readers in a previous article, the company has done what it was supposed to with flying colors: generated boat loads of free cash flow, grew revenues, and grew operating profits. Nothing tells the truth like the numbers: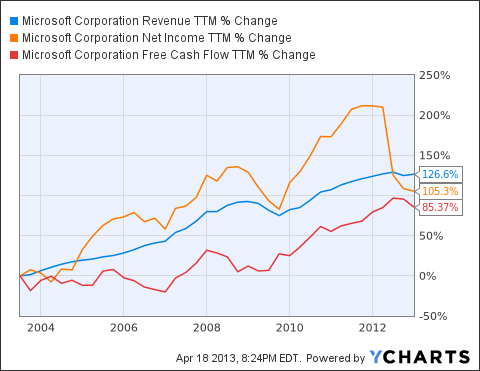 MSFT Revenue TTM data by YCharts
People are still drinking the Kool-Aid idea that because Microsoft didn't grow like Apple that Microsoft is somehow run poorly. Not so. Apple won the popularity contest for a little while, but we are now seeing margin contraction, market share loss, and management that is competent but uninspiring. Microsoft will still be a leader in 20 years; the same can't be said about Apple.
Conclusion
Microsoft's best days are still ahead of it, and I believe that with a dividend increase likely imminent, and with an exciting array of products set to hit the shelves during the holiday season, the company will continue to grow and prosper, and shareholders will continue to be rewarded as this software giant continues to rake in the dough.
Disclosure: I am long MSFT, INTC, NVDA. I wrote this article myself, and it expresses my own opinions. I am not receiving compensation for it (other than from Seeking Alpha). I have no business relationship with any company whose stock is mentioned in this article.
Additional disclosure: I am also short ARMH (see above for the primary disclosures)