The iShares MSCI Turkey (NYSEARCA:TUR) fund has been the best performing global emerging market equity ETF over the past year, outperforming benchmark iShares MSCI Emerging Markets (NYSEARCA:EEM) and other strong markets like the Philippines and Thailand.
Top emerging market country ETFs, 12-month total return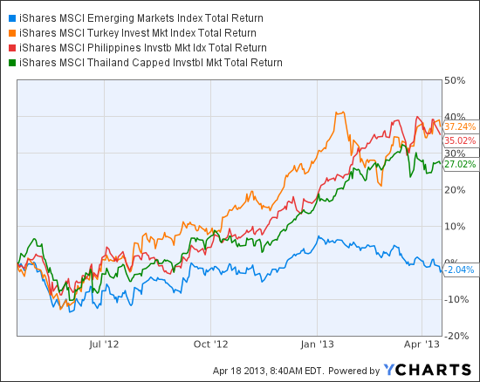 Macro supportive
There are two crucial macro trends supporting market performance in Turkey; 1) low global interest rates, and 2) low commodity prices.
Credit-driven economy
Turkey depends heavily on credit to drive its economy. It is also a major commodity importer, especially of energy. As a consequence, Turkey runs structural current account deficits and depends on external sources to fund its deficit.
Turkey's current account is inversely correlated with economic growth. Strong growth results in larger deficits as the chart below illustrates.
Turkey GDP and Current Account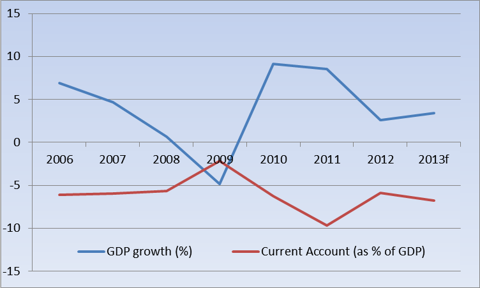 Source: IMF
Just 24 months ago, market concerns over a ballooning current account deficit that approached 10% of GDP were high. A look back at market performance then showed a decidedly different pattern.
Turkish underperformance, period: 4/17/11 - 4/17/12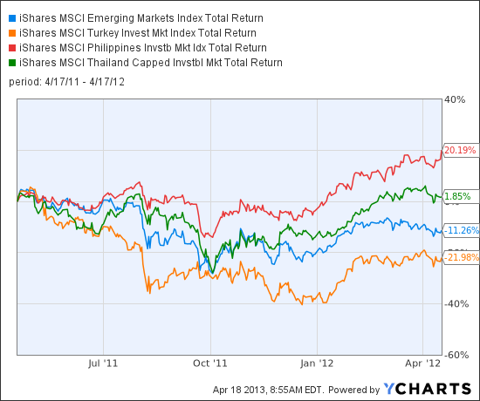 Last year, however, the country was able to manage down its current account deficit to a more comfortable 6% of GDP level, helped by a weakened currency, stable commodity prices and increased exports. This has inspired investor confidence.
Credit rating is improving
Turkey's closely watched credit rating was upgraded by Fitch to investment grade last year and this March S&P upgraded Turkey to one notch below investment grade. The market and currency have taken kindly to this trend and, with a world chasing yield, funding has been readily available.
Geopolitics - pushing the right buttons
Turkey's government under Prime Minister Erdogan is strong and the country plays a vital role in the region both politically and economically. While it maintains solid relations with the West, Turkey has been able to capitalize on growth in the Middle East region where exporters have found new markets there to offset declining European demand.
The country is undertaking significant infrastructure investments and is well-positioned geographically as a transit hub. The government is also in negotiations to reach a peace agreement with Kurdish militants to end a 28-year insurgency. Progress on engaging the country's Kurdish minority (estimated at 15m) could provide an economic support.
Turkey ETF

iShares MSCI Turkey is the only ETF with dedicated Turkish exposure. The banking sector also plays a prominent role in the investable market in Turkey and TUR has a high concentration of financials in its portfolio.
Largest financials exposure - Emerging country ETFs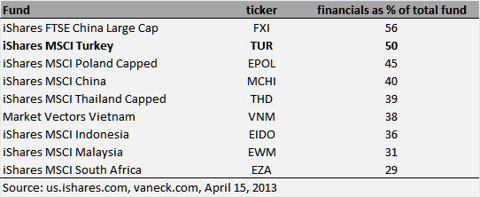 TUR is a relatively deep fund with over 95 holdings and is liquid trading around $17m per day. Investors can also consider a closed end fund option for Turkish exposure, The Turkish Investment Fund (NYSE:TKF), which has also performed well recently.
Market structure is domestic demand driven
A look at TUR's portfolio shows that essentially the entire Turkish equity market is exposed to companies driven by domestic demand and/or are manufacturing exporters. Even the country's energy sector, represented by Tupras a monopoly oil refiner, is focused on the domestic market as are the country's steel and cement producers.
TUR - top 15 holdings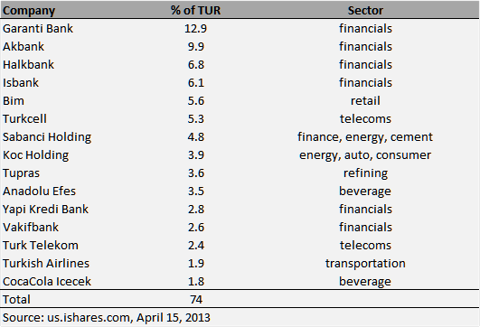 Banking sector investment case
In order to own Turkish equities, investors must be comfortable with the investment case for the country's banks. Turkish banks have evolved from being mostly securities traders to more traditional lenders. Although credit has expanded significantly over the past decade, Turkey remains a relatively under-banked market with a credit/GDP ratio estimated to be around 50% by the IMF.
A moderate growth plan
Turkey's central bank recently outlined credit growth objectives for the sector as a whole, targeting a 15% growth rate for lending. While this potentially caps growth, it is still a healthy growth rate and reduces risks of overheating. Less aggressive lending may also serve to reduce pressure on bank margins and future asset quality risk.
Turkish banks are starting to push funding limitations. Lending has grown more quickly than deposits and loan/deposit ratios are starting to exceed 100%, increasing its reliance on wholesale funding. Fortunately, credit upgrades have helped to contain funding costs.
Asset quality is another risk. Banks have also been moving to riskier segments of the market like consumer and SME finance. Much will depend on economic growth both at home and regionally.
Growth may pick up
In 2012, Turkey's economy went through its own 'soft landing' growing around 2.5%. Consensus forecasts for this year expect growth to pick up to around 3.5%. This week the central bank laid the ground work for a rebound, cutting benchmark interest rates by 50 basis points to 5%.
This was not a timid move given loan growth rates are above the preferred 15% and inflation in March (7.3%) was also above central bank targets. The central bank is also trying to manage the currency and keep it weak in order to contain the deficit. Yes its a fine balancing act.
So, while many emerging and developed markets are seeing growth deceleration risks, Turkey may see acceleration, which should be supportive of earnings momentum.
Bank valuations - not cheap, but not expensive
On a valuation basis, Turkish banks have historically traded at a discount to peers when compared on earnings or price to book value (P/BV) metrics. This is due to higher discount rates investors attribute to the market. With discount rates on the decline, multiples can justifiably expand.
Current estimates show Turkish banks trade around 10x 2013f earnings. This is a slight discount to regional bank peers that trade closer to 11x forward earnings. On a P/BV basis Turkish banks trade at around 1.4x, again a slight discount to regional peers. Finally, ROEs for the sector are broadly in line with regional averages of around 15%.
Because of Turkey's growth profile and capital needs, companies tend to pay lower dividends. This is reflected in TUR which yields 1.4% on a 12-month trailing dividend basis.
Trying to stay in the sweet spot
As long as credit remains abundant and commodity prices stay low Turkey has external tailwinds. Internally, the policy framework seeks to achieve managed growth rates. This should help keep the current account deficit in check and provide for moderate growth. Recent moves down in commodity prices are also a positive an politics look supportive.
Still looks relatively good
Despite their recent run, Turkish equities don't look stretched. An economic pick-up, if it comes, should prove positive for earnings momentum. Equity market structure is also favorable with most companies exposed to domestic demand or regional export markets.
Risks, however, need to be monitored. Weak export performance and/or a sharp rise in commodity prices could put pressure on the current account increasing funding costs and discount rates. Tighter global liquidity would also be a negative.
For longer-term investors, Turkey offers great potential. The country is young and large with a population over 80m, more than one-half of whom are 30 years old or younger. Geographically it is well positioned as a hub for trade and investment. Government has shown skill at balancing interests. The economy may stay in a sweet spot for a little longer.
Disclosure: I have no positions in any stocks mentioned, and no plans to initiate any positions within the next 72 hours. I wrote this article myself, and it expresses my own opinions. I am not receiving compensation for it (other than from Seeking Alpha). I have no business relationship with any company whose stock is mentioned in this article.